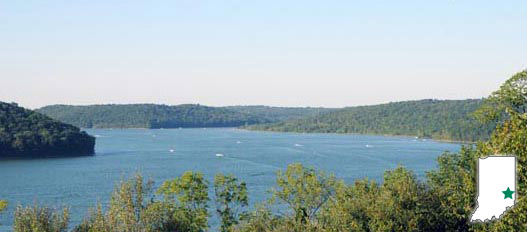 Mailing Address:
P.O. Box 100
Brookville, IN 47012
765-647-2657
765-647-2658
Mapping Address for Quakertown:
3323 W. Dunlapsville Road
Liberty, IN 47353
Mapping Address for Mounds SRA:
14108 SR 101
Brookville, IN 47012
on.IN.gov/brookvillelake
Brookville Lake advisories
BLUE-GREEN ALGAE ADVISORY ALERT FOR MOUNDS SRA AND QUAKERTOWN SRA: Swimming and boating permitted. Avoid contact with algae. Avoid swallowing water while swimming. Take a bath or shower with warm soapy water after coming in contact with lake water. Do not use lake water for cooking or bathing. Do not allow your pets to swim or drink lake water where algae are present. More information about blue-green algae.
Black Vultures: Birds may do damage to your vehicle. Learn how.
Events in the next seven days