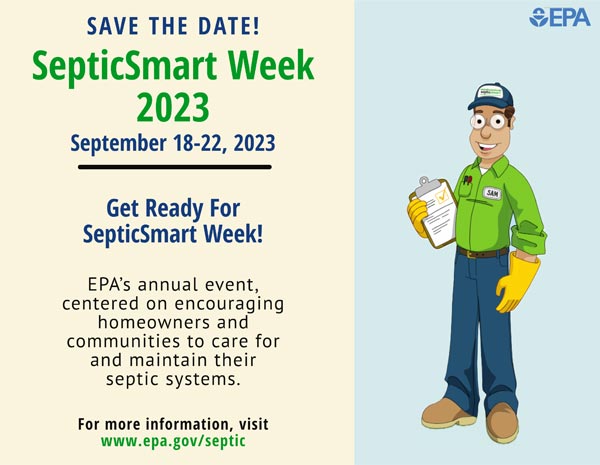 The Indiana DNR Lake Michigan Coastal Program and its federal, State, and local partners are participating in the annual EPA SepticSmart Week education and outreach efforts. An estimated 33,033 households across the Indiana Lake Michigan watershed depend on septic systems to treat their wastewater. Failure to maintain a septic system can lead to backups and overflows. This can result in costly repairs, polluted lakes and waterways, and risks to public health and the environment. Don't fall victim to a failed system.
Tips to keep your home, family, and water healthy:
Protect It and Inspect It: Homeowners should generally have their system inspected every 3-5 years by a licensed professional, and have their tank pumped when necessary, typically every 3-5 years. Many septic system failures occur during the winter holiday season. Therefore, EPA encourages homeowners to get their septic systems inspected and serviced now before licensed inspectors' schedules fill up around the holidays.
Think at the Sink: Avoid pouring fats, grease and solids down the drain. These substances can clog a system's pipes and drainfield.
Don't Overload the Commode: Only put things in the drain or toilet that belong there. Coffee grounds, dental floss, disposable diapers and wipes, feminine hygiene products, cigarette butts, and cat litter can clog and potentially damage septic systems.
Don't Strain Your Drain: Be water efficient and spread out water use. Fix plumbing leaks and install faucet aerators and water-efficient products. Spread out laundry and dishwasher loads throughout the day — too much water at once can overload a system that hasn't been pumped recently.
Shield Your Field: Remind guests not to park or drive on a system's drainfield, where the vehicle's weight could damage buried pipes or disrupt underground flow.