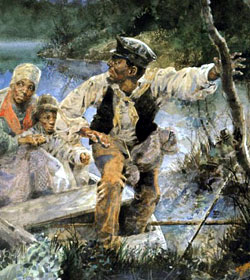 The Underground Railroad
Image: National Park Service
Cover from "The Underground Railroad."
Indiana has a rich history of Underground Railroad operations. Many escaped slaves traveled across the Hoosier State in the years prior to and during the Civil War. These fugitive men and women frequently altered their routes and the locations of their stops in order to minimize their chances of detection and possible recapture. These constant changes made details about the operation of the Underground Railroad difficult to document, both then and now. Historians, using a wide variety of primary and secondary sources, have successfully located several locations that assisted fugitive slaves to freedom.
These locations are only a small representation of sites, events, and individuals associated with the Underground Railroad in Indiana. Hundreds of sites have been located in Indiana. We are just starting to build this website. Check back frequently to see new items.
Click the dots on the map below to see more information on towns and/or sites associated with runaway slaves and their flight to freedom in the North.