Winter Weather Preparedness Week 2023 is November 5-11
View the governor's Winter Weather Preparedness Week 2023 proclamation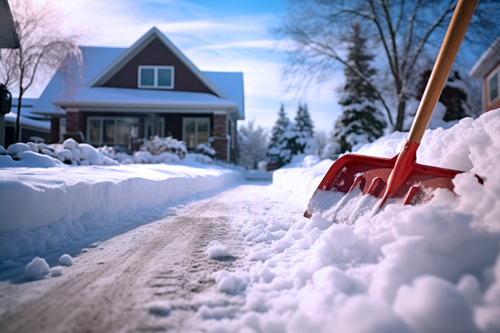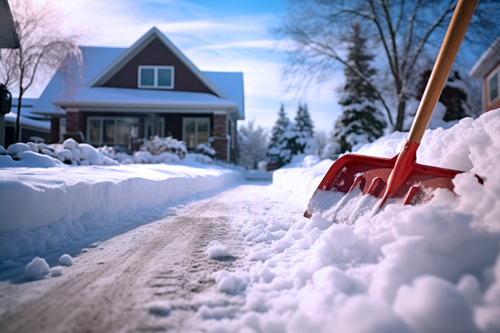 The Indiana Department of Homeland Security (IDHS), state partners and emergency personnel work to protect Hoosiers whenever hazardous weather happens across Indiana. Knowing where to find travel information and preparing ahead of time for all types of winter weather is important so Hoosiers can reduce their risk to harm.
Cold temperatures, snow and freezing rain are common throughout Indiana from November through March each year. Take time to prepare emergency kits and know what resources you may need for these conditions. But do not forget to stay prepared for other weather hazards too.
Tornadoes can occur at any time of the year, as outbreaks in December 2015 and November 2013 showed. In December 2021, a deadly EF4 tornado ravaged western Kentucky and ended 20 miles south of the Indiana border. In 2023, more than 50 tornadoes have occurred already in Indiana, which is the second-highest number of tornadoes in a year on record. Review tornado safety tips
Sometimes temperatures are warm enough that winter storm precipitation remains rain. In February 2018, record rainfall between 5 and 9 inches created widespread flooding, with numerous rivers reaching major flood levels and several setting new records. Review flooding safety tips
Quick Tips
Have a home disaster kit ready in case of power outages for multiple days or if road conditions prevent you from getting everyday supplies.
Prepare for travel emergencies by having a vehicle emergency kit ready.
Wear warm clothing to limit your exposure to wind and cold temperatures. Use a hat, coat, mittens, pants, socks and closed shoes.
Before traveling, check the county travel status map for advisories, watches and warnings. Also stay informed on weather service forecasts and traffic conditions.

When driving, slow down and leave plenty of distance between yourself and other vehicles. You need extra time to react and avoid an accident.

Avoid using alternative-heating sources such as space heaters and fireplaces, but practice proper safety precautions if you do. Never use home appliances, such as ovens, to stay warm.
Take a look at the information and resources below for more tips on how to stay safe this winter.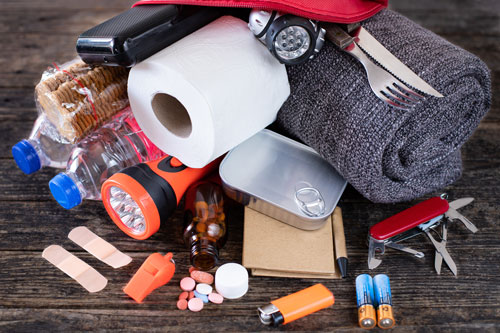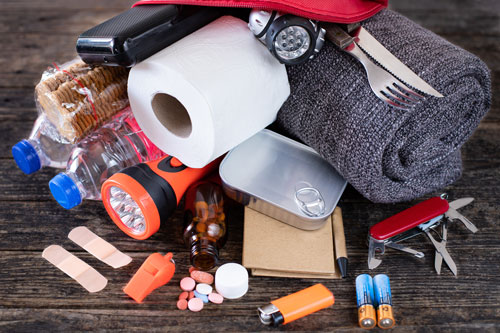 Before using, have your fireplace or wood stove cleaned to avoid carbon monoxide poisoning. Never use home appliances, such as ovens, to stay warm.
Never leave space heaters turned on in unoccupied rooms, and never go to sleep or leave your home with a space heater turned on.
Dress warmly inside, even if you do not plan to leave the house.
Set your home's heating system to at least 68-70 degrees Fahrenheit. To save on energy use, close the doors and vents to rooms you are not using, and place a rolled towel in front of doors to keep out drafts.
If there is a power outage leaving you without heat, go to the most insulated and interior room, but try to stay with a relative or friend who has a heated home.
Consider buying a portable generator to use when power outages occur. But follow safety precautions to avoid carbon monoxide poisoning, fires and electrocution.
Remember older adults and check on them during cold weather, especially if there is a power outage.
Six National Weather Service (NWS) offices cover Indiana and provide information about winter weather conditions. Learn which office covers your county and stay informed on what the current weather statements are for your area.
Create a disaster kit, and maintain an extra supply of food and water in case roads become too dangerous during winter storms.
Alternative-Heating Safety Tips
Try to stay indoors when weather is extremely cold, especially if winds are high.
If you must go outdoors, keep trips brief.
Bundle up with a scarf, mittens, hat and warm coat.
Wear loose layers of clothing. The air between layers helps keep you warm.
Cold-weather illnesses such as hypothermia can occur at 40 degrees Fahrenheit. A few warning signs are numbness, extremely low energy, discolored skin and fumbling hands. If you notice any of these signs, take the person's temperature. If it is below 95 degrees Fahrenheit, get medical attention immediately.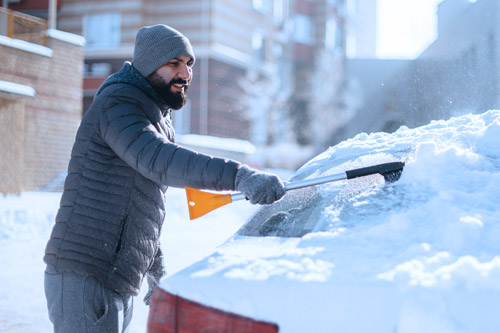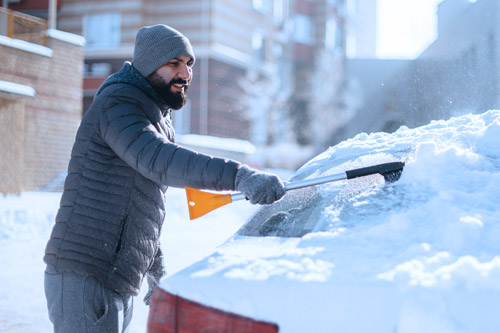 During Feb. 14–16, 2021, between 6 and 12 inches of snow and strong winds created dangerous travel conditions and prompted most counties across Indiana to issue local travel advisories. These advisories were shared on news outlets and also shown on the IDHS statewide county travel status map.
Many state agencies, private sector partners and non-governmental organizations rely on the map to make safe decisions during winter weather conditions. Counties decide whether to issue travel advisories, watches or warnings, and the map updates in real time when a county emergency management agency reports its county's updated travel status to the state. Be sure to check the map during the winter, and follow the winter travel safety tips below.
Have your vehicle checked by a mechanic to make sure it can handle wintry conditions, such as slick roads and extremely cold temperatures.
Stock your vehicle with emergency kit items such as blankets, warm clothes and a flashlight in case you get stuck.
Plan ahead and allow more time for travel. Check local weather reports, the travel status map and traffic conditions before leaving home.
Do not warm up your vehicle inside a garage. The fumes can cause carbon monoxide poisoning in the garage and even the home, if connected to the garage.
Before leaving, clear snow and ice from your vehicle's windshields (front and back), windows, mirrors, headlights, taillights and brake lights.
When roads are wet, icy or snowy: Slow down, leave plenty of distance between yourself and other vehicles and do not use cruise control.
If you become stranded, do not leave your vehicle. It protects you from harsh weather conditions. Only leave the vehicle if help is visible within about 100 yards.
Use these resources to learn more and share with others.
What are Advisories, Watches and Warnings?
Advisory
Travel Map: Lowest level of advisory. Routine travel or activities may be restricted in areas because of a hazardous situation. Use caution or avoid those areas.
National Weather Service: Snow, blowing snow, ice, sleet or a combination of these is expected. Conditions should not be hazardous enough to meet warning criteria. Be prepared for winter driving conditions and possible travel difficulties. Use caution when driving.
Watch
Travel Map: Conditions are threatening to public safety. Only essential travel, such as to and from work or for emergencies, is recommended. Emergency action plans should be implemented.
National Weather Service: Conditions are favorable for a significant winter storm (heavy sleet, heavy snow, ice storm, heavy snow and blowing snow, or a combination).
Warning
Travel Map: Highest level of advisory. Travel may be restricted to emergency management workers only. Refrain from all travel and comply with emergency measures, public officials, disaster services and officers.
National Weather Service: Significant winter weather of snow, ice, sleet or blowing snow, or a combination. Travel will be difficult or impossible. Delay travel until conditions improve.