National Stop the Bleed Day is May 19, 2022
Stop the Bleed is a national campaign launched by the White House in 2015 with two main goals:
Inform and empower the general public to become trained on basic trauma care in order to stop or slow bleeding during emergencies.
Increase bystander access to bleeding control kits.
As part of the agency's training and preparedness goals, the Indiana Department of Homeland Security (IDHS) is working to make Bleeding Control Basic courses more readily available throughout Indiana.
Bleeding Control Courses
For Citizens

Bleeding Control Basic courses, part of the Stop the Bleed initiative, are free, last approximately 90 minutes and can be taken by anyone, including those with little or no medical training. These classes teach basic awareness and understanding for bystanders to recognize and respond to life-threatening bleeding during emergency events such as car accidents, home- or work-related injuries, bombings and mass shootings.

Hoosiers wishing to take a Bleeding Control Basic course should reach out to their local fire department or medical organizations to express interest and receive additional information on course scheduling. IDHS works closely with these organizations to establish training and deliver equipment to those interested in learning these life-saving techniques.

For Businesses and Organizations

IDHS partners with local first responders and public safety personnel to administer train-the-trainer classes for qualified individuals wishing to teach the Bleeding Control Basic course. This initiative complements the training and certification programs within the EMS Section of IDHS.

Businesses or organizations interested in scheduling a train-the-trainer class should contact the EMS program manager for their district, listed on the EMS Section page.
Training to Save Lives
Knowing what to do in an emergency can save a life, and that is what Emergency Medical Services (EMS) personnel do every day. Paramedics, emergency medical technicians and other first responders work hard to help Hoosiers survive, and the IDHS EMS Section helps train and certifies these professionals.
IDHS even has an ambulance-turned-laboratory available for public safety agencies to train on using specialized equipment.
First aid skills such as stopping bleeding are invaluable. Visit the EMS How-To Videos page for videos demonstrating how to perform CPR and how to use an AED in the event of a cardiac arrest.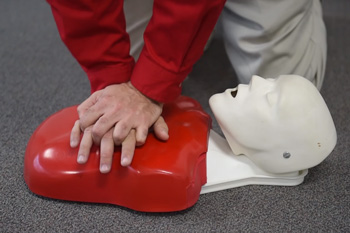 CPR Demonstration