'At least we've gotten to help a child's life'
Morgan and Ashleigh Crutcher-Smith had a plan. They talked about their future, and they knew – for the most part – what they wanted it to look like.
Life, of course, had plans of its own.
A few years ago, Morgan and Ashleigh had no children. They had discussed what their future family would look like after getting married in 2016.
"One of those things I wanted out of life was having a big family, and having a family with weird family dynamics," Morgan joked.
"My family just wasn't cutting it," Ashleigh said with a laugh.
Neither wanted to get pregnant. But they knew they wanted children, and they eventually settled on their ideal number – four.
"We knew we were going to adopt. That was the end goal," Ashleigh said. "We went back and forth like, 'OK, how do we go about that? What makes the most sense for us?' We talked it out for probably the better part of two years before we thought, 'Actually, you know what would be great? Let's just do foster.
"Let's foster some kids; that way we have the greatest potential to help children and help families. If we get to adopt those kids, fan-freaking-tastic. If not, then at least we've gotten to help a child's life.'"
There was one big caveat though. At the time, Ashleigh was in nursing school. She didn't want to start fostering until she had graduated.
Morgan would wait, but not necessarily patiently. She had all of the paperwork ready to go, just waiting to submit it "literally the day after" Ashleigh finished the program.
They started the process officially in May 2018. Neither Morgan nor Ashleigh could predict how quickly life would deviate from their carefully thought-out plans.
'Are you cool with that?'
The plan was four children between the ages of 5 and 12. Both Morgan and Ashleigh grew up around brothers and thought boys would be the right fit for them.
The end result couldn't have been much more different than what they planned. Just three years after starting their foster journey, they have five kids in their home, girls 11, 15, 16, 16 and 22.
Their very first placement, in 2018, was an emergency situation, which resulted in their license being signed a day early. It was for two teenage girls.
"They were like, 'Are you cool with that? Well, we don't have anything for two teenage girls, but why the hell not? Let's go shopping,'" Morgan said.
Around Christmas of that year, they got a call from their licensing worker about a college student who didn't have anywhere to go for the holidays. The Crutcher-Smiths were asked if they would mind adding her to the family.
That was an easy decision, even though "college age" didn't quite fit into the 5 to 12 age range. It wasn't the perfect fit, at least not at first.
The couple tried to maintain their relationship after their new addition left, but life got in the way and they lost contact for a bit. By the time the next holiday came up, the parents wanted to make sure they reconnected. They wanted to make sure the young woman had a place to go.
"It's a holiday," Ashleigh said. "It's time to come home now."
Once they had their older daughter back in the house, she stayed. Now 22, she is about to be adopted, an act more ceremonial than legal, since she is an adult – but nonetheless special.
There, of course, is a bit of a wrench in that plan. Morgan and Ashleigh's 11-year-old has something to say about that.
She came into the house saying she wanted to be the first adoptee of the group. She hasn't relented in that goal. So, the Crutcher-Smiths wait, although the wait shouldn't be too long – they are in the final stage of the adoption process. Once that happens, they'll officially have an 11-year-old daughter. They'll then quickly head to the courthouse to make things official for their 22-year-old.
They've had as many as eight kids in the house at once between fostering and respite care. The constant number for more than a year now has been five. They hope to adopt all five, though they know the process can be long.
None of this has gone to plan. And that's quite all right by Morgan and Ashleigh.
"If you'd asked me like, like six years ago, if I thought I was going to be a stay-at-home mom and a parent of teenagers and an adult, I would have looked at you like you were crazy," Morgan said.
'Not for the faint of heart'
The transition to parenthood has been filled with challenges for the Crutcher-Smiths.
Both Morgan and Ashleigh changed their careers – Morgan became a stay-at-home mom, while Ashleigh graduated nursing school and changed jobs, moving from night to day shift and changing hospitals.
COVID has been a challenge in and of itself. Two of the kids have Individualized Education Programs. That makes the distance learning a challenge.
There are what the parents referred to as "silly cat fights" and arguments about little things that don't really matter. Typical kid stuff.
The biggest challenge of all, though, has just been the introduction of so many kids – and the one adult – into the family.
"Being a foster parent is not for the faint of heart," Morgan said.
"You're going to question," Ashleigh said. "You're going to question whether or not you're doing the right thing. You're going to question whether or not you're making a difference, or whether or not this is right for you. That, I think, is very routine, honestly. I think that's probably just normal."
Not every fostering situation ends up at a joyous adoption day.
But there has been plenty of good to go along with the difficult. The Crutcher-Smiths went from a family of two to a family in seven in just a few short years. They have a very full home, which keeps things interesting – and plenty chaotic – on a daily basis.
They have a family, and it's felt that way for a few years, whether it's on paper yet or not.
"From day one, it's always been like, this is your home," Ashleigh said. "You're our children, this is your family. Family has always been one of those things where it's not always who you're born to. Family is a lot of how you make it and who you add to that."
Morgan and Ashleigh have learned a lot in just a few short years of fostering. They know how daunting and intimidating the idea of fostering can be.
They have plenty of advice and tips for prospective foster parents. Be transparent with your kids, and don't sugarcoat things. Involve them in decisions and keep them informed.
Don't be afraid of the messes, and don't get discouraged. And don't be afraid to have a good relationship with the children's biological parents, either. That's perfectly healthy, and it doesn't need to be scary.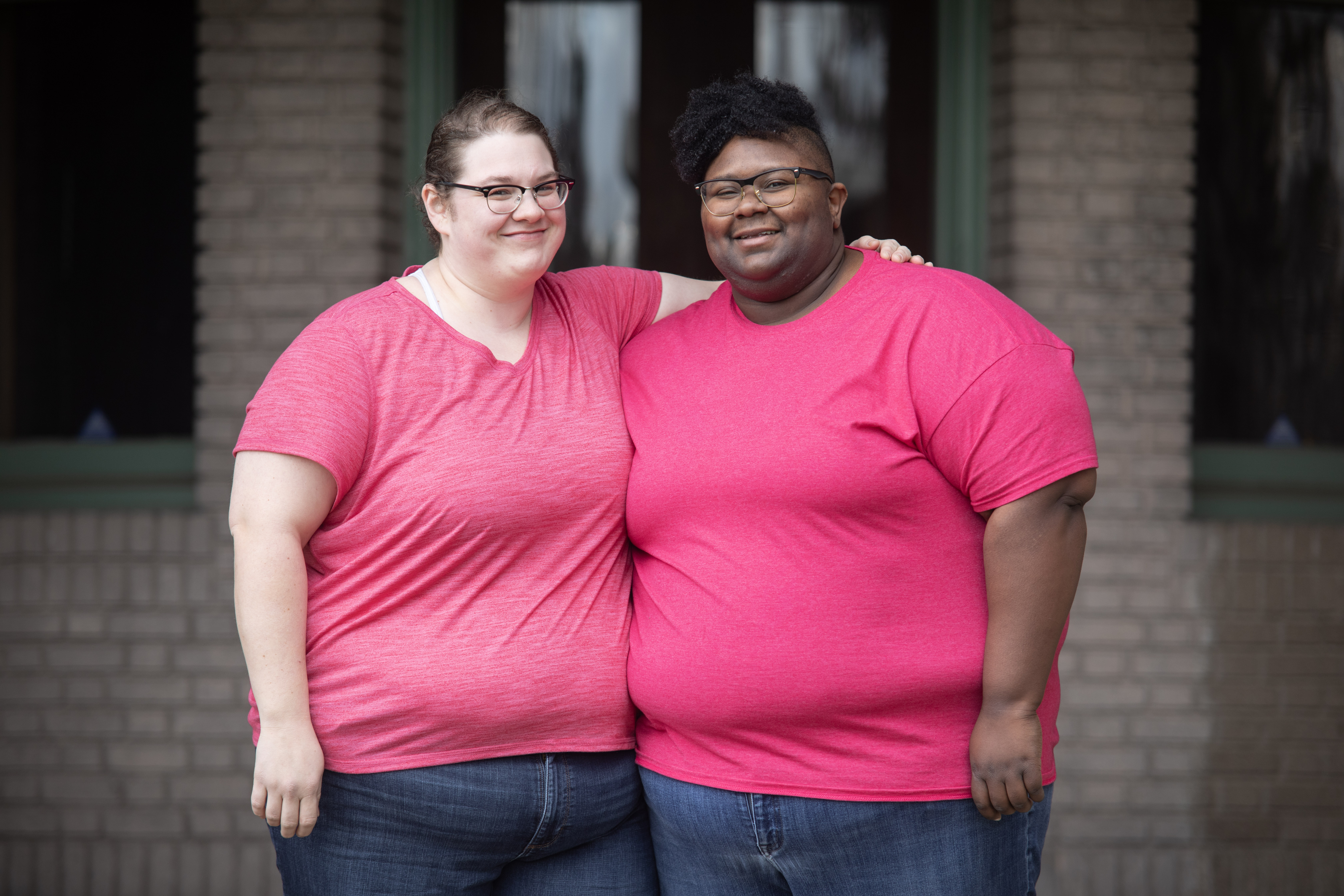 Working together can be the best path forward for the children, they say.
"That's what we always tell our kids – we're not trying to replace your biological family, because, to be honest, we're thankful for them," Morgan said. "Here's the thing – if it weren't for their biological families, we wouldn't have our daughters, you know?
"It's not that they don't love you … it's that they aren't capable of providing you with the stability and the resources that you need to grow up to be a self-sufficient adult."
Mostly, the Crutcher-Smiths encourage prospective parents to be prepared for the interesting. Be prepared for the unexpected. No matter how much homework you do, no matter how many agencies and websites you look at, your kid is "going to throw you a curveball," they said.
There's no script to parenting, whether the children are yours by birth, fostering or adopting.
At the end of the day, you do your best to provide for the kids.
"You just kind of look at the kids, and be like, have they grown since being in my house? Have they matured? Is there one thing that's gotten better? And if there's at least one thing, then you're doing a good job," Ashleigh said.
"It's something that I wouldn't trade for the world," Morgan said. "There are some days that our kids drive us up a wall – what kid doesn't drive their parents crazy? But there's never a day I go to bed, regretting the decision that we made.
"Choosing them – I'd choose them again, a hundred times over."