Address:
105 Drexel Parkway, Suite 2
P.O. Box 279
Rensselaer, IN 47978

Region: 2
Regional Manager: Brian Brown
Local Office Director: Sharon R Mathew
Telephone Number: 219 866-4186
Fax Number: 317-232-1293
Office Hours: 8AM-4:30PM, Central Time Zone
Child Abuse and Neglect Hotline: 1 800 800-5556
Hotline Hours: 24 Hours
---
Jasper County Department of Child Services is pleased to share the success story of Logan Groves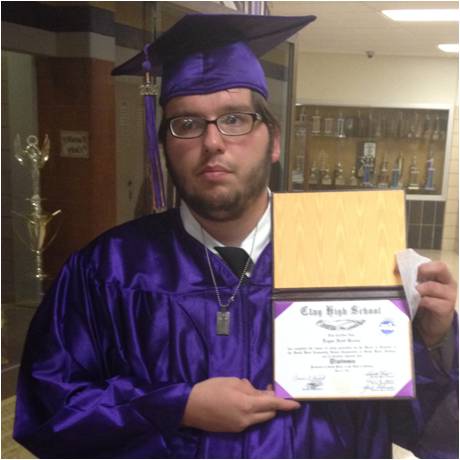 On Friday, June 6th, 2014, Logan Groves graduated and earned his High School Diploma in spite of the many adversities he has had to overcome. Logan's was an unfortunate case of being removed from biological family for neglect, parental rights terminated, being adopted and then being abused by his adoptive family. When the adoptive family's parental rights were terminated, Logan was left without a "forever family". What could have been a tragic story was turned around by his perseverance and a remarkable support team. The Bureau of Developmental Disabilities and it's partners took on Logan's case and found him stable housing and long-term support services.
In attendance at this special moment were several members of his biological family (who were reconnected through the help of Youth Connections), a former foster parent (who plans to adopt him as an adult), and his long-time FCM.

Logan has been pursuing a career in automotive mechanics. This interest was sparked by a school program and enhanced by the involvement of a former foster father. Logan has been accepted to Ivy Tech and is scheduled to attend college in the spring of 2015.