Welcome to mobile.in.gov
The State of Indiana offers a variety mobile apps to help citizens connect with government and find the services they need. The Indiana Office of Technology has developed four apps that are available for both iOS and Android. Below is a list of all the apps with links to download them.
ISDH - Injury Prevention Resource Guide
The public health approach to prevention follows four main steps to prevent injuries and violence and minimize their consequences when they occur. The systematic processes are: 1) describe the problem and perform surveillance; 2) identify causes and risk and protective factors; 3) develop, implement, and evaluate prevention strategies; and 4) disseminate and ensure widespread adoption. The goal of the app is to serve as a guide that can provide easily accessible and understandable information and data on the size and scope of specific injuries in Indiana, while highlighting effective evidence-based solutions to the problem of injury.
DOE MEP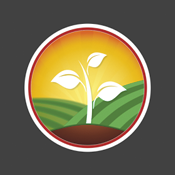 The Migrant app is meant to help users request and receive migrant related services and information.
This app provides migrant families with access to services provided by the migrant program in a timely manner.
Features include:

Ability for users to request a recruiter.
Ability to request health and educational services from the migrant education program (MEP).
Map of migrant specific resources such as food, clothing, legal, safety, and education.
Directory of contact information.
Schedule of important migrant events.
IN.gov
Most apps are downloaded and quickly discarded after just a week or even a single-use. This can especially be the case when dealing with government apps, which typically are used seasonally or in one-off situations.
The IN.gov app solves this problem by acting as a warehouse for all of the apps offered by the State of Indiana. When you need an app, just tap the screen and it downloads to your device. Along with the full catalog, it lists the most popular apps and allows the user to save his or her favorite apps, even if they are removed from the phone, for quick access.
Users can quickly contact the State via Live Chat directly from the App or reach State FAQs via the mobile-friendly platform that includes 200+ websites that are mobile compliant.
The maps utilize GPS to identify government services and attractions near the user's current location. A simple slide feature allows the map to shrink or expand to help pinpoint locations. Additionally, the maps have different layers that include state offices, parks, beaches and historical sites. Access to Turn-by-turn navigation or calling to each location is turned on with the press of a finger.
Users are able to view state events, find information about state agencies and have access to the state phone directory.
Additional features include:

Access to State government social media outlets.
Find an agency or find a person in state government.
Search the Indiana job bank and optionally set up job alerts.
Access to nearly 70 agencies' news and events.
Tutorial on using the App.
Report a bug.
DWD IN Uplink
If you are unemployed and have registered with the Indiana Department of Workforce Development through Uplink and have an active claim, then you can use this App to check the status of your claim.
Those with an existing Uplink account can utilize the app to view the following information at a glance and formatted for mobile devices:
View Recent Payments
View Recent Claims
View Overpayments Balance
View Problems With A Claim
View the desktop version of Uplink at http://www.in.gov/dwd/2362.htm.
Contact DWD at http://www.in.gov/dwd/2328.htm.
Indiana DNR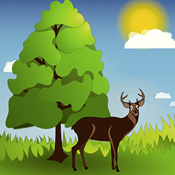 Indiana Department of Natural Resources and the Indiana Office of Technology present a rebuilt app with a new user interface and more content. Whether you are visiting, hunting, fishing or staying at a campground or state park inn, we hope you will find this portable guide to DNR properties and services to be useful. Among some of the features:
A directional map to help you find a DNR property
Links to camping and trail maps in PDF format for storing and viewing offline
A listing of DNR events and press releases
Fishing regulations, species guide, reports
Hunting regulations, seasons, check-in stations
Ability to report polluters and poachers and contact conservation officers
Information to help with nuisance and orphaned wildlife
Travel Advisory
The Indiana Travel Advisory app is meant to help users stay aware of changing travel conditions.
Features include:
Ability for users to set alerts for any county or counties they choose, up to every county in the state. When the travel status in a selected county is changed, the user will receive an alert notification.
Weather conditions for each county. Tapping on a county will display the temperature and an icon with the current conditions.
Contact information for county emergency management agencies, which are responsible for the status updates.
The State reports data provided by county Emergency Management Agencies (EMAs). Some counties only update data when there has been a change in status and do not reaffirm that everything is 'Normal.'
For example, County X may not have had any travel emergencies since June and has remained in the 'Normal' category the entire time, since the status has not changed, there has been nothing to update. The next time there is a county-level emergency impacting travel, the status is changed by the county EMA and is reflected in the app.
Other sources of travel conditions should also be consulted, including local news, travel, weather and social media sites and apps.
IDEM Smog Watch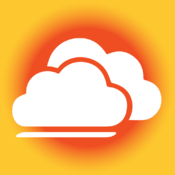 SmogWatch provides daily information about ground-level ozone and particulate matter air quality forecasts and health information for seven regions of Indiana.
ISDH MyVaxIndiana
The Indiana State Department of Health (ISDH) maintains an Immunization Information System known as CHIRP (Children and Hoosier's Immunization Registry Program). The purpose of CHIRP is to collect, forecast, manage, and share vaccine data to registered medical providers in Indiana. A provider may include private medical facilities, local health departments, hospitals, schools, and pharmacies. The program is run under the Indiana Code 16-38-5 which allows for providers and their designees to access data from CHIRP. In addition an individual also may access their personal or their dependents vaccine record from either the registered CHIRP provider or directly from the Indiana State Department of Health.
As an update to the existing process, ISDH has created the MyVaxIndiana Immunization Portal which enables a person to access a vaccine record from any computer. To begin this process a registered CHIRP provider will create a patient ID number (PIN) which will grant a person specific patient access to the record they have requested. A parent or guardian could request a PIN to view their dependents immunization history, or any individual could do the same for their own record. They then have a number of options as to how their data can be viewed and saved. This includes an option to print and save the Official Immunization Record, download the record into a file format that may be compatible with their Personal Health Record system (PHR), or have it faxed or mailed to them.
IDEM Beach Alert
This app shows water quality and the status of Indiana Beaches
MyBMV
myBMV is the official mobile application of the Indiana Bureau of Motor Vehicles. Indiana residents can utilize the following services using their myBMV account:
Renew plates and watercraft
Renew driver's license or ID card
Update contact information
Find the nearest BMV branch offices
MyBMV Practice Test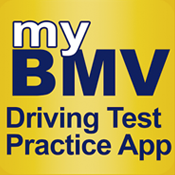 This iOS app will help new drivers prepare for the knowledge portion of an Indiana driver's license test. It is also helpful for current drivers who want to be up-to-date on basic driver safety.
When you are done, you can see how many you answered correctly, and what the correct answers are. (Practice questions do not appear on the actual test.)
Indiana Voters
Indiana offers you the ability to submit your voter registration application online. Specifically, this application allows you to apply to register to vote in Indiana, change your name on your voter registration record, or change the address on your voter registration record.
Additionally, the Indiana Statewide Voter Registration mobile app allows you to look up voter registration information, such as confirming your voter registration, finding your nearest polling location with driving directions, viewing which candidates and questions will appear on your ballot, and checking the status of provisional or absentee ballots.
IN BB Map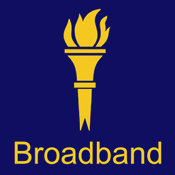 The IN BB Map is a mobile application that provides information about the location of broadband service in Indiana. Search by address or "pin" a location on a map to learn about service providers, advertised speeds, and type of technology used to provide service to a specific area. The data supporting this application is updated twice each year, spring and fall..
Who Are Your Elected Officials (WAYEO)
This application is brought to you by the Indiana Secretary of State.
The "Who Are Your Elected Officials" mobile application harnesses the power of Geographic Information Systems (GIS) technology to provide the general public an easy-to-use application for finding the elected officials who represent them. Users have the ability to easily and quickly find information on over 12,000 elected officials in the State of Indiana by either tapping a location on the map, by typing in their address, or by using the GPS location of the device. The information for each official is organized into tabs for Federal, State, County, Township, Municipal and School Districts.