If you have received a call or information by mail and you are unsure if it came directly from the Indiana BMV, contact the call center at 888-692-6841 or submit an email to verify its authenticity.
Click on the icons below to view examples of recent fraudulent activity:
Websites
Customers often believe transactions with the Indiana BMV can be completed through various websites. This is incorrect. Anyone attempting to complete a transaction should only do so by visiting IN.gov/mybmv or myBMV.com or by visiting a branch. The following websites are not affiliated with the Indiana BMV in any way:
indianadriverslicense.org
www.drivers-licenses.org
Insurance Scam
Scammers posing as the Indiana BMV have contacted Hoosiers via telephone and postal mail (pictured below) promising lower car insurance rates. They ask for personal information, such as date of birth and Social Security numbers. The Indiana BMV does not and will not contact customers offering insurance-related information. Do not give out personal information over the phone or through postal mail.
Flood Vehicles
In times of natural disaster, such as a major flood, surrounding states often fall victim to an increase in fraudulent car sales. A warning from the National Salvage Vehicle Reporting Program (NSVRP)—a leading not-for-profit law enforcement support organization dedicated to reducing auto theft, title fraud, and abuse—states that flooded vehicles are often sold in car auctions to unsuspecting individuals and dealers. These salvage vehicles are not only sold fraudulently, but they are also dangerous to the operator and fellow drivers.
To reduce the risk of unknowingly purchasing a flood-damaged vehicle, consumers should follow these steps prior to making a transaction:
Ask the dealer to provide a vehicle history report. If the dealer refuses to provide such a report, purchase one yourself. Consumers can obtain a vehicle history report from a variety of sources, such as Carfax, Autocheck, the National Motor Vehicle Title Information System, or the National Insurance Crime Bureau.
Check the vehicle's history report to see if there are any reported title brands on the vehicle, such as "salvage," "rebuilt," "junk" or "flood damage." Also note on the report the state or geographic area where the vehicle was last titled or registered to determine if the vehicle was recently located in an area affected by flooding.
Ask to see the vehicle's title, or a copy of the title, and check to see if the title includes any title brands, including "salvage," "rebuilt," "junk" or "flood damage."
Inspect the vehicle closely for any signs of flood damage by checking to ensure all electronic components, including the heat and air conditioning, are operational. Check for any signs of mud or rust anywhere on or in the vehicle, including the engine compartment. Check for discolored or mildewed carpeting. Note whether the vehicle has any odd smells. Be suspicious of a vehicle that smells like mildew. The aroma of heavy disinfectants and cleaners may also be an indicator that someone has tried to mask a mold or odor problem.
Take the vehicle for a test drive.
Have an independent mechanic of your choosing inspect the vehicle prior to purchase. Specifically ask the mechanic to check for any signs of flood damage.
If a consumer suspects a recently purchased vehicle was flood-damaged, and such damage was not disclosed prior to sale, the consumer should file a consumer complaint at www.in.gov/attorneygeneral.
For more information, contact the National Salvage Vehicle Reporting Program:
80 Urban Street
Stamford, CT 06905-3965
Phone: 203-975-9889
Email: administrator@nsvrp.org
Real ID Documentation Scam
Zertifica, also known as Vital Records, now facilitates transactions to obtain your birth, marriage, divorce, and death certificates. This website is NOT affiliated with the Indiana BMV or any other State agencies in any way. Please visit your local county clerk or access vital records through the Indiana State Department of Health.
Fraudulent IDs and Licenses
Although a state-issued driver's license was originally intended only to document a person's qualification to operate a motor vehicle, it has evolved into the most common identification document used by government and business entities. As a result of the rampant growth of identity theft, use of altered or counterfeit driver's license has increased as well.
Indiana has enacted stringent requirements regarding the documents presented in order for a credential applicant to prove identity, residency, and lawful presence in the United States. BMV branch associates are trained to recognize counterfeit and/or fraudulent identity documents.
Indiana has also enhanced the security features in all state-issued driver's license and identification cards to deter alteration and counterfeiting. Law enforcement and other legal professionals may use the Indiana Driver's License and ID Card Security and Authenticity flyer in recognizing fraudulent Indiana driver's licenses and identification cards.
Text Message Scam
If you have signed up to receive your registration renewal notices via text message, be advised that scammers posing as the "DMV" may send you spam text messages to trick you into giving them your personal information. These messages are not affiliated with the BMV, and we encourage you to filter these through your wireless provider and report it to the Federal Trade Commission.
How Do I Know If It's Spam?
Scammers use a variety of stories to try to rope in their victims, such as

"You have won a prize"
"There's a problem with your payment information"
"You are receiving a discount"
"We have noticed suspicious activity on your account"

A spam messages might ask you to provide some personal information—a bank account number, credit card, or Social Security number—to claim any rewards offered to you. Or the scammer may ask you to click on a link provided in the message, which may take you to a fake website where if you log in the scammer can steal your personal information or install malware on your phone to unknowingly steal your information. DO NOT provide any personal information and DO NOT click any links that do not appear to be from the Indiana BMV.
Scammers will also try to impersonate a reputable organization by signing the message as from the "DMV". See the example scam message to the right.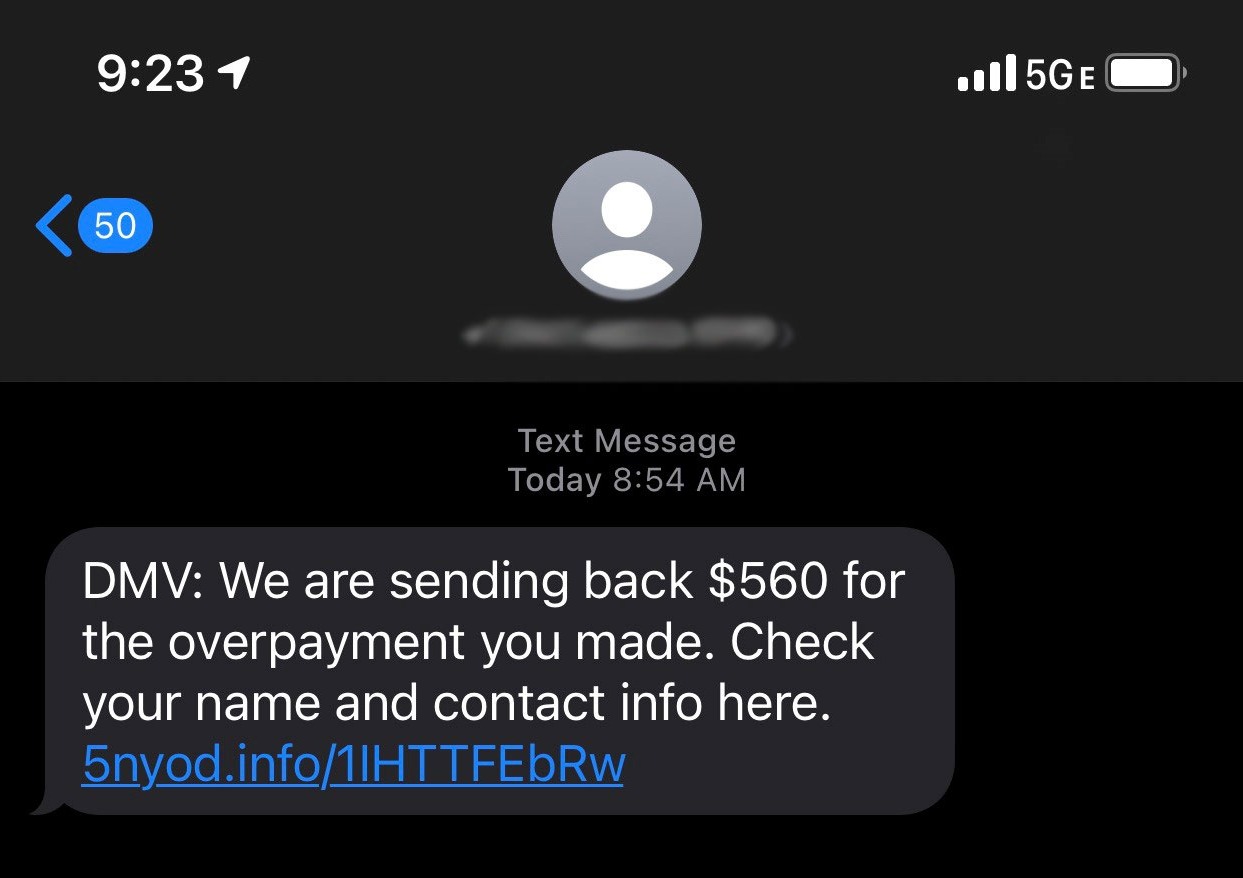 Traffic Violation Email Scam
The BMV is aware of a ransomware email scam, where the scammers are posing as the "Indiana DMV" and informing customers they're required to pay for a traffic violation. The BMV does not take payments for cited traffic violations. DO NOT click on any links provided in the email, and DO NOT provide any personal or payment information to this entity. These messages are not affiliated with the BMV, and we encourage you to filter these to your email spam folder. On the right, you can see what details are found in the emails that indicate it is ransomware.
FROM: Department of Motor Vehicles < violations@court-cases-online.org >
We are a Bureau not a Department. Official BMV emails will have "@bmv.in.gov" as the domain.
SUBJECT: Notice of Traffic Violation
This notice is to inform you that you have been cited with a traffic violation and must pay your citation within 72 hours. We have payment plans available if necessary.
The BMV does NOT handle citation payments. This will be done through the Indiana State Police.
Details of Citation
Traffic Code Violation: SPEEDING (15-20 OVER LIMIT)
Approximate Location of Violation: 100 W. Kirkwood STE 322
City: Bloomington
State: IN
Do not mail in your checks to us. All citations must be paid online through our EasyPay Center.
The BMV's online portal is named myBMV not EasyPay.
If you choose to contest your citation, you must do so by clicking here to contact your local Department of Motor Vehicles via SecureMail.
The BMV does NOT handle contestations for traffic citations.
This was an automated message sent on behalf of your local Department of Motor Vehicles. Do not reply to this message.