When you purchase or renew any Indiana license plate, you will pay registration fees and taxes determined by the year and make of your vehicle, your county and municipality of residence.
Most license plates are available to renew online. Vehicles requiring additional forms upon renewal cannot be renewed online. Please note: It can take up to 21 business days to receive your registration and/or license plate in the mail.
Do Your License Plate Stickers and Frames Comply?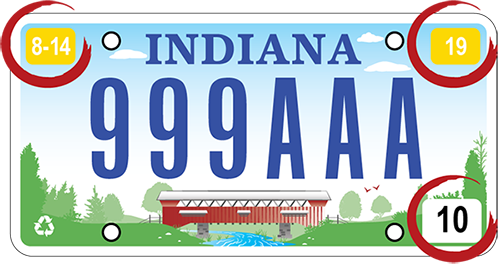 Make sure your license plate properly displays the registration stickers, and is not obscured by your license plate frame.
Learn More About the Required Placement of Stickers and Frames
Indiana's Standard and Distinctive License Plates
Category:

All

All
Standard
College & University
Military
Organization
Personalized
Other
All
Standard
College & University
Military
Organization
Personalized
Other
Standard Passenger
The standard passenger license plate may be displayed on passenger cars.
More Info
More Info
See More Plates
Return to Category
...
The cost of this license plate is in addition to vehicle registration fees and taxes.
Group Fee*
Administrative Fee
Personalization Fee
This plate may be personalized for an additional $45.
*Group fees are distributed back to the sponsoring organization, who determines what the funds will be used for. Please contact the organization with questions regarding these funds.
Eligibility
Eligible Vehicle Types:
Motorcycles (must display a license plate in a visible location on the rear of the motorcycle)
Passenger motor vehicles
Recreational vehicles (RV)
Trucks with a declared gross weight of not more than 11,000 pounds
Low digit plates (1-100) require authorization from the sponsoring organization.
---
Availability
This plate can be ordered through myBMV.com, at a branch, and other customer service locations. You will receive the plate in the mail within 21 business days.
---
License Plate Stickers and Frames
Your plate should have stickers showing the day, month, and year of your next registration renewal, and the county in which your vehicle is registered. Indiana law prohibits license plate frames or covers that obscure stickers, text, or numbers on your plate.
All
Standard
College & University
Military
Organization
Personalized
Other