The Indiana Bureau of Motor Vehicles (BMV) is responsible for titling and registering watercraft operated in Indiana. Please use the links in the accordions below to learn more about titles, hull identification numbers, registrations, excise taxes and fees for your watercraft.
Help keep Indiana's waterways clean this boating season
Pledge to be an Indiana Clean Boater today!
#CleanBoatersAreIN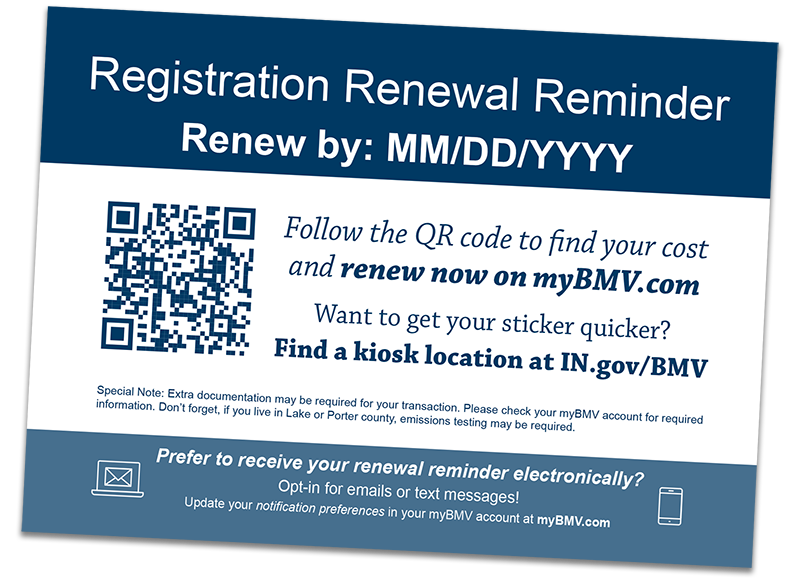 Registration renewal reminders got a makeover!
If you have US Mail set as your preferred reminder method, you may receive the new postcard reminder.
Not sure if US Mail is your chosen preference?
Frequently Asked Questions
Where Can I Find Information on Indiana's Boating Laws?
What are the Registration Requirements for Watercraft?

All watercraft operating on Indiana waterways must be registered with the BMV and display valid watercraft decals unless otherwise exempt.

The following are exempt from obtaining an Indiana registration:

Non-motorized watercraft including, but not limited to, canoes, rowboats and paddleboats, but excluding sailboats. Non-motorized sailboats must display valid watercraft decals and pay any applicable fees and taxes.
A watercraft that is from another country other than the United States temporarily using the waters of Indiana.
A ship's lifeboat, when used solely as a lifeboat of another watercraft and for no other recreational purpose.
A watercraft that is registered outside of Indiana and operated, used, stored, or docked in Indiana for a combined total of not more than 60 consecutive days during a calendar year.
A watercraft that is registered outside of Indiana and docked on the Indiana part of Lake Michigan for a combined total of not more than 180 consecutive days.
A watercraft that belongs to a class of boats that has been exempted from registration and numbering by the bureau after the bureau has found the following:

That an agency of the federal government has a numbering system applicable to the class of watercraft to which the watercraft in question belongs.
That the watercraft would also be exempt from numbering if the watercraft were subject to federal law.

A watercraft, the operator of which has in the operator's possession a bill of sale from a dealer or private individual that includes the following:

The purchaser's name and address.
A date of purchase that is not more than 45 days after the date of acquisition/purchase.
The make, model, and identification number of the watercraft provided by the manufacturer.

A watercraft held by a watercraft manufacturer, distributor, or dealer for sale in the ordinary course of business.
A watercraft subject to the commercial vessel tonnage tax.

To apply for a certificate of registration, you must provide proof of ownership. If you do not have a certificate of title to provide as proof of ownership and the watercraft is not required to be titled, you may complete and affirm ownership on a Watercraft Ownership Affidavit – State Form 55100.

The BMV issues a certificate of registration, a registration number and two decals for each watercraft registration.

The certificate of registration must accompany the watercraft and be made available for inspection whenever the watercraft is in operation.
The registration number must be displayed, painted on or attached to each side of the bow of the watercraft so that the number is legible and clearly visible. Indiana registrations number stickers are not provided by the BMV or DNR.
The decals contain the watercraft's registration number and expiration date and must be affixed either:

To the bow of each side of the watercraft, within three inches to the right of the watercraft's registration number forward half of the watercraft; or
On each side of the forward half of the bow above the water line of the watercraft if a registration number is not required to be displayed.

Watercraft registrations must be renewed annually on or before your scheduled expiration date.

How Do I Order a Registration Card for a Watercraft?

An application for a new, renewed or duplicate watercraft registration may be processed at any BMV branch.
Registration renewals and duplicate registration cards may also be processed online.

You will receive the Certificate of Registration and watercraft decals in the mail within 21 business days.