Peru Branch has Moved
The Peru branch has moved to a new location with a BMV Connect Kiosk. The last day at their current location will be Saturday, March 21, 2020. They will open at their new location on Tuesday, March 24, 2020.
The new address will be 300 South Broadway, Peru, IN 46970.
Connersville Branch Temporary Closure
Due to construction, the Connersville branch will be closed during the week of Monday, March 30 through Friday, April 3. They will resume normal business hours on Monday, April 6th. To accommodate, the Rushville branch will be open Monday through Friday that week at normal hours, 8:30-5:00 pm.
Get Email Notifications
Did you know the BMV offers email notification reminders for driver's license and registration renewals?
Sign up for electronic notifications from the BMV through your myBMV account.
Scheduled Maintenance for myBMV.com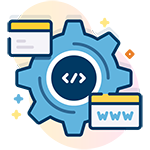 Please be advised that myBMV.com is scheduled for maintenance on Sunday, March 29, 2020 and will be offline and unavailable from 5:00 AM EST to 12:00 PM EST. We apologize in advance for any inconvenience.