State Employee Training
Welcome to the Indiana State Personnel Department's Learning & Development division. Here you will find important resources and information regarding onboarding, required online training and professional development opportunities for State employees. Be sure to check back for learning & development updates throughout the year.
Online Training
To access your online training please log into ELM here: Enterprise Learning Management and follow the steps in the Learner Quick Step Guide. You may access additional PeopleSoft user guides and resources by clicking on "PeopleSoft HR and ELM Training Program" under Training Opportunities on this page.
LinkedIn Learning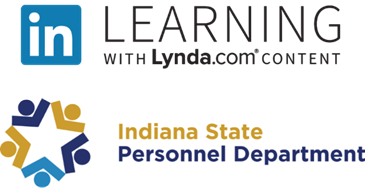 LinkedIn Learning https://www.linkedin.com/learning is available to all State Employees working within agencies that are supported by the Indiana State Personnel Department, (not including contract employees).
For information about how to log in and get started, view the LinkedIn Learning Login Guide.
Instructor Led Training
SPD partners with a few agencies to provide instructor lead training courses. These courses are held in the Indiana Government Center South building, conference room 16 unless otherwise noted. Please review the information below for more specific information including dates of when these courses are offered. Remember to seek supervisor approval before signing up for a course.
Please view the how to register page for more information pertaining to these specific courses.
Preventing Workplace & Sexual Harassment 2019 Training
The 2019 Preventing Workplace & Sexual Harassment Training is now available to all Executive Branch employees (excluding contractors or employees at the following business units: House of Representatives, Senate, Lobby Registration Commission, Legislative Services, Supreme Court Administration, Court of Appeals, Indiana Public Defender Commission, Indiana Judicial Center, Tax Court, Prosecuting Attorney Council, Indiana Public Defender Council, Indiana Board for Depositories and 911 Board). Learners must complete this mandatory compliance training within 21 days of their enrollment date.
The 2019 PW&SH training is located in PeopleSoft ELM. Quick-step guides are available below:
If you have any questions regarding the completion of the Preventing Workplace & Sexual Harassment 2019 training in ELM, please contact the INSPD Learning & Development team, SPDTraining@spd.in.gov.
If you have any questions regarding Workplace & Sexual Harassment Policies discussed in this training, please contact the INSPD Employee Relations Division at 317-232-3080 or visit www.in.gov/spd/2417.htm.
PeopleSoft Training
PeopleSoft HR and ELM Training Program
Links to helpful information
Information on Indiana State Government
Maps of the Indiana Government Center and Surrounding Area
About Indianapolis
Section Pages