Performance Management
What is Performance Management?
Performance management is a system of tools and best practices managers can use to engage staff and directly influence their productivity and retention. It helps to define the employee's engagement experience – or the relationship that should exist between the employee and their organization. Managers who use the performance management system timely and effectively have more meaningful relationships with staff and see a direct correlation with improved business results.
How does the Division of Workforce Strategy and Planning serve you?
We want State of Indiana employees to feel engaged at work and agencies to consistently achieve business outcomes, so our team helps agencies define and engage the talent they need to achieve business results. We provide consultation, education, and process management for agency leaders, managers, and employees. Contact the team at performancemanagement@spd.in.gov for tools, resources, and support.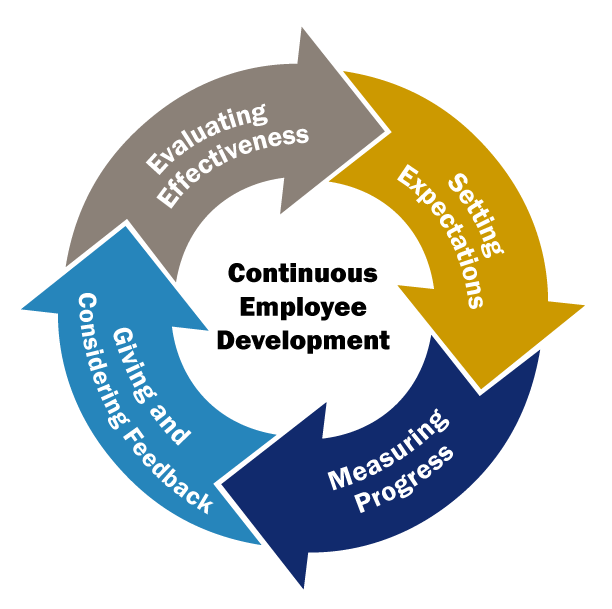 Ongoing Performance Management Process
The Performance Review Cycle represents five major steps that enable successful performance throughout the Review Period (January – December).
More information on the performance management process can be found via the SAP SuccessFactors Jam module:
*You must be logged in to SAP SuccessFactors to access Jam directly.
Performance & Goals Courses
---
Performance & Goals courses are available online and with live trainers for both employees and supervisors. Courses can be accessed through SAP SuccessFactors' Learning module.
Need help? Contact your agency's HR team to learn more.
Core Competencies & Job Architecture
---
The competency framework defines our culture and identifies successful talent using Core Value and Role-assigned (or Role-based) Competencies. Core Value Competencies represent the beliefs and ideals of our organization and are assigned to all state employees and supervisors (managers).