It all adds up
Successful SECC program nets more than $1.4 million for Hoosier charities
State employees raised in excess of $1.4 million that will benefit more than 1,600 charities -- as well as countless people in need throughout the Hoosier State -- via a giving program planned by state workers and facilitated through the Indiana United Way (IUW).
Pictured right: A special ceremony in March honored the many individuals and state agencies who gave generously to the State Employees' Community Campaign (SECC) in 2017-18. Seen here are Indiana United Ways President/CEO Maureen Noe, Indiana State Personnel Department Director Britni Saunders, Indiana Department of Environmental Management Commissioner Bruno Pigott and Salvation Army Maj. K. Kendall Mathews.
The annual State Employees' Community Campaign (SECC) awards ceremony in late March provided a "moment in the sun" for those who donated to numerous nonprofit causes via scheduled paycheck deductions or direct monetary gifts.
But those present at the Indiana State Library March 29 who gave generously to the campaign said they did so out of a heartfelt desire to help others.
Leading by example
At the helm this year as campaign chairperson was Indiana Department of Environmental Management (IDEM) Commissioner Bruno Pigott, who helped guide the program to one of its most successful campaigns yet.
In all, more than 6,800 employees donated, benefitting a grand total of 1,659 different charities.
For Pigott, the endeavor was a deeply personal one. The current IDEM commissioner was a stay-at-home father in 1996 when his apartment was destroyed by fire. Pigott and his one-month-old son escaped, but the blaze essentially consumed everything they owned.
Watching his home smolder from the safety of the building's parking lot, Pigott began to ponder the family's next move.
"We wondered, 'Where are we going to get clothes?'" he recalled, speaking at the March awards ceremony. "Where are we going to stay?"
Help came quickly, thanks to the Salvation Army, which was located just across the street. People involved with that service helped the Pigotts get back on their feet and now, more than two decades later, the IDEM commissioner remains committed to giving back.
A Shared Cause
Thankfully, a legion of likeminded individuals feels the same, and they opened their checkbooks throughout the year for a long list of nonprofit charitable institutions. The donations will be dispersed by the IUW to the intended beneficiaries beginning in late April.
The final SECC tally came to $1,432,965 – a mark only a smidgen short of the approximately $1.45 million goal set by Pigott. Though it just missed that lofty bar, the campaign nonetheless boasted more than 60 "Champion" level agency donors and was among the highest totals collected in the SECC's history.
Individuals and agencies can qualify for one of the three Champion levels – gold, silver and bronze -- which are based on the amount donated.
Champion level donors accounted for almost 60 percent of the total funds donated, though slightly fewer than a fourth of all contributors pledged at the Champion level. The average contribution per person came out to a little more than $43.
Pigott said that level "illustrates the generosity of state employees."
Beyond that is the "Torchbearer Society-level" contribution, which is reserved for donations of $1,000 or more. More than 200 state employees could lay claim to that mark in the most recent campaign, accounting for about 25 percent of the 2017-18 total.
"That's incredibly impressive," said the IDEM commissioner.
Those dollars add to four decades of state employee contributions that have raised in excess of $33 million since the program's inception in 1978. Comparatively, the SECC netted "only" about $100,000 in its first year. Adjusted for inflation that's the equivalent of around $375,000 today.
'The Right Thing to Do'
The monumental 2017-18 total deserved acclaim all its own, however, and representatives of numerous state agencies were in attendance March 29 at the Indiana State Library to receive certificates and plaques commemorating their heartfelt donations.
Commissioner Pigott was among the first to give credit where it's most certainly due.
"I really couldn't be prouder of my friends and peers at the state here -- my fellow state employees who raised more than 1.4 million bucks to the SECC," he said. "These are amazing numbers. We couldn't have done it without you."
Clearly, the employees who gave during this campaign did so because they wanted to help others who are less fortunate. Some of the donors said they had experienced difficult times in their own lives, and donating to help people going through similar situations was something they felt called – but not obligated – to do.
Angie Smith, a secretary for the Department of Financial Institutions (DFI), has experienced tragedy and loss on multiple occasions in the past. A fire in 1989 destroyed the Detroit home Smith shared with her mother and then-pregnant sister. The fire robbed them of their possessions and led the three to relocate to Indiana.
Pictured left: Giving is its own reward for Indiana Department of Financial Institutions employees Sharmaine Stewart (left) and Angie Smith.
Fortunately, Smith and her family were helped by the American Red Cross in the wake of that disaster, and Angie hasn't stopped giving back in the nearly three decades since she lost her home. Two other, more recent, fires affected Angie's family as well. She said a blaze in 2014 claimed the life of her uncle.
An animal lover, Angie Smith supports the Humane Society and doesn't think twice about parting with some of her paycheck in order to help people – and four-legged friends – in need.
"Giving is in my nature," she said. "My family and I have been through a lot, but we've stayed strong and kept the faith. Thank goodness it's organizations like the Red Cross that give relief in the midst of disaster, and that's why I will continue to give."
Similarly, Sharmaine Stewart, a DFI administrative assistant, gives because she feels it's "the right thing to do."
The experience has been heartwarming for Stewart, who, like many other employees, donates half an hour's wages each pay period to the SECC.
The amount, which is not at all insignificant as it adds up, nonetheless isn't missed on payday, Stewart explained.
"After awhile you don't even notice it's gone," she said.
The biggest benefit appears to be simply feeling good about doing something kind for others. The fact that so many of her colleagues around the state feel the same is a source of joy for Stewart. "Seeing everybody give really touched me," she said.
Along the same lines, Sherry Green, a clerical assistant with the Indiana Gaming Commission (IGC), said she has benefited in the past from programs similar to those she supports through the SECC. Now, she's returning the favor.
"It just makes me feel good," she said, noting that the IGC won a per capita gold award this year – one of 37 state agencies to do so during the most recent campaign. Green and Smith served as campaign coordinators alongside more than 70 other state workers.
Successful campaign – and just desserts
Ditto for Pigott when it comes to wanting to give back. The commissioner was lauded for his work as campaign chairperson by Indiana State Personnel Department (SPD) Director Britni Saunders, who conducted much of the presentation alongside IUW President and CEO Maureen Noe.
The IDEM commissioner chose to deflect most of the praise, however, instead allowing a little more light to shine on others who contributed.
One of those was Ryan Clem, IDEM Director of Communications, who received a "Director's Award" for his work throughout the campaign.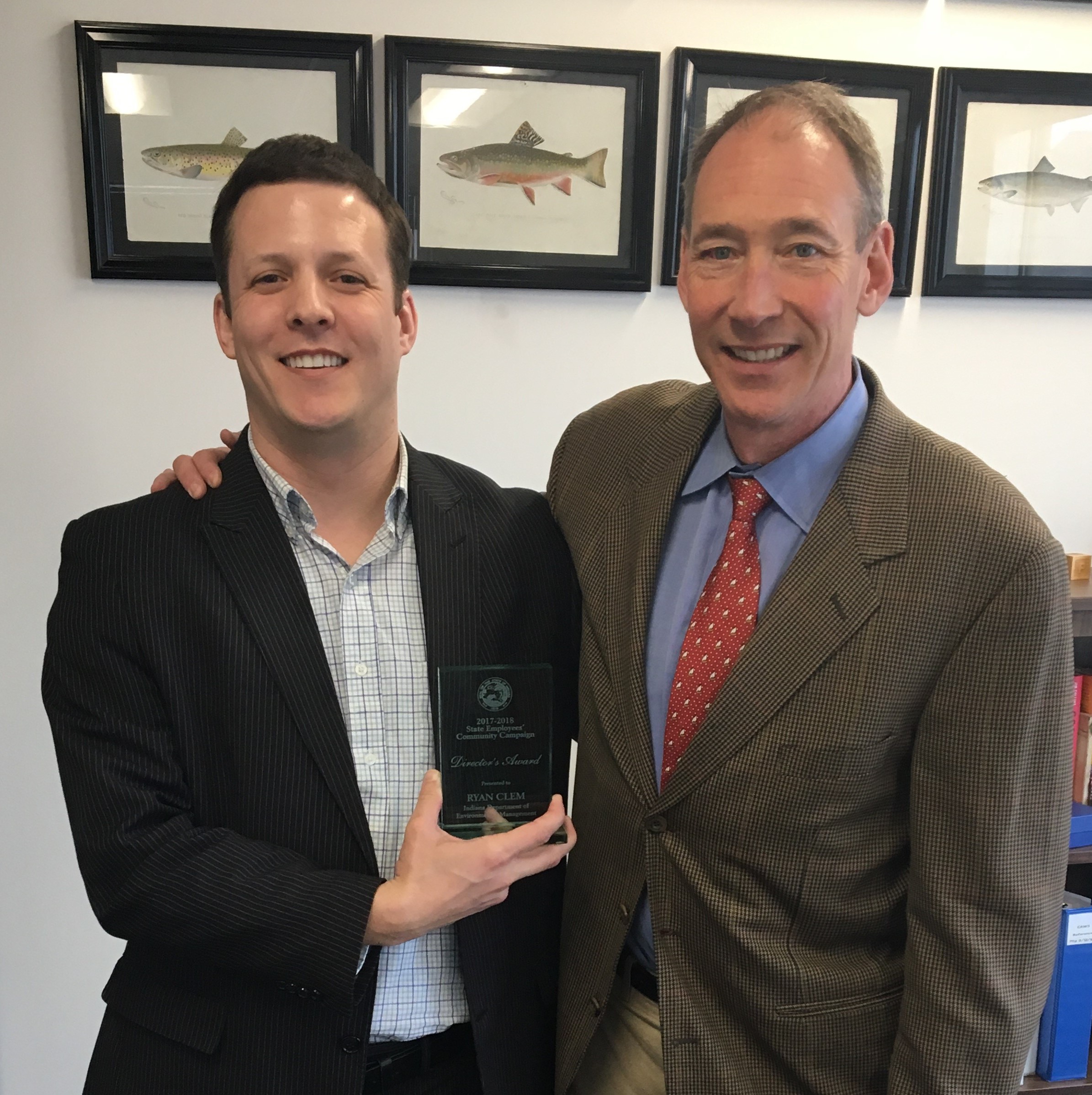 Pictured right: Indiana Department of Environmental Management (IDEM) Communications Director Ryan Clem (left) was honored with the prestigious "Director's Award" at the 2018 SECC awards ceremony. Clem is seen here with IDEM Commissioner Bruno Pigott.
Nearly 22 years since he and his family were assisted by the Salvation Army at a time when they needed help perhaps more than ever before, that longstanding charity continues to hold a special place in Pigott's heart.
The IDEM commissioner introduced Salvation Army Maj. K. Kendall Mathews, who spoke of his charity's continued mission of providing what he called "a hand up instead of a handout" to people battling addiction, poverty, food insecurity or any number of other societal issues.
Mathews, who serves as executive director of the expansive Harbor Light Center at 2400 N. Tibbs in Indianapolis, spoke of some of the work of his organization, and he thanked the state employees who participated in the 2017-18 SECC.
Most visible during the holidays due to the presence of its bell ringers, the Salvation Army fights its battle year-round.
"Need knows no season," Mathews commented.
Mathews said money donated to the Salvation Army can help people battling drug and alcohol addiction, assist families involved in a disaster and even make the holidays a bit brighter for needy children.
"This is the kind of impact that I think many of us need to know about when we give of our cash, of our talents, of our time," Mathews said, mentioning a smattering of success stories that have taken place at Harbor Light.
After 40 years of successful SECC initiatives, the generosity of state employees likely comes as a surprise to no one.
But that doesn't mean a little pat on the back isn't necessary – and appreciated.
"The donated dollars from state employees will help many charities continue providing programs and services to those in need," Saunders said. "Your continued donations, not only of dollars, but of time and commitment have greatly benefited the campaign and the state. Thank you."
Story by Brent Brown, INSPD Communications