About Us
Mission
ONE STATE, ONE TEAM

-
Empowering Indiana to deliver great government service.
Values
Integrity | Innovation & Solutions | Trusted Partnership | Next Level Service
INSPD Leadership Team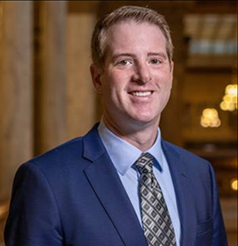 Matthew Brown, Director
Matthew (Matt) Brown began his career at the Indiana State Personnel Department (INSPD) as an Employee Relations Specialist after he earned his bachelor's degree in Public Affairs with a concentration in Public Management from Indiana University. He graduated from the Robert H. McKinney School of Law in 2013, summa cum laude, and began working as an Associate Attorney with Faegre Baker Daniels. As an associate, Matt represented clients in federal and state courts and in administrative hearings before a myriad of state and federal agencies.
In 2014, Matt returned to INSPD as Employee Relations Counsel. In 2017, he joined the field team as Deputy Director. Matt held that role until 2019 when he briefly left to help start the Office of Administrative Law Proceedings. Matt has held the role of Director since December 2020.
---
Jordan Bolden, Chief of Staff
Jordan Bolden returned to INSPD as Chief of Staff in March 2021. In her role, Jordan oversees the Employee Relations, Compensation, Performance Management, Communications, Learning & Development, and Talent Acquisition departments. Previously with INSPD, Jordan served as an attorney in the Employee Relations division, providing legal counsel to agency leadership and HR professionals in matters concerning employment law, performance management, and policy application concerning state employment.
Prior to returning to INSPD and to joining the leadership team, she served as Chief Administrative Officer at the Indiana Bureau of Motor Vehicles (BMV) and, before that, Chief of Staff for the Indiana Department of Homeland Security (DHS), providing oversight and strategic direction to both the public facing and central office operations of the two agencies.
Jordan earned both her Juris Doctorate and Bachelor of Science in Public Affairs from Indiana University. In her free time, Jordan likes to read, watch Jeopardy, and explore new restaurants while continuing her search for the world's most perfect dipping sauce.
---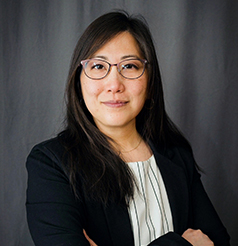 Elaine Kan, Chief Technology Officer
Elaine Kan is a Chicagoland native who started her Hoosier journey by attending Purdue University. Her career aspirations changed the moment she discovered her passion for technology. She now has over two decades of IT infrastructure experience with notable success in large scale implementations and administration of enterprise messaging and identity platforms. She has consulted for both private and public sectors, in many cases, as the first woman in each of those technical infrastructure consulting practices. She previously worked at the Indiana Office of Technology as a Deputy IT Director. There she was able to leverage her technical expertise in a leadership role which allowed her to shape solutions and direct enterprise implementations.
She is a strong proponent for diversifying the workforce with a focus on increasing female representation within the technology field. She also serves on the Board of Directors for GWIT (Government Women in Technology) which is the State's first affinity group.
---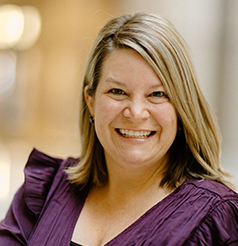 Marci Rautio, Deputy Director
Marci Rautio serves as Deputy Director/Field Operations for the Indiana State Personnel Department. Marci Joined INSPD in 2005 and has served in several roles, including Human Resource Director for the Families and Social Services Administration (FSSA) and the Bureau of Motor Vehicles (BMV), as well HR Business Partner with the Department of Correction (DOC). Marci also served as Project Manager for the state's HR centralization project. Before joining INSPD, Marci held human resource positions in local government and in the private sector. Marci holds an MA in Public Affairs and bachelor's degree in Criminal Justice from Indiana University.
---
Andrew Stoneking, Deputy Director
Andrew Stoneking is the Deputy Director of Operations for INSPD. Since joining the team in 2011, Andrew has served in a variety of human resource roles, including HR Director for the BMV and Indiana Department of Administration (IDOA), as well as INSPD. A native of Lawrenceburg, he earned his Bachelor's degree in Political Science from Purdue University and received a Master's degree in Public Administration from Northern Kentucky University.
---
Keith Beesley, General Counsel
INSPD became Keith Beesley's fifth employer when he was hired at the age of 20. He has been assigned to the Director's Office since 1981 and served four years as Deputy State Personnel Director. He attended the University of Evansville, Indiana University School of Law, and the Executive Program in Public Management at Harvard. His accomplishments include writing: the Law that created the State Personnel Department; the Executive Orders that implemented collective bargaining and later withdrew union recognition; Indiana's Civil Service statute; and numerous employee benefit plans and contracts.
---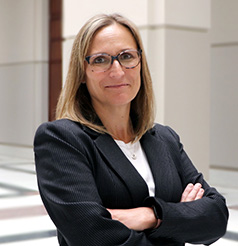 Christy Tittle, Benefits Division Director
Christy Tittle is the Benefits Director for INSPD and has been with the agency since 2000. Christy is a true public servant. She has a hard job of balancing the needs of the state as an employer and the needs of the state's employees. In all circumstances, Christy pushes for creative solutions to maximize state resources while providing great value for employees. She uses her experience to view situations from all angles to make sure INSPD programs are the best they can be.
---
Susan Barnhart, Benefits Division Director
Susan Barnhart serves as the Director of Healthcare Analytics. She is responsible for all things data for the employee health plan including assessing plan performance, measuring program effectiveness, evaluating new strategies, overseeing the data warehouse and managing wellness programs.
Upon graduating from IU's Kelley School of Business at Indianapolis, Susan joined a CPA firm specializing in health care audits. Susan started her state career at the Indiana Public Retirement System (INPRS) supporting the actuarial and employer contribution processes before joining INSPD in 2011. She loves the complicated challenges that healthcare presents and comes to work each day with the goal of improving benefits for state employees.
State Employer Brand & Values

Public Service
Diversity
Well-Being
Work-Life Balance
Professional Development