Main Content
Article
IDEM weight loss challenge encourages healthy habits
A little encouragement often can be the difference between a successful venture and one that ends less glamorously.
That friendly boost comes in many forms, but in the Indiana Department of Environmental Management (IDEM) Office of Land Quality in Indianapolis, don't be surprised if that "love" is sometimes a little on the tough side.
Pictured right: IDEM Office of Land Quality employees John Hale, Karen Purtell, Lora Esteb, Tonya Keller and Judy Sullivan are part of a group currently competing in a weight-loss challenge. The challenge started in 2010.
Case in point: It's likely that many a snack cake has been removed from the desk of weight loss challenge participants, the sugary sweets meeting the same ignominious fate as any other calorie-rich treat left errantly exposed in the cubicle.
In short, if your unhealthy snack goes "missing" in the Indy OLQ, there's a good chance a good-natured colleague is the culprit.
But it's all in fun, and the temporary, tongue-in-cheek snack swiping is borne out of affection and what members call "friendly accountability" much more-so than any brand of mischief.
Bringing people together
"This friendly weight challenge really works and has brought many people together," opined Lora Esteb, an IDEM environmental scientist and one of the four original organizers of the program. "We've ended up being more of a family than co-workers, all [while] trying to accomplish the same thing – lose weight."
Those in the group, which has attracted as many as 35 simultaneous participants since it began in 2010, are serious about their mission and have gone as far as establishing a rigorous set of rules around the weekly and quarterly weight loss challenges.
Those guidelines are in place to ensure each contest is fair, but it's a genuine sense of camaraderie coupled with concern about the health and wellbeing of coworkers that forms the heart and soul of the weight loss challenge.
So if, say, senior environmental manager Karen Purtell walks by your desk and calmly confiscates your cupcakes, the pilferage is really just another way of saying "I care about you. And don't eat that!"
Purtell joked that she's done just that throughout the years. It certainly gets the point across.
Purtell joined the contest in 2012, and like so many others, has experienced improvements in her health while establishing new office friendships.
They rely on each other each and every step of the way.
'We're all in this together'
"We know that we're all in this together," said environmental manager Judy Sullivan. "It really helps to have this camaraderie and support."
"We're all looking out for each other," added environmental scientist Tauna Earl.
Earl, along with Esteb and administrative assistants Shannon Alderson and Tonya Keller, created the weight loss contest in 2010, so she's well-versed in the importance of teamwork.
What they likely didn't know at the start was how closely the challenge would unify those taking part in it.
These days there's a palpable sense of kinship among the OLQ employees. They laugh and joke warmly about past experiences and clearly care about each other's wellbeing. They've got each other's backs and each of them knows it.
Senior environmental manager John Hale, for one, said he is grateful for his colleagues' support.
"I think it's a blessing to have these guys' encouragement," he remarked.
Hale began participating in the challenge about two years ago, and his experience has been positive. He emphasized that sometimes just maintaining one's weight can be a victory. Either way, his colleagues are the first in line to celebrate every accomplishment and they'll be right there for support if things go sideways.
In that sense, the OLQ weight loss challenge is a contest in name only; in reality, the participants are closer to teammates than competitors.
They work together to come up with new ways to stay healthy, too.
To keep the pounds off, some have formed workout and walking groups. Exchanging healthy recipes and offering intel on new diets are two other ways the group collaborates.
On average, about a dozen employees compete in the challenge, which is usually held quarterly.
Success stories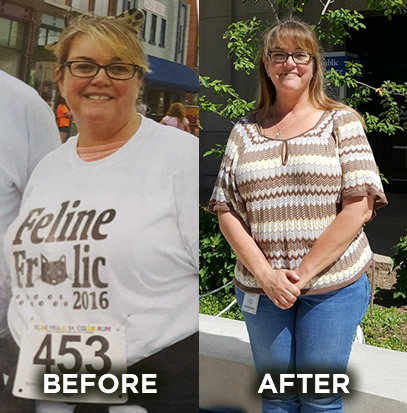 Positive outcomes are the norm and few have had more success in that regard than Keller.
Since she helped start the contest in 2010, the administrative assistant has lost around 60 pounds. She's jettisoned soda from her diet, participates in 5Ks and other run/walk events, and watches her portion sizes.
Not bad for a self-described "Mountain Dew addict."
Drinking water in place of pop has been key in Keller's weight loss, which has come at a deliberately persistent pace.
"I love turtles," she said with a laugh. "So I'm taking it slow and steady."
As the old saying goes, that's a mindset that eventually "wins the race."
Keller's story is a highlight among several smile-inducing outcomes.
One former office employee, for example, dropped more than 75 pounds in a single year while competing in the weight loss program. That was the biggest loss recorded in the challenge's eight years, Esteb noted.
Even with positive results showing at every turn, the IDEM OLQ crew isn't resting on its collective laurels.
No, they're working together to create what Esteb calls a "fun, lighthearted, encouraging" atmosphere. Each person ends the contest period feeling good about themselves, no matter what the scale says.
And that's just how this group of friends "rolls." They're happy for one another, happy with one another, and always hoping for positive health changes for their office friends.
Hale complimented Esteb, in particular, on making certain the challenge continues, and with it, the unending support of the IDEM colleagues.
Esteb hopes other offices will follow suit and establish a similar encouraging environment.
After eight years – and numerous happy outcomes – Esteb reflected contentedly on the program and remains hopeful that there are only good things on the way in the years to come.
"It's really been an interesting eight-year challenge," she said. "I hope that more offices would take that approach and start their own challenges."
Story by Brent Brown, INSPD