Main Content
Article
New Parent Leave helping families grow -- together
by Brent Brown
Indiana State Personnel Department
Celebrating a new addition to the family is always a joyous occasion, but for two state employees the recent births of new children proved to be just a bit more special thanks to the state's New Parent Leave (NPL) policy that took effect Jan. 1.
The program was enacted via an executive order from Gov. Eric Holcomb late last year and allows full time state employees (in permanent positions) to take up to 150 hours of paid leave to celebrate a new birth or adoption.
Uniquely, part-time employees may also be approved for up to 75 hours of leave.
In both cases, workers must have accrued at least six months of uninterrupted employment with the state.
The goal, the governor said, is creating stronger families – without the worry of job loss or the stress of wondering how to pay the bills that could accompany unpaid childcare leave.
That paid time away from work, as anyone who has taken it is likely to say, is priceless.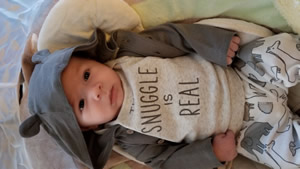 "I got to learn the ropes of becoming a new parent and the fun, joy and stress of raising a newborn," reflected Ashley Jones, a family case manager supervisor for the Indiana Department of Child Services, on the birth of her first child, Raylan. "We spent most of our time at home, getting to know each other and getting on a schedule. We did begin to venture out into the world so he would get used to being out in the community for shopping trips, dinner and spending time with other family members."
Ashley, 27, said the time off from her job allowed her to bond with her newborn son, which was particularly important as her husband Gavin was only able to take a week of leave from his job.
"It was beneficial that I was able to take paid time off in a longer time frame," Ashley said.
Raylan arrived shortly after midnight Jan. 6, comfortably coming into the world well after the enactment of the new policy. The uncertain timeline of Raylan's arrival, however, led to a bit of anxiety for the Jones family as the holiday season gave way to the new year. Had the baby boy been born before Jan. 1, Ashley wouldn't have been eligible for NPL.
Thankfully, navigating the NPL approval process was a snap for Ashley.
"The process was easy for me, and efficient," Ashley said.
Beyond that, Ashley's time with Raylan was free from the worries of work, allowing the first-time mother and her baby boy to develop a strong bond from the outset.
Based in Lafayette, Ashley's job involves directing and supervising a DCS team committed to the safety and protection of Hoosier children. Ashley said one of her work missions is to "promote, maintain, and model working relationships with staff, clients and partners that are inclusive, respectful and adhere to the vision, mission and core values of the Department."
Balancing those duties with motherhood is certainly no easy task, but the young family is happily managing and has perhaps grown closer than they might have had the NPL not been put into place.
And with Raylan nearing 3-months-old, a well-timed vacation may be on the Jones family's itinerary, allowing for even more opportunities to celebrate parenthood and the joy of raising a child.
"[NPL] afforded me the opportunity to save up and not use my vacation days so that I will be able to take vacation time in the near future and spend time with my growing family," Ashley said.
Approximately three months since its debut, the NPL program has quickly taken root and is already paying positive dividends for state employees and their families.
As of late March, more than 140 employees have been approved for NPL, though not all had utilized the entire allotment of available leave. Employees approved for NPL must use the entire allotted amount within six months of the child's birth or adoption placement. Otherwise, the time is forfeited.
Employee data shows that, by and large, the leave was taken to welcome the birth of a new child, though a small number of families celebrated adoption placements.
Many new fathers were able to make use of the leave as well as the policy allows the spouse of an expectant mother to take the same amount of paid leave. If both parents are state employees – and are approved for NPL – the couple could take as much as three and a half consecutive weeks away from work to celebrate their child's arrival together through NPL alone. Vacation and other accrued time-off isn't used, allowing a little more flexibility in making future family plans.
The hoped-for result of the NPL is closer-knit families who bond with their children and set them on the path to success later in life. It is also intended to "increase morale and engagement" among state employees, Holcomb said, continuing the state's mission of building "a diverse, highly-skilled, and professional workforce."
"It is an objective of the State of Indiana, as an employer, to facilitate opportunities to enrich both the workplace and families," Gov. Holcomb said via an official proclamation in December.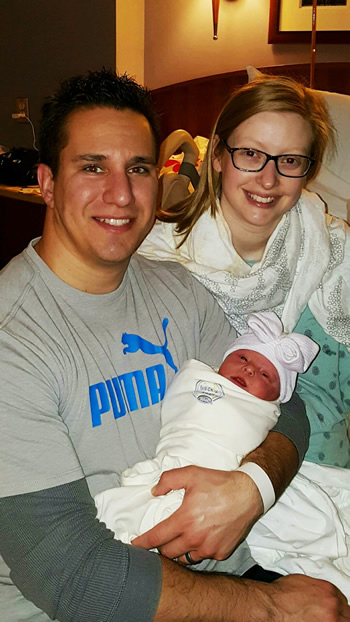 Based on the experiences of Dirk and Sarah McDowell, it appears that goal is being met.
Dirk's experiences with NPL were similar to Ashley's, though he and his wife have a bit more parenting experience.
Already a father of 2-year-old twin boys (Camden and Noah), the 29-year-old working leader in the Indiana Department of Workforce Development (DWD) Benefits Accuracy Measurement Unit and Sarah welcomed little Kay McDowell Jan. 11.
The ability to take time off from his duties in overseeing several important aspects of unemployment insurance claims helped the family bond, Dirk said, and the McDowell's boys were able to gain an appreciation of their baby sister by spending ample time with their parents.
As expected, some of that acceptance might have come at the older brothers' chagrin.
"I think my twin boys finally came to realize between themselves, 'I think this baby is staying for good,' Dirk joked. "And they seemed to be okay with it."
Dirk said taking NPL ensured he could tend to baby Kay's needs while mom took care of Camden and Noah – and vice versa. Either way, Kay's big brothers never felt left out.
"It was good that both parents were able to be home," Dirk said. "The boys could still get plenty of attention from their mommy with me helping with baby Kay."
There was plenty of daddy-daughter time, too, and Dirk said some of his favorite moments involved relaxing with the family's new bundle of joy.
"My favorite thing was just simply sitting on the couch with my little girl sleeping on my chest," Dirk said. "She seemed to love daddy's heartbeat and warmth. It was a good bonding activity I could share with baby Kay and was a great way to start off this new parenting journey!"
Like Ashley Jones, Dirk said he felt the process of being approved for NPL was relatively simple.
"I found the New Parent Leave process to be a breeze," Dirk said. "It was not time-consuming and was rather stress-free, I would say."
Dirk's assessment appears to mirror what Jennifer Peschke, State Personnel Department Benefits Manager, has heard from others who have been approved for the leave.
Jennifer was part of the team that set out to put in place a leave program that met the governor's vision, and the result hasn't disappointed. The benefits manager commented that the reception has been "overall, very positive." She emphasized that the NPL helps employees by not cutting into accrued sick, vacation or personal time that otherwise would be used to cover these absences.
Signing up is handled through the PeopleSoft Self Service system, and employees have the option of adding the new child to their benefits at the time they request NPL, making for a relatively seamless benefits process. Enrolling the child automatically generates an email to the SPD Benefits team.
But the heart of the program remains building a sturdily happy foundation – at home and on the job. That's a matter in-line with the state's emphasis on creating a proper balance between work and home.
"It's another bank of time for families to spend together away from work," Jennifer said.
For more about the New Parent Leave program, visit https://www.in.gov/spd/2738.htm and http://in.gov/spd/files/New-Parent-Leave-Frequently-Asked-Questions.pdf.