Article
Section
Food Discounts
Indianapolis
Tammy's International Pizza
Now open at 325 W. Washington Street across from the Indiana Government Center South building. The pizzeria offers a 10% discount on your purchase of $5 or more (excluding alcoholic beverages). You must show your employee ID badge to receive the discount.
Tammy's International Pizza serves a variety of pizzas, plus nachos, tacos and breakfast items.
Call (317) 974-9812 to order. View flyer
Edible Arrangements
Location: Edible To Go at 17 North Pennsylvania
Deal: 20% off smoothies and all drinks - Use code STWL2020
All state employees get 20% off beverages at Edible Arrangements downtown only.

Check out their pumpkin spice smoothie and a wide variety of fresh fruit smoothies and healthy mix ins to choose from.
INDYO Frozen Yogurt
Employees can show state issued ID and get a 20 percent discount at the frozen yogurt shop located inside Circle Centre Mall. Offer includes state employee and family members.
Hours: Mon-Sat: 10 a.m.- 9 p.m. | Sun 12 p.m.- 6 p.m.
Website: Visit INDYO's Facebook page

Circle Café
The Circle Café located at the Sheraton Indianapolis City Centre, would like to offer all state employees a 10% lunch discount (good for food and non-alcoholic beverages only). Offer good for state employees only and must show state ID. Not valid with any other discount or certificate.
Lunch discount available Monday – Friday 11 a.m. to 2 p.m.
Any questions, please contact Murali Ramalingam 317.236.2508
Dick's Bodacious Bar-B-Q
10% Discount Anytime
Location: 50 N. Pennsylvania St. (Corner of Market and Pennsylvania St.)
Hours of Operation: M-TH 11a-9pm; F-Sat 11am-10pm; Sun 11am-8pm
Web site: http://www.dicksbbq.com/
Contact Information: (317) 916-9600; jason@dicksbbq.com
Offer good for state employee only and you must show state employee ID. Not valid with any other discount or certificate.
Haagen-Dazs Nestle Toll House store
The Haagen-Dazs Nestle Toll House store is offering State employees a 10% discount on all items. The store is located in Circle Centre Mall. Show your state-issued ID or pay stub to redeem the discount.
Store hours are 10 a.m. to 9 p.m. Monday through Saturday and from noon to 6 p.m. on Sundays.
The Pita Pit
Located at 1 N. Pennsylvania St., Ste 120
317-829-PITA (7482)
www.pitapitusa.com/
The Pita Pit would like to offer a discount of 20% off your meal when a state employee purchases any pita combo meal (pita + drink + chips).
Contact Travis at tsealls@gmail.com
This offer is good for State Employees Only and is not valid with any other offer. State Employees must show proof of employment with an ID badge. Offer not valid on delivery. Offer valid at Downtown Indianapolis location only.

Loughmiller's Pub & Eatery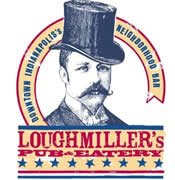 State Employee lunch special is every Thursday from 11 a.m.- 2 p.m for dine in or carry-out.
The State Employee special is $7.49 for your choice of a Cheeseburger and Fries, Hot Bacon Salad, or Chicken Fingers and Fries with your choice of dipping sauces.This offer is good for State Employees Only and they must present their state issued ID. No other discounts will be applicable with this offer.
"Like" Loughmiller's on Facebook if they look up Loughmiller's Pub, they can friend us if they look up Joe P Loughmiller, or they can follow us on Twitter @LoughmillersPub. Loughmiller's occasionally will run an additional special or promotion through one or all of these social media sites.
Dot's Custom Cakes & Catering
Dot's Custom Cakes & Catering Dot's is a family-style restaurant serving a full breakfast and lunch menu. Open: Monday through Saturday: 7 a.m. to 2 p.m. Receive 10% of total sales Located at: 101 Busseron St, Vincennes, IN 47591 If you have questions about this discount, please contact Dorothy Worland at 812-882-1973. Please show State I.D. badge or paystub to redeem this offer. Good for state employees and their family members.
Evansville
Black Buggy Restaurant and Catering
Hours of Operations
Mon. – Fri. 10:30 a.m. - 8:30 p.m.
Sat. 7 a.m.- 8:30 p.m.
Sun. 7 a.m. – 6:30 p.m.

Percentage of savings: 20% anything

Location: 4920 Davis Lant Dr. (Corner of Lynch and Green River Rd.)
Evansville, IN 47715
Web site: http://www.blackbuggy.com/
Contact information:
Phone: 812-473-0012
Employment/ID badge or pay stub required. Offer good for state employees and family
Exclusions: Cannot be combined with any other offer. Alcohol excluded.
Linton
Jiffy Treat
10% discount
Location: 389 NE A. St., Linton, IN 47441
Hours: Monday thru Saturday 11 a.m.-11p.m., Sunday noon-11 p.m.
Must show state ID or recent paycheck stub.
Good for state employees only.
Contact: Heather King 812-847-8119