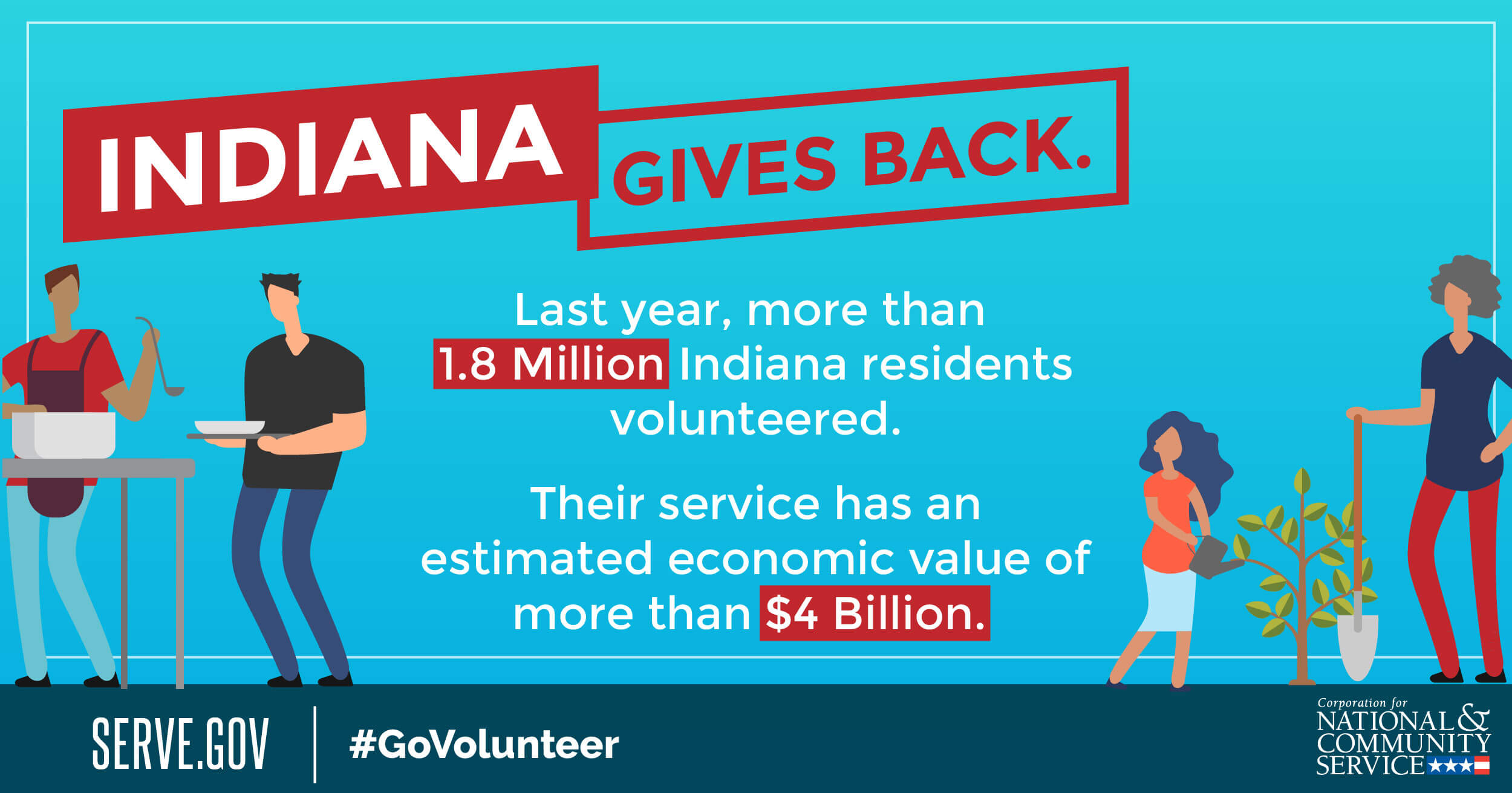 Volunteers can find both long-term opportunities, short-term, or even one-time only events at which to serve. Volunteers can serve in a variety of settings: hospitals, religious organizations, schools, homeless shelters, food banks, and more. With so many options, it can be difficult to find the right opportunity for you. This website can link you to volunteer resources and organizations that can help you find the best volunteer opportunity for you.
Volunteer Center Associations
The Indiana Association of Volunteer Centers (IAVC) is a group of organizations and a great place to start to connect with volunteer opportunities. They can help you find a site that fits your skills, your schedule, and your values. The IAVC's mission is to act as a unified voice to strengthen volunteer centers, volunteer programs, and to promote volunteerism statewide.
Find a volunteer center near you, just click here for a list of IAVC's.
Points of Light Foundation (POLF) is a national network of volunteer centers. POLF sets standards for volunteer excellence, encourages volunteer leadership, and often has great resources for personal volunteer development.
Points of Light Foundation & Volunteer Center National Network (POLF).
Online Volunteer Matching Sites
Resources for Volunteers
Energize Inc. is a website full of articles and tips for maximizing the volunteer experience. Check out helpful articles on using volunteer experience to build your resume and more.
Service Leader.org provides tools and information to help you volunteer more effectively and learn to record your experiences.
INVOAD The mission of the Indiana Voluntary Organizations Active in Disaster is to bring together voluntary organizations active in disaster services to foster more effective response to the people of Indiana in times of disaster through cooperation, coordination, communication, education, convening mechanism, and legislation.
CASA The mission of the Clay County CASA Program is to provide advocacy for the best interests of the children involved in Juvenile Court proceedings, as defined by the laws of the State of IN. We support the development, growth, recruitment, and training of community volunteers to serve as Court Appointed Special Advocates.
Volunteer Lake County! Volunteer Lake Count! creates opportunities for people to volunteer, learn and lead in their communities. We strive to provide volunteers with a high-quality experience that fuels further action, and we envision a day when everyone is inspired and equipped to be the change they wish to see in the world.
IUPUI University Library Special Collections: IUPUI has created the National Service Archives. The collection contains documents telling the stories of civic service and volunteerism in America.
Trainings and Certifications
Council for Certification in Volunteer Administration (CIAVA)
CVA certification is not a curriculum, but a credentialing program that tests a person's "knowledge in use." CIAVA has hosted a study group for individuals who apply for certification.
Indiana Non-Profit Resource Network
The Non-Profit Resource Network is "a regionally-based service providing affordable, accessible, and high quality public and private workshops, board retreats, and consultant referral. "
Volunteer Recognition
President's Volunteer Service Award
The President's Volunteer Service Award recognizes any individual, family, or group that has volunteered for a certain number of hours over a 12-month period or over the course of a lifetime.
- Has a volunteer in your community received the President's Award? Let us know so Serve Indiana can recognize them in our newsletter.
Serve Indiana Awards for Excellence
The most prestigious award in the State of Indiana for volunteerism and service. An annual event honors recipients of that year's awards. Multiple categories exist for a multitude of volunteer actions and focuses.
Disaster Relief
Indiana has a vast network of organizations that come together during disaster to help the community recover. During a disaster, Serve Indiana works alongside government and community organizations such as:
How We Communicate
During a disaster, Serve Indiana communicates with the public through the use of social media sources like Facebook and Twitter. Visit our Contact Us page to learn how to connect. Individuals in need of disaster related services should contact Connect 2 Help or dial 211 on a phone. Community organizations, nonprofits, and volunteer groups should contact Indiana VOAD.
---
Pre-Disaster Resources
Post-Disaster Resources
How You Can Help
Everyone is moved when they hear the news that disaster has struck a community. By learning the best ways to donate and volunteer, we can all make a huge difference in the lives of those affected.
The most effective donation is a financial contribution to a recognized disaster relief organization. When the public supports these voluntary organizations with financial contributions, it helps ensure a steady flow of important services to the people in need after a disaster.
A financial donation
Is the most needed and the most efficient way of helping those impacted by disaster.
Allows voluntary organizations to fund response and recovery efforts, obtain goods and services locally, and provide direct financial assistance to disaster survivors to meet their own needs.
Allows you to direct the contribution to the voluntary organization of your choice.
If you need help in determining who to give to, Indiana and National Volunteer Organizations Active in Disaster are listed at the National Donations Management Network.
Volunteer with a recognized organization involved in disaster response and recovery prior to the next disaster event. There are many organizations and faith-based groups in your community that have active disaster programs and need volunteers.
Volunteer with a nonprofit organization and be trained before the next event to find meaningful volunteer opportunities following a disaster.
Get training and register to volunteer at Indiana VOAD .
The generosity and kindness of people around the country does a lot to help communities heal from the tragic consequences of disasters. Confirm what is needed by volunteer organization BEFORE taking action!
Donate in-kind goods that are specifically requested or needed by recognized organizations.
Unsolicited donated goods such as used clothing, miscellaneous household items, and mixed or perishable foodstuffs require helping agencies to redirect valuable resources away from the greatest needs so they can provide services to sort, package, transport, warehouse, and distribute items that may not meet the needs of disaster survivors.
If you have a quantity of a given item or class of item to donate, and you need help in determining which organizations to give to, you can make your offer through the National Donations Management Network.