The Serve Indiana Ambassador Program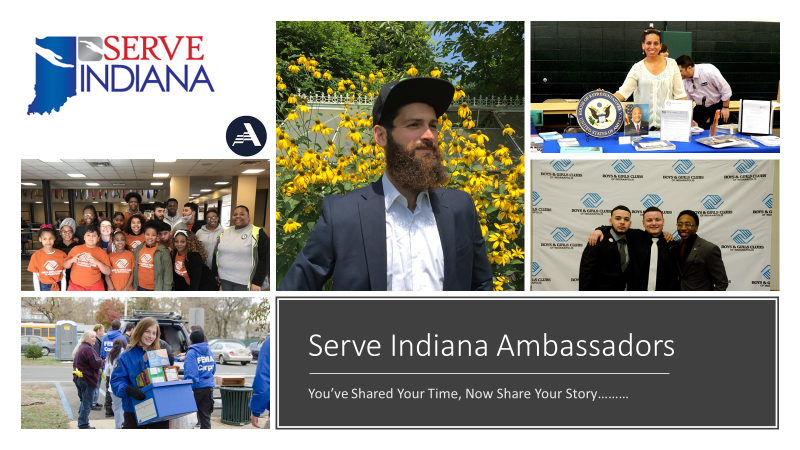 The Serve Indiana Ambassador Program is a unique opportunity for AmeriCorps Alumni here in Indiana, to be celebrated as an esteemed AmeriCorps Alum and promote a term of service at the same time! Serve Indiana actively recruits AmeriCorps alumni and members to apply to become Serve Indiana (SI) Social Media Ambassadors. The Program seeks out community champions who have served in Indiana, or are connected to Indiana now, and features their community service stories on its digital social media channels. The campaign supports a Serve Indiana goal to increase its presence on social media platforms to advance volunteer and service work, and connect with a wider audience. Additionally, ambassador stories provide engaging content and capture authentic service experiences. For a week, each ambassador's content is featured on our social media outlets and featured in our monthly newsletter.
Applicants apply via a questionnaire and review key questions and photo/video instructions to help them craft their personal stories. When shared, social media ambassadors help highlight SI's programs, generate interest in ambassador opportunities and increase traffic to the website. This mutually beneficial relationship showcases the leadership skills of the alumni and the impact of their community programs, while serving as a recruitment and marketing vehicle for SI volunteer programs.
Apply to become a Serve Indiana Ambassador: https://www.surveymonkey.com/r/SIAmbassadorSurvey
Any questions or concerns, contact the Serve Indiana Training and Communications Manager, Kim Woods at kiwoods1@serveindiana.gov.
Featured Ambassador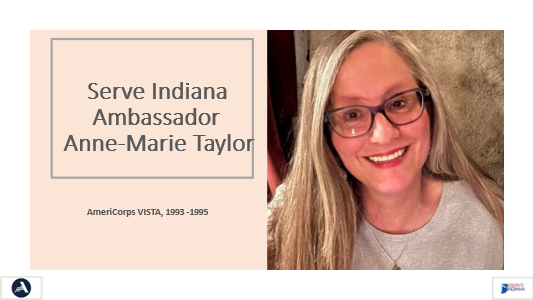 We are so excited to celebrate our newest Serve Indiana Ambassador, Anne-Marie Taylor!!! This familiar face, is the Executive Director of the Indianapolis Neighborhood Resource Center (INRC). Before joining INRC, Anne-Marie was the Executive Director of Community Alliance of the Far Eastside, Inc. (CAFE), a neighborhood-based organization founded by residents and partners on the Far Eastside of Indianapolis. During Anne-Marie's tenure, CAFE implemented its housing and homelessness prevention programs and completed a successful capital campaign that renovated an abandoned grocery store into a vibrant neighborhood center.
Anne-Marie has over twenty-five years of experience working in community-led development and began her Indianapolis not-for-profit work as a Volunteer In Service To America (VISTA). She holds a B.A. degree in English from Indiana University and a Masters of Public Affairs degree (with a concentration in nonprofit management) from Indiana University. Anne-Marie, her husband, and her daughter reside in Irvington, a historical neighborhood on Indianapolis's east side. She loves baking and going for walks with the family's Black Lab named Cooper. Check out the Serve Indiana Facebook page all week, as we celebrate Anne-Marie and her terms of service! #ServeINAmbassador #AmeriStory #AmeriCorpsAlum
Photo Description: Serve Indiana Ambassador Anne-Marie Taylor smiling in front of a grey background.