National Direct Consultation Form
Any National Direct applying to host members in Indiana should complete Serve Indiana's National Direct Consultation form survey. This link can be located here: https://www.statecommissions.org/national-direct-consultation. Following a submission, the National Direct applicant should expect an email from a Serve Indiana staff member confirming the survey. For an information webinar please visit, https://amsc.memberclicks.net/national-direct-consultation.

For questions or concerns, please contact info@serveindiana.gov.
AmeriCorps*State
AmeriCorps helps your organization implement those projects or ideas that require special funding or assistance. Through programs and grants, the Corporation for National and Community Service provides human capital—people power—to help you address emerging needs in your community.
Each year, national and community service participants and grantees recruit hundreds of thousands of volunteers, who donate millions of hours of service to their communities. AmeriCorps*State programs focus on direct service to the community with limited fundraising duties.
Interested?
If you are interested in starting an AmeriCorps program or partnering with another organization to host AmeriCorps members it is important to learn as much as you can about the program and process.
AmeriCorps is about:
Meeting the needs of our communities
Building relationships and partnerships
Strengthening civic engagement
Developing members' skills and experience
Providing carefully planned, well managed and important projects
'Getting Things Done'
AmeriCorps is not about:
'Busy work'
Temporary solutions
Employee/volunteer replacement or displacement
AmeriCorps programs must have:
Successful recruitment and placement strategies
A clear structure for members to serve within
Integration of service learning principle.
Provision of training and learning opportunities for both staff and members
Ongoing support and supervision of members and service sites
Leadership, teamwork, and diversity opportunities
Member Minimum
If you are only looking for 2-4 members to join your organization you may consider partnering with another organization. There is a 10 member minimum for all AmeriCorps grants. Below is the list of our current programs that you might be able to partner with for an AmeriCorps member.
2022-2023 AmeriCorps Program Directory
Examples of Appropriate Service Activities for AmeriCorps*State Members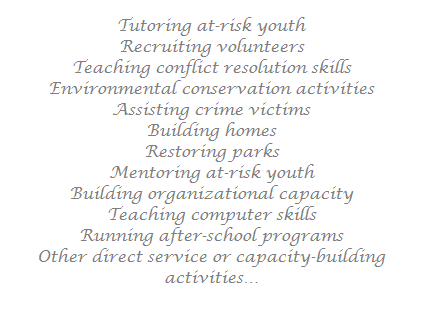 Unique Program Models
All Programs should impact one of these six key areas: disaster services, economic opportunity, education, environmental stewardship, healthy futures, and veterans and military families. Below are some additional areas to consider. For further information about the programs add-on's below contact us.
Encore Programs
Programs that engage a significant number of participants 55 years or older may be eligible to obtain funding for an Encore Program. Approximately 10% of AmeriCorps funding is set aside by Congress to support these programs.
Professional Corps
Places AmeriCorps members as teachers, health care providers, police officers, engineers, or other professionals in communities where there is an inadequate number of such professionals.
Is Your Organization Ready for AmeriCorps?
Visit the Resources for Grantees page to get a glimpse of the complexity of the program requirements and learn about allowable and prohibited activities.
Determine whether your organization has the capacity to conduct your own AmeriCorps program by taking this readiness assessment or if it would be better for you to partner with another organization. You can also find some answers in the AmeriCorps FitFinder.
Sign up for Serve Indiana's newsletters so you can be notified when funding announcements are posted.
Consider applying for a planning grant to help your organization apply for an operating grant the following year.
Attend appropriate webinars and/or training events for potential programs, which can be found on our News & Events page.
Starting the Process to become an AmeriCorps Site
If you have completed the steps above and believe your organization is ready for an AmeriCorps program, then go to the "Request for Proposals" and "Application Instructions" which will provide details for starting the grant application process.
Saying it Right
Sometimes people ask us, "What is the proper way to spell AmeriCorps and how is it pronounced?"
Always spell AmeriCorps with a capitalized "C" and no space between the "i" and the "C". When speaking about the AmeriCorps program, the "p" and the "s" are silent (i.e. sounds like "A-mer-i-Core").
Keep in mind that AmeriCorps participants are called "members," because they are not employees of the organizations they serve.
National Service programs are available to all, without regard to race, color, national origin, disability, age, sex, political affiliation, or, in most instances, religion.