Board Members
| Member | Representing/Most Recent Term |
| --- | --- |
| Scott Bess | Governor's Appointee, 07/01/2023 to 06/30/2027 |
| Erika Dilosa | Governor's Appointee, 07/01/2020 to 06/30/2024 |
| William Durham | Secretary, Governor's Appointee, 07/01/2021 to 06/30/2025 |
| Dr. Byron Ernest | Indiana House Speaker Todd Huston Appointee, 07/01/2021 to 06/30/2025 |
| Iris Hammel | Governor's Appointee, 07/01/2022 to 06/30/2026 |
| Gregory F. Gastineau | Governor's Appointee, 7/01/2021 to 06/30/2025 |
| Pat Mapes | Senate President Pro Tem Rodric Bray Appointee, 07/01/2023 to 06/30/2027 |
| Dr. Katie Jenner | Chair, Secretary of Education, Sworn in 01/11/2021 |
| Kathleen Mote | Vice Chair, Governor's Appointee, 07/01/2020 to 06/30/2024 |
| Kristin Rentschler | Governor's Appointee, 07/01/2023 to 06/30/2027 |
| B.J. Watts | Governor's Appointee, 07/01/2022 to 06/30/2026 |
Scott Bess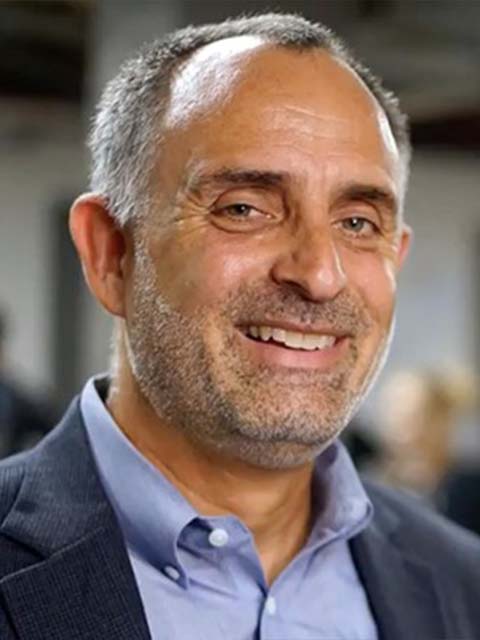 Scott Bess is Executive Director of Purdue Polytechnic High Schools, which launched its first location in downtown Indianapolis in 2017. A second location opened in Indianapolis in 2019, and a third in South Bend in 2020.
Prior to coming to Purdue, Scott was President of Goodwill Education Initiatives (GEI), a subsidiary of Goodwill Industries of Central and Southern Indiana. While at GEI, Scott led the development of the Excel Center, a high school designed for adults who had previously dropped out of high school. Under Scott's leadership, GEI grew from a single, small high school to a network of schools serving over 5,000 students across Indiana and the United States. Before assuming this role in 2004, he was chief information officer for Goodwill Industries of Central Indiana and served in similar technology roles in the private sector. Scott began his career as a teacher and coach in the Beech Grove school system. He also served four terms as a member of the Danville Community School Board.
Scott received a bachelor's degree in math education from Purdue and a master's degree in teaching from Marian University, where he was a part of the Turnaround School Leadership program. Scott is on the board of Indiana Youth Institute as well as the Washington D.C, Excel Center He is also a graduate of the Pahara-Aspen fellowship program.
Contact: sbess@pphs.purdue.edu
---
Erika Dilosa
Erika Dilosa is the director of special education for 21st Century Charter School at Gary and Gary Middle College East and West. Her passion for working with students with special needs was ignited when she learned her own child was on the spectrum of Autism. She has dedicated her career to ensuring students and families of students with special needs receive the education and support they need and deserve. As a special education teacher, she worked tirelessly to help students with disabilities overcome unique challenges within the educational setting. In her current role as director of special education, she strives to build teams of strong educators, involve and inform parents, and foster strong communication with building leaders and administrators to improve educational outcomes for students with disabilities.
Dilosa is a graduate from Chicago State University where she received her Bachelor of Arts degree in Political Science as a scholar athlete and member of Zeta Phi Beta Sorority, Inc. She continued her post-baccalaureate education at Indiana University where she received her Master's degree in Special Education.
As a pastor's wife, Dilosa actively works in the community with her church and as a leader in women's and youth ministries. She and her husband are the parents of 6 children attending school within the Lake Central School Corporation.
Contact: edilosa@geoacademies.org
---
William E. Durham, Jr.
William E. Durham, Jr., who serves as the Board's Secretary, is the Executive Director of 100 Black Men of Indianapolis. Durham's passion for student success is the driving force behind his career in education. He has worked in charter and traditional public school settings as a director, internship coordinator, exceptional learners instructor, math teacher, and lead teacher. He previously worked as program director at the Center for Leadership Development (CLD), where he continues to volunteer when time permits. His community involvement is significant, volunteering time with Kappa Alpha Psi Fraternity, Inc., where he works to further the fraternity's efforts to impact youth with the Guide Right Program and Kappa League. He is active with 100 Black Men of Indianapolis, as well.
A native of Indianapolis, Durham is a graduate of Pike High School. He earned his undergraduate degree from Morehouse College and his MPA from DeVry University's Keller Graduate School of Management. Durham completed a fellowship in the Woodrow Wilson MBA Fellowship in Educational Leadership Program at Indiana State University where he earned his MBA in Educational Leadership.
Contact: wdurham@100blackmenindy.org
---
Dr. Byron Ernest
Dr. Ernest serves as Director of Educator Development and Partnerships for Noble Education Initiative (NEI). Byron has extensive teaching and school leadership experience and was the 2010 Indiana Teacher of the Year and 2011 Christopher Columbus Foundation National Outstanding Agriscience Teacher. Previously, Byron served as Head of Schools for Hoosier Academies. While at Hoosier Academies Byron developed a successful teacher leader program, the Focused Leader Academy, for developing an intent-based and distributed leadership school community model. Byron also served as principal at Emmerich Manual High School in Indianapolis after it was taken over by the State for receiving seven consecutive failing annual performance grades. As principal, Byron worked with a new staff to develop a culture of excellence focusing on high student achievement and performance. The State removed Manual off the "F" list under Byron's leadership. Emmerich Manual High School received a "C" this past year and continues to improve. Prior to going to Manual, Byron worked as the Department Head for Agriculture Science and FFA at Lebanon Community School Corporation where he started the program from scratch. The program is now one of the largest in the state and is well respected nationally for its focus on teaching science in the context of agriculture.
Byron holds Bachelor of Science Degrees in Animal Science and Agricultural Education and a Master's in Education from Purdue University. He received his Doctorate from Walden University in Administrator Leadership for Teaching and Learning. Dr. Ernest just completed the Certificate for Advanced Educational Leadership program at Harvard University where he is continuing his Post-Doctoral Studies. He was appointed to the Indiana State Board of Education by House Speaker Brian Bosma. Byron also serves as Secretary/Treasurer on the Executive Committee of the National Association of State Boards of Education (NASBE) Board of Directors.
Follow Dr. Ernest on Twitter: @ByronErnest
Contact: byronernest10@gmail.com
---
Iris Hammel
Iris Hammel is a lifelong learner with over 15 years of experience in both business and education. Iris has worked in both traditional public and public charter schools, as well as higher education and began her career as a business education teacher in 2008 after receiving her teaching certification from Viterbo University in Wisconsin.

Iris has a passion for developing entrepreneurial programs in the K-14 space that value hands-on learning experiences that fully immerse students in the classroom community and promote innovation through collaboration. Iris is the co-founder of Connected Classrooms, LLC, where she launched TeachMe3D.org, a complete training tool for 3D modeling designed specifically for middle and high schools as well as robotics teams. She is also the co-founder of Regional Innovation and Startup Education (RISE), which aims to transform the lives of individuals through entrepreneurial thought and immersion.

Iris currently serves as the Senior Vice President of the Garatoni-Smith Family Foundation where she brings strategy and insights to the Garatoni Family Office entities: Success & Career Academies, Work Based Learning Hub, IT Sector Partnership, HomeSchool Source, Garatoni Smith Family Scholars, and RISE.

Iris and her husband live in South Bend with their Swiss mountain dog, Lucy.
Contact: iris@raisingtheregion.org
---
Greg Gastineau
Greg Gastineau, an experienced and well-respected educator, is a lifelong Hoosier. Gastineau has experience in both middle and high school classrooms, having taught for a combination of 26 years in Pike Township and Hamilton Southeastern School Corporations. He has built relationships through the years with students, parents and the community in his roles as a coach of football, wrestling and rugby. He presently coaches high school and youth lacrosse.
A graduate of Cathedral High School (Indianapolis), Gastineau earned his Bachelor of Science degree in criminal justice and his Master of Science degree in secondary education, both from Ball State University.
Currently, Gastineau teaches ACP Government, a dual credit course through Indiana University, at Hamilton Southeastern High School alongside his wife, Erin, who teaches science. He and his wife have two children who also attend Hamilton Southeastern schools.
Gastineau was appointed by Gov. Holcomb at the end of 2018.
Contact: ggastineau@hse.k12.in.us
---
Pat Mapes
With 32 years of experience in public education, Pat Mapes has provided leadership and advocacy at the local and state level. He has served as superintendent of the nationally recognized Perry Township Schools district since October 2016.
Prior to joining Perry Township Schools, Superintendent Mapes provided leadership to the Indiana Education Employment Relations Board (IEERB) as chairman. Before that, he served as State Director of Teacher Licensing and Assistant Superintendent of Operations for the Indiana Department of Education, where he developed the REPA Educator Standards and the LVIS Educator Licensing and Verification system, as well as state guidelines for school efficiency. Because of his vast knowledge in all areas of leading a school corporation, including operations, curriculum, and finance, Mr. Mapes was selected to join the United States Department of Education as the Regional Advisory Chairperson on Education Issues.
Superintendent Mapes earned a Master of Arts in Education and a Specialist in Education degree from Ball State University before he began his career as a teacher and basketball coach. Mr. Mapes also served as a high school principal and superintendent of schools at Delaware Community Schools in Muncie.
Contact: pmapes@perryschools.org
---
Dr. Katie Jenner
Katie Jenner, Ed. D., was appointed as Indiana's first Secretary of Education by Governor Eric J. Holcomb, effective January 11, 2021. Prior to her appointment, Dr. Jenner served as Senior Education Advisor to Governor Holcomb where she provided guidance on statewide policy and initiatives for preschool, K-12, and higher education.
Dr. Jenner began her career in K-12 public education as a Career and Technical Education teacher in Kentucky. After moving to Indiana, she held various administrator roles, including assistant superintendent, for Madison Consolidated Schools. Dr. Jenner later served as the Vice President of K-12 Initiatives and Statewide Partnerships for Ivy Tech Community College where she led statewide strategies and formed partnerships between K-12 education, Career Centers, and Ivy Tech.
Dr. Jenner earned a Bachelor's Degree in Business from Transylvania University in Kentucky, a Master's Degree in Business Education from the University of Kentucky, an M.B.A. through a Woodrow Wilson Fellowship at Indiana State University, and a Doctorate in Educational Leadership from the University of Kentucky.
Dr. Jenner is committed to ensuring all students are prepared for the competitive realities of our 21st century economy. She and her IDOE team will build capacity, spark innovation and forge partnerships at all levels of Indiana's PK-12 education system to support educators and empower families.
Dr. Jenner and her husband, Joe, live in Madison with their twin fifth-grade girls who attend Madison Consolidated Schools.
Contact: kjenner@doe.in.gov
---
Katie Mote
Katie Mote navigates her career with a passion to serve and a focus on education. She currently serves as Executive Vice President and Chief Administrative Officer for Project Lead The Way, Inc. Project Lead The Way (PLTW) is a nonprofit organization that provides transformative learning experiences for millions of PreK-12 students in more than 11,500 schools nationwide through pathways in computer science, engineering, and biomedical science. In this role, Mote supervises daily operations and leads PLTW's functions in strategic planning, organizational performance management, legal, and information security, compliance and administration. Mote previously served as Vice President of Partnerships, Colleges and Universities, where she led national partnership strategy to engage colleges, universities, and other higher education leaders to expand post-secondary access and currency for PLTW students. As VP of Partnerships, Mote successfully implemented PLTW's inaugural Launch (preK-5) Faculty Pre-Service Training model in partnership with Ball State University Teachers College and developed a national portfolio of over 200 colleges and universities offering student and/or PLTW teacher opportunities.
Mote has over a decade of experience in the intersection of education and career. Prior to PLTW, she held a variety of roles with Ivy Tech Community College of Indiana, including faculty and administrative positions. Mote served as President of the Madison Campus, Interim Chancellor of the former Columbus/Southeast Region, and as Vice President of Operations for Southern Indiana. Mote served as VP of Operations during a transformative time for Ivy Tech as it reinvented with a focus on career-ready education for Hoosiers. Mote supported a portfolio of seven Ivy Tech campuses that in 2017-2018 served an unduplicated total headcount of approximately 50,000 students and in fiscal year 2019 represented a combined recurring operating budget of approximately $110 million. In this role, Mote also co-led the College's installation of strategic enrollment management practices and statewide scaling of key initiatives, such as the educational partnership with the Indiana Department of Corrections (IDOC) and the creation of seamless K-14 pathways for high school students.
Both prior to and during her tenure at Ivy Tech, Mote practiced criminal law as a Deputy Prosecuting Attorney in Marion, Jackson, and Jefferson counties. She was honored for this work by the Indiana Coalition Against Domestic Violence in 2014 as the year's Outstanding Prosecutor.
In July 2017, Mote was appointed to the Indiana State Board of Education by Governor Eric Holcomb who, in July 2020, re-appointed her to the Board for her second term of service. Mote currently serves the Board and State of Indiana as Vice Chair. Prior to her appointment to the Board, Mote served a three-year term as a member of the School Commission for Prince of Peace Catholic Schools (Madison, Indiana), including a one-year term as Vice Chair. In January 2020, Mote was appointed to the Sagamore Institute Board of Trustees. The Sagamore Institute is a nonpartisan public policy think tank rooted in the Heartland of Indiana with a national influence and a global reach.
Mote holds a Bachelor of Arts in English and Spanish and a Doctor of Jurisprudence from Indiana University Bloomington (Maurer School of Law). She is married with two children and resides with her family in Madison, Indiana.
Contact: kmote@pltw.org
---
Kristin Rentschler
Kristin Rentschler is a social studies teacher at Columbia City High School (CCHS). In 2018, Rentschler was selected as a participant for the Albert H. Small: Normandy Sacrifice for Freedom Student and Teacher Institute where she completed an intensive study of the D-Day invasion while researching the life of a fallen Hoosier soldier with a student. She was recognized as the Patricia Behring Teacher of the Year in Indiana in 2015 and received the Dekko Teach to Reach Award for Whitley County in 2003. Rentschler is passionate about incorporating best practices and historical thinking in the classroom. Inside and outside of the classroom, she prioritizes planning and executing goals for students groups that include student leadership, service learning, and academic competition. She implemented the National History Day program at CCHS in 2012 and has coached the CCHS Fine Arts and History academic teams to area champions and a state finalist appearance. She also coordinated Eagles in Flight, a school-wide service learning program.
Rentschler's undergraduate work was completed at Huntington University and she earned her Master's degree from Olivet Nazarene University. During 2010 and 2015, she served as an adjunct professor at Huntington University. She lives in Columbia City with her husband and three children.
Contact: rentschlerke@wccs.k12.in.us
---
B. J. Watts
B. J. Watts has 17 years of experience as a teacher and coach with the Evansville Vanderburgh School Corporation (EVSC). He currently serves as Executive Director of Opportunities through Partnerships that Transform and Inspire (OptIN), which is part of the EVSC. Watts has taught 6th Grade Social Studies and Science, as well as Physical Education for grades K-6 at Vogel Elementary in Evansville. Originally from Scottsburg, he is a graduate of the University of Southern Indiana where he was a member of the basketball team, and received his M.Ed. from Indiana Wesleyan University. Watts is a member of the Evansville Teachers Association (ETA), Indiana State Teachers Association (ISTA), and a member of the National Association of State Boards of Education (NASBE) Governmental Affairs Committee. He currently serves as the Varsity Girls Track Coach at Evansville F. J. Reitz High School, and is a former member of both the Mayor's Education Round Table (2004-2010) and the Evansville City Council from 2001-2012, including serving for five and a half years as council president. Watts is also an Evansville business owner, and a Licensed Insurance Broker with Freeman, Will & Niemeier, Inc. He was appointed to the SBOE by Governor Mike Pence and reappointed by Governor Eric Holcomb on June 30, 2022 to June 30, 2026.
Contact: bj.watts@evsck12.com