812 Area Code Changes: Comments Invited
NEWS RELEASE
Indiana Office of Utility Consumer Counselor
For Immediate Release
September 19, 2012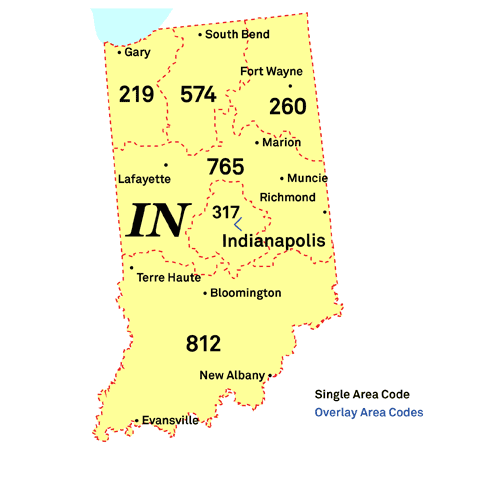 812 Area Code Changes: Consumer Comments Invited
Public hearings to be scheduled in early 2013
Written comments invited through May 7, 2013
The Indiana Office of Utility Consumer Counselor (OUCC) is inviting public comments on the telecommunications industry's request to implement a new telephone area code throughout southern and south-central Indiana.
With the 812 area code projected to run out of numbers in 2015, the telecom industry has filed a formal request with the Indiana Utility Regulatory Commission (IURC) to add a new "overlay" code to the 812 area.
Under the overlay proposal:
All customers in the 812 area code would keep their current 812 numbers.
A new area code would be added and assigned to new customers/phones/devices throughout the region.
10-digit dialing (area code + number) for local calls would eventually become mandatory throughout the 812 area.
Toll calls would still use 11 digits (1 + area code + number).
Consumers would not need to reprogram existing cell phones, fax machines, etc. with new numbers.
Most states, including Indiana, have needed to add new area codes in the last two decades due to the proliferation of wireless phones and other communications devices. New area codes can be implemented either as overlays or geographic splits.
Since 2005, 43 new area codes have been implemented in North America. All but 2 have been implemented as overlays.
Before 2005, most new area codes were implemented using a geographic split, with an existing area code divided into 2 or more regions. This method was used for Indiana's 317 area code in 1996 and Indiana's 219 area code in 2001.
The industry's filing in the 812 case offers several alternatives that could be used for implementing a geographic split, if the Commission chooses that option.
Under a geographic split:
Some existing customers would keep their current numbers while others would be assigned new numbers with the new area code.
7-digit dialing would stay in effect for local calls.
Toll calls would still use 11 digits (1 + area code + number).
Consumers with assigned new numbers would need to reprogram existing cell phones, fax machines, etc.
Businesses, not-for-profit organizations, schools, government entities, and other customers would have to pay for new signage, stationery, business cards, advertising, etc. showing their new numbers.
812 is the last of Indiana's 3 original area codes to need long term relief through implementation of a new code. In the early 2000s, industry forecasts predicted that the 812 area would run out of numbers by 2004. However, numbering conservation efforts that were approved in 2001 have extended the 812 area code's lifespan by nearly a decade.
The area code changes will not affect local or long distance telephone rates, local (free) calling areas, or calls to 911, 811 and 211.
The OUCC, the state agency representing residential, commercial and industrial consumer interests before the IURC, is scheduled to file its response to the industry's proposal on May 15, 2013.
In the meantime, consumers may comment in two ways:
By participating at one of the IURC's public field hearings in the case. The hearings are expected to be scheduled in the early part of 2013, with more information to be posted at www.in.gov/oucc/2718.htm when it is available.
By sending written comments to the OUCC. Comments should include the consumer's name, mailing address, and a reference to IURC Cause No. 44233.
Consumers who wish to submit written comments in this case may do so via the OUCC's Website at www.in.gov/oucc/2361.htm, or by mail, email or fax:
Mail: Consumer Services Staff
Indiana Office of Utility Consumer Counselor
115 W. Washington St., Suite 1500 South
Indianapolis, IN 46204
email: uccinfo@oucc.IN.gov
Fax: (317) 232-5923
Written comments the OUCC receives by May 7, 2013 will be filed with the Commission and included in the case's formal evidentiary record.
Consumers with questions about submitting written comments can contact the OUCC's consumer services staff toll-free at 1-888-441-2494. For a copy of the industry's filing and for updates as this case progresses, please visit the OUCC Website at www.in.gov/oucc/2718.htm. More information is also available from today's IURC news release at www.in.gov/iurc/2343.htm.
812 is not the only Indiana area code facing a shortage of numbers. Industry projections show the 317 area code in the Indianapolis metropolitan area running out of numbers in 2016, meaning an area code relief case for 317 may be initiated within the next few years.
# # #
(IURC Cause No. 44233)
The Indiana Office of Utility Consumer Counselor (OUCC) represents Indiana consumer interests before state and federal bodies that regulate utilities. As a state agency, the OUCC's mission is to represent all Indiana consumers to ensure quality, reliable utility services at the most reasonable prices possible through dedicated advocacy, consumer education, and creative problem solving.
To learn more, visit www.IN.gov/OUCC or follow us at www.twitter.com/IndianaOUCC.