Guest Speakers & Outreach
The OUCC provides consumer outreach at various events each year. We distribute free literature, answer consumer questions, and make consumers aware of our agency's work.
We can also provide free copies of our consumer publications to organizations for distribution, either in general or for specific events.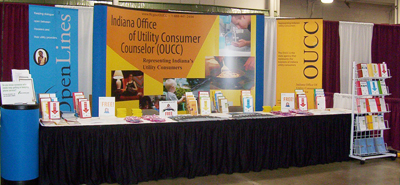 If you need a guest speaker for a business event, civic group, or community organization, the OUCC can help. Our experts are available to speak to groups of 20 or more and answer questions - free of charge - on subjects such as:
Today's key utility issues and our role in representing customers
How to reduce your electric, gas, water and telephone bills
Understanding your utility bills and making the most of your services
Protecting yourself from telephone fraud
We will be happy to customize presentations to meet your organization's needs.
If you would like to request copies of publications, schedule an OUCC guest speaker or know of an event at which our outreach efforts would be helpful, please call us toll-free at 1-888-441-2494 or send us an e-mail.