Please call the front office staff if you have any questions about Septic Permits, Septic Searches, or Spec Sheets.
The Brown County Health Department now accepts credit or debit cards. We also accept cash (when paying in person), personal checks, money orders, and cashier's checks.
Forms for the Brown County Health Department are now accessible on both the individual services pages and on the Links/Forms page to help make finding and downloading our forms easier.
Community Health Resources: Adult Stay Well Clinics are held monthly at Hickory Ridge. Nurses perform general screenings for no charge at these clinics.
Important Health Information: For current information on safety concerns in Indiana, please contact the State Board of Health web page at http://www.in.gov/isdh/.
If you have further questions or concerns, please contact our office at:
Phone: (812) 988-2255
For additional updates please check the Brown County Health Department Facebook Page
We do not provide COVID TESTING. To find a testing location please call 211 or check for availability with pharmacies and primary care providers. Some pharmacies also carry at-home rapid tests for purchase.
---
UPCOMING TRAININGS: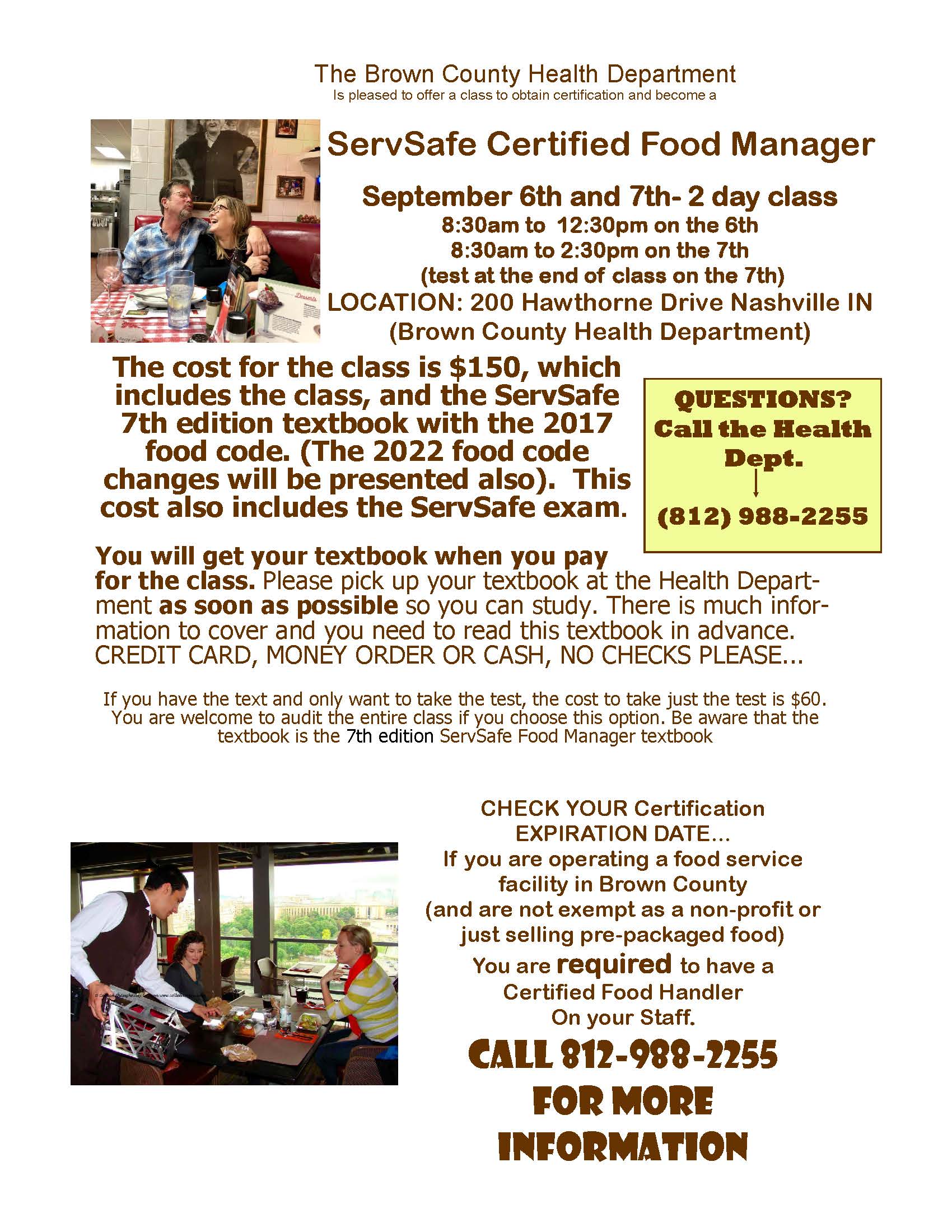 ---
PEDIATRIC COVID VACCINE AVAILABLE
Our department administers COVID pediatric vaccinations by appointment only. To make an appointment, go to www.ourshot.in.gov or call Indiana 211 (866-211-9966) for assistance.
---
BIVALENT VACCINE BOOSTER NOW AVAILABLE
Our department administers both the Pfizer and the Moderna Bivalent booster shot by appointment only. To make an appointment, go to www.ourshot.in.gov or call Indiana 211 (866-211-9966) for assistance.
---
ROUTINE AND FLU VACCINES: Our department offers various routine vaccines and the seasonal flu vaccine. You do not need to have insurance to visit our facility. An appointment is required. To make an appointment or inquiry, please call us at 812-988-2255.
---
ENVIRONMENTAL LOAN OPPORTUNITIES FOR BROWN COUNTY RESIDENTS
The Great Lakes Community Action Partnership Decentralized Water Systems Program now has grants available for water well, in-home water treatment, and septic systems repairs. The maximum loan amount is $15,000 with an interest rate of 1%. Maturity may not exceed 20 years and will depend on repayment ability. To be eligible, the applicant's household income may not exceed $34,800. Associated loan costs are at the borrower's expense and can be included within the loan. Applicants must own and occupy the home or be in the process of purchasing the home for occupancy. New home construction and community water systems are not eligible. For further information and to obtain an application please visit www.glcap.org or call Valerie Vanfleet at 1-800-775-9767 or 419-333-6074. Valerie can be reached by email directly at vjvanfleet@glcap.org.
Food Manager's Certification Class
The Brown County Health Department offers a Food Manager Certification Class through the NRA ServSafe program several times annually. Keep an eye on updates for upcoming classes.
This course is a 2 day class. Class will start both days at 8:30. The first day the class will end at 12:30pm and on the second day the test will be given at the end of class starting at about noon. There will be a two hour time-slot to complete the test.
Cost for the class, text and test is $150. BCHD accepts cash, check and debit credit cards as payment. The text is the 7th edition of the ServSafe Food Manager. You can pay for the class and pick up the textbook anytime in advance of the class.
Our office is open 8-4 from Monday to Friday at 200 Hawthorne Dr, Nashville, IN 47448. Call 812-988-2255 for more information or to reserve a place in this class.
2023 Restaurant License Renewals
2023 Food Establishment Licenses
The Annual Food Licensing applications for Brown County are on the "forms" tab, as are the Temporary License applications and the Farmer's Market Applications.
Please be aware that mobile vendors with a business address outside of Brown County will need to file a Temporary License Application, and are not eligible for the Annual Food License in the County.
For seasonal operations, licenses need to be renewed prior to opening.
An original signed copy of all the applications is required in order to issue the licenses. We cannot accept scanned copies, we must have an original signature. You can mail this signed form to us, or drop it off at the office. We do take credit and debit cards for a 3% fee, also money orders and cash. Please call the office if you have any questions.