Commissioner Stefanie Krevda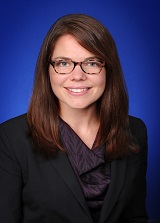 Appointment: Commissioner
Appointed: May 21, 2018, by Governor Eric Holcomb
Term Expires: April 1, 2022
Stefanie Krevda was appointed Commissioner by Governor Eric Holcomb on May 21, 2018. She is a member of the National Association of Regulatory Utility Commissioners (NARUC) Committee on Energy Resources and the Environment and a member of the NARUC Subcommittee on Clean Coal and Carbon Management. For ten years, Commissioner Krevda has worked in public service and in the non-profit sector. Before her appointment as Commissioner, she served as Executive Director of External Affairs at the Commission.
Prior to her role at the IURC, she served as Chief of Staff and Interim Director at the State Personnel Department, which delivers human resources services to state agencies, collectively serving more than 28,000 employees. She also worked as Special Assistant to the CEO/President at Lumina Foundation, and was a legislative and policy gubernatorial aid in the Office of the Governor Mitch Daniels. She is a 2014 graduate of the Richard G. Lugar Excellence in Public Service Series and a 2011 graduate of the Indiana Leadership Forum.
Commissioner Krevda is a 2009 graduate of Purdue University. She and her husband reside in Zionsville, Indiana, with their daughter.