History of the Indiana State Police Laboratory Division
The Indiana State Police Laboratory Division was established in 1936 three years after the State Police Department was created. The Department quickly became aware that its proficiency in investigating criminal cases was dependent upon professional collection and analysis of physical evidence. The Laboratory Division was designed to benefit all criminal justice agencies within the State of Indiana and continues to this day to assist various units of government, towns, counties, other state and federal agencies as well as military police.
The Department has long been aware that investigations are best augmented by laboratory analysis, exposing details obscured or deliberately concealed. Today police officers are tasked with the proper and meticulous collection of evidence, its preservation, and transportation to a laboratory for analysis in a manner conforming to the rules of evidence.
The Laboratory Division system has grown from a small room in the basement of the Capitol Building to a complete and highly sophisticated system of four strategically placed facilities. Prior to 1977 all forensic examinations were performed at the Indianapolis facility. In 1977 the Department began to extend its services by establishing the first "regional laboratory" at Lowell, in northern Indiana. Two other regional Laboratories soon followed with Fort Wayne opening in 1978 and Evansville in 1979. The present laboratory system employs more than 180 police and civilian personnel, all trained in various phases of identification and examination of evidence.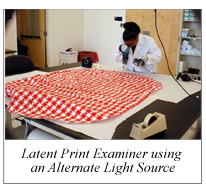 June 1, 1991, the Laboratory Division achieved accreditation from the American Society of Crime Laboratory Directors/Laboratory Accreditation Board (ASCLD/LAB). The Laboratory's continuing participation in the accreditation process demonstrates the Division's commitment and adherence to nationally recognized quality related standards and procedures. Crime Scene Investigations and District evidence storage was accredited in 2019. Currently the Laboratory Division is accredited to ISO/IEC 17025 for forensic testing by American National Standards Institute (ANSI) National Accreditation Board (ANAB).