Indiana's Hardwood Sector
High-quality hardwood forests and a business-friendly environment, has made Indiana ranked:
1st

nationally in the production of wood office furniture and hardwood veneer

2nd

in wood kitchen cabinets and countertops, manufactured homes

3rd

in engineered wood products

4th in pre-fabricated wood buildings
5th

in upholstered household furniture
Indiana's hardwood industry has an annual economic impact of over $10 billion and supports 70,000 jobs -- 44,000 in primary and secondary manufacturing and 26,000 in ancillary sectors. 4.1 of Indiana's 4.9 million forest acres are privately owned and statewide timber growth exceeds removals for harvest and natural tree mortality by 2.3 times. Hoosier forests offer a sustainable and natural raw material for manufactures that has an environmental impact difficult to beat!
ISDA continues to develop Indiana's competitiveness in the hardwood industry through trade shows, buyer missions, trade missions and promotion of business to business and consumer awareness both nationally and internationally. These efforts retain and expand existing hardwoods manufacturing jobs and increase local demand for the state's high-quality timber. For more information, contact Chris Gonso, Hardwoods Program Manager, at cgonso@isda.in.gov. Sources: Purdue University, US Census Bureau; Indiana Hardwood Strategy
Governor Holcomb's 2023 Proclamation of Oct. 15-22, 2023 as Forest Products Week
Woods on Wheels
Woods on Wheels is a traveling interactive exhibit focused on Indiana's wood products and managed forests. It is available to visit Hoosier schools, festivals and events. For more information click here.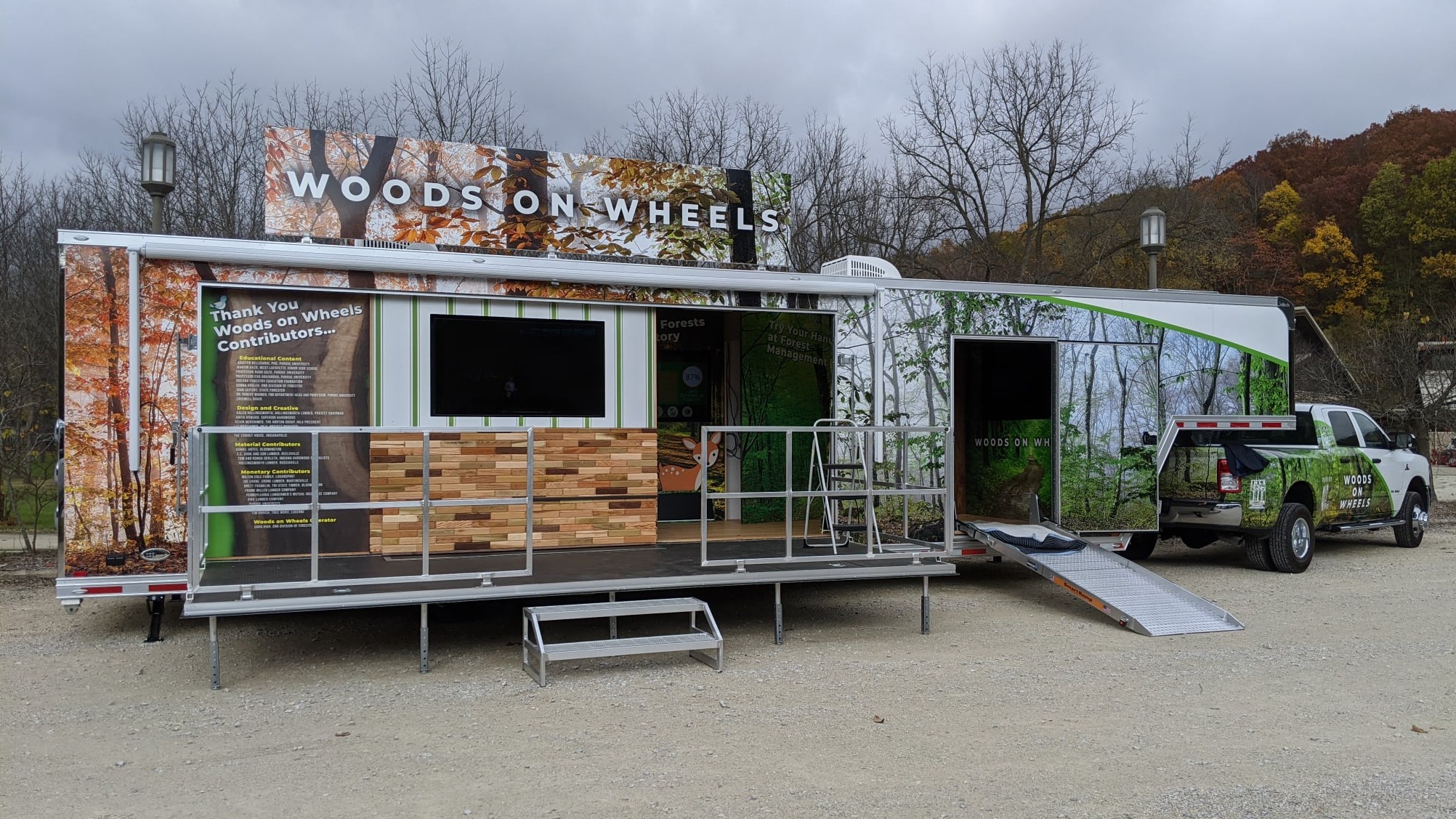 Indiana Hardwood Strategy
Lt. Governor Suzanne Crouch unveiled a new economic development strategy to grow the state's hardwoods industry on February 5, 2019. The strategy was commissioned by the Indiana Department of Natural Resources, the Indiana Hardwood Lumbermen's Association and the Indiana State Department of Agriculture, and was completed by DJ Case & Associates, Purdue Center for Regional Development, Purdue University Department of Forestry and Natural Resources, and Purdue Extension.
Indiana Hardwood Interactive Map
Developed by the Purdue Center for Regional Development using information from Hoover's database, this interactive map of over 4,100 businesses in the hardwoods and forest products sectors. Establishments are shown as dots of varying sizes dependent on the number of jobs in the business. The usual mapping features of zoom-in, zoom-out, linear distance measurement, and exporting into various image types are available. A click on any dot (business establishment) produces a pop-up feature with various details about the establishment including name, physical and web address, line of business, industry type, and more.
Click here or on the screenshot below to view in a new window.
2022 Primary Industry Export Totals – Indiana
Foreign buyers seeking Indiana hardwood suppliers are encouraged to contact the ISDA Hardwoods Program Manager and complete the following:
Foreign buyers may also request a copy of the Indiana Hardwood Manufacturers EXPORT DIRECTORY.
International Trade Leads
Lumber, log, veneer and other trade leads sourced from the following trade shows are available upon request for Hoosier wood products businesses:
Dubai International Wood & Wood Machinery Show, Dubai, U.A.E.
DelhiWood, Greater Noida (New Delhi), India
Interzum Guangzhou, Guangzhou, China
Sylvawood, Shanghai, China
Tecno Mueble, Guadalajara, Mexico
Furniture Manufacturing & Supply, Shanghai, China
VietnamWood, Ho Chi Minh City, Vietnam
Publications
Hardwoods & Forestry Resources
Last updated 10/20/2022