Welcome
#NativeAmericanHeritageMonth
#INdigenousIN
From the Commission Chair,
The Indiana Native American Indian Affairs Commission (INAIAC) is pleased to join our community leaders and partner organizations to share a month-long celebration of history, heritage, culture and current affairs as we recognize November as Native American Heritage Month. During this time, we will be featuring virtual events with members of our commission, Native American/Indigenous artists, Veterans, historians, and Tribal leaders to recognize the rich diversity and vibrant cultures of the Native American communities that exist in Indiana.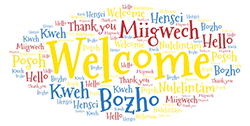 The story of Indiana is one of complexity - adversity, triumph, conflict, community, tradition, transformation. At this time, we strive to honor the part Native Americans and Indigenous people have played in that story. While we acknowledge the past and seek to preserve and promote its full telling, the INAIAC also wants to embrace the present and future, and the vital contributions made to our great state by Native American Hoosiers representing over 100 tribes. We hope you will participate in our virtual events and presentations, explore all there is to learn about our Native American/Indigenous cultures and communities, and enjoy the opportunity to build bridges of understanding and support to improve the lives of every Hoosier.
Thank you for joining us.
Scott Brewer, Pokagon Band of Potawatomi
Chair, Indiana Native American Indian Affairs Commission
Calendar of Events & Resources
UPCOMING: Thursday, November 19, join us for two presentations exploring a fuller history and contemporary impact of two of the many Native American tribes which originally lived in Indiana.
Thursday, November 19, 2020
11:00am ET - Diane Hunter, Tribal Historic Preservation Officer, Miami Tribe of Oklahoma
Weblink: JOIN HERE
Meeting: 172 045 4652
Password: NAHM2020

2:00pm ET - Marcus Winchester, Director, Department of Language and Culture, Pokagon Band of Potawatomi of Michigan and Indiana
Weblink: JOIN HERE
Meeting: 172 899 6648
Password: NAHM2020
Monday, November 9, 2020 - Art, Art Museums & History Day
Tuesday, November 10, 2020 - Young Readers Day
Wednesday, November 11, 2020 - Veterans Day
Thursday, November 12, 2020 - Native American Athletes & Fitness Day
Friday, November 13, 2020 - Action & Advocacy Day
Additional Resources
Educational Resources

Cultural Knowledge videos, Alaska Native Heritage Center, weblink here

Student-Centered Digital Learning Activities, National Indian Education Association, weblink here

Native Knowledge 360, Smithsonian National Museum of American Indian, weblink here

Wonder of Wheels Curriculum, Museum of Indian Arts & Culture, weblink here

Virtual Resources for Schools, Teachers, Parents and Students, National Indian Education Association – weblink here

Books

Salina Bookshelf, Inc., weblink here
Native Voices Books, weblink here

Cutural Centers and Museums

Eiteljorg Museum, Indianapolis, IN – www.eiteljorg.org

Indian Pueblo Cultural Center, Albuquerque, NM – www.indianpueblo.org

Institute of American Indian Art (IAIA) Museum of Contemporary Native Arts, Santa Fe, NM – www.iaia.edu/mocna

Museum of the Cherokee Indians, Cherokee, NC – www.cherokee.org

Museum of Indian Arts & Culture, Santa Fe, NM – www.miaclab.org

National Museum of American Indian, Smithsonian, Washington, DC – www.americanindian.si.edu

Onohsagwe:de' Cultural Center - Seneca Iroquois National Museum, Salamanca, NY – www.senecamuseum.org

Organizations

American Indian Center of Indiana, Inc. www.americanindiancenter.org

American Indian Higher Education Consoritum (AIHEC) – www.aihec.org

American Indian Science and Engineering Society (AISES) – www.aises.org

National Congress of American Indians (NCAI) – www.ncai.org

National Indian Education Association – www.niea.org
White House Initiative on American Indian and Native Alaskan Education - https://sites.ed.gov/whiaiane/

Miami Indians of Indiana - www.miamiindians.org

Wea Indians of Indiana - www.weaindiantribe.com

Partial List of Tribal Nations

Pokagon Band of Potawatomi – www.pokagonband-nsn.gov

Miami Tribe of Oklahoma - www.miamination.com

Delaware Tribe - www.delawaretribe.org

Shawnee Tribe - www.shawnee-tribe.org

Winnebago Tribe of Nebraska - www.winnebagotribe.com

Eastern Band of Cherokee Indians – www.ebci.com

Bureau of Indian Affairs, Department of Interior – www.bia.gov/bia

Videos and Documentaries

PBS

Online Resource: Indian Pride, A 13 part series on the unique lifestyle of North American's 560 Indian Nations, weblink here

Online Resource: Native America documentaries, weblink here

Online Resource: We Shall Remain documentaries, weblink here

Podcasts

All My Relations - www.allmyrelationspodcast.com