Improving Service Collaboration Through Network Analysis and Data Sharing
"We can consider networks as the ideal governance form for a 21st Century knowledge economy." – Andrew Schrank (Brown University)
by IU Public Policy Institute
Solving today's most difficult challenges facing governments at all levels and society requires new, innovative approaches. This is particularly true when organizations providing important public services in the same geographic are established and financially supported by the public, private and non-profit sectors, as well as between various levels of government. For example, nowhere is this challenge more evident than the problems we face in addressing Indiana's opioid crisis. Understanding how we can improve coordination and service delivery to meet the needs of communities with high populations experiencing opioid substance abuse is a must, yet no one organization, or one level of government, has all the resources, or all of the answers to eliminate this problem.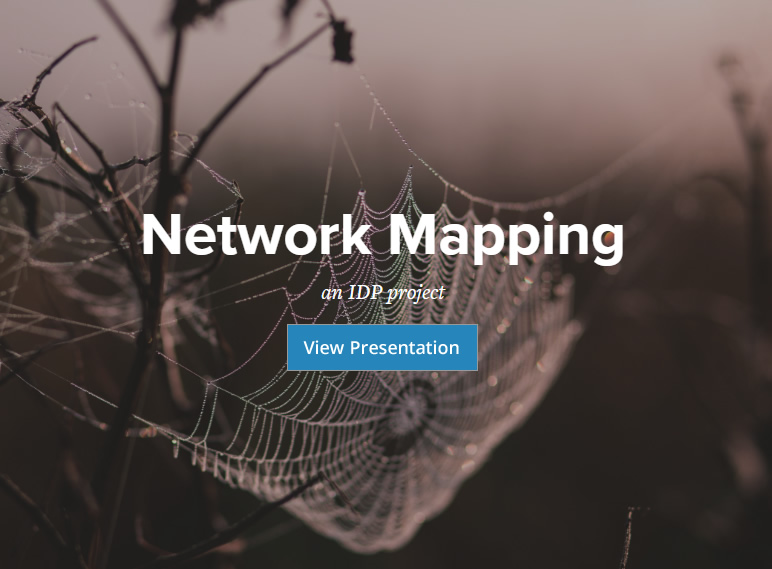 Another example of a pressing need for greater coordination between government and the private and nonprofit sectors is preparing our Hoosier workforce with the skills demanded by today's advanced manufacturing economy. The "skills gap" is being addressed on many fronts, from the federal level to individual communities. The State of Indiana is competing with other states and regions of the globe on a playing field that is very large, not always level, and highly competitive. If we are to earn our share of the modern, global advanced manufacturing and services economy, we need to maximize the results we get from our investments in human capital.
In the challenge of both the opioid crisis and workforce development, coordination of effort to achieve better outcomes is the first step. Why? First, resources are limited. Second, resources are fragmented – divided across many organizations with many requirements, as well as many opportunities for duplication. Third, and most importantly, formal governance structures that may produce better coordination of resources don't typically exist across the span of federal-state-local levels, and even less so between the public and private (including non-profit) sectors.
If we are to increase our collective problem-solving capacity and effectiveness, organizations have to be able to more effectively share information about what they do and who they serve. Increasing information sharing between organizations at all levels and places starts with a better understanding of how these organizations might connect with each other. Yet trying to force independent organizations to work more closely together and share their common service data is infeasible for a variety of reasons. Showing organizations how the services they provide and the areas they serve relate to the services provided by other similar organizations in a simple, yet meaningful, way will organically create a an instant "network" connection that sets the stage for potentially greater program cooperation and data sharing.
The Indiana Data Partnership (IDP) was formed for this purpose – to foster improved outcomes to our most pressing public service challenges through greater access to information generated from the delivery of services all at levels of government and across all sectors – public, private and nonprofit. IDP initially started as a collaborative effort between the State of Indiana's Management Performance Hub (MPH) and Indiana University with the intent to expand the partnership as the initiative evolves. The project, as an enhancement of MPH's mission, is housed within the MPH framework.
IDP is developing and using network cluster analysis of industry sectors, organizations, data and program services to facilitate better decision making and more effective problem solving for Indiana. This approach starts by identifying clusters of organizations and information that are, or should be, closely connected around the various issues confronting the state and its citizens. Visualizing these relationships and the data associated with them as connected nodes in a network allows users to discover other entities with common interest in an issue, enabling them to develop a more comprehensive understanding of a problem and to identify opportunities for coordination and collaborative solution development.
The value of cluster mapping is its ability to reveal the web of organizations, relationships and data available to address the complex problems faced by the state and its communities. In an era of Big Data with information coming at us in great volume and high velocity, failure to understand the networks generating such data means we would always be operating with incomplete or disjointed information when trying to solve increasingly complex problems.
A key focus is on making the data and information accessible quickly—and in a manner that is secure, usable and sustainable—to a wide array of individuals and entities. As part of this effort, the IDP has developed data sharing, privacy and security protocols, as well as optimized data management.
The IDP aims ultimately to create a statewide collaborative drawn from the expertise of MPH, state agencies, Indiana's universities, non-profits and private industry, as well as from the experiences and expertise of Indiana's citizenry. By establishing the platform, framework, house network and client/organization information at the State's MPH, a nationally-recognized center of excellence in gathering and sharing public program data, the IDP enables greater access by making it available broadly to individuals and organizations who can analyze it and design better solutions for Indiana's citizens.