IDP in action: Breaking down silos in Fayette County
By Allegra East and Naomi Penney
The Polis Center at IUPUI
The Fayette County Drug Coalition is leading efforts to develop a coordinated community-wide road map among a number of organizations addressing substance use disorders. Various groups from multiple sectors are working on some aspect of the opioid crisis. How do these organizations coordinate patient care currently? Are there gaps in service? Is there room for improvement for greater efficiency and impact?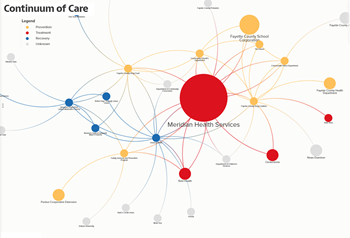 Many organizations are already collaborating (e.g., they refer clients to one another and coordinate programs for prevention, treatment, and recovery). These groups do good work, yet gaps in service do occur. They occur for several reasons, ranging from the location of such services in areas of need to barriers that are often the result of organizations working in silos rather than as part of a well-coordinated system. Often, staff in these organizations are overworked, and good intentions to explore new partnerships are slow to get underway. Data from the Indiana Data Partnership can make it easier for these organizations identify potential partners. How do they act on the data once it is available? Who will lead and coordinate efforts to maximize impact?
The Fayette County Drug Coalition is using data from the Indiana Data Partnership (IDP) to increase the capacity of these local organizations to address substance use. The Polis Center at IUPUI, a partner in IDP, is creating maps for Indiana counties that show what organizations are involved and how they are working together. Being able to visualize where connections are (and are not) is helping the Fayette County coalition create new partnerships and identify the voids where people fall through the cracks.
IDP helped the coalition understand service delivery in the county by visually clustering current services into three aspects of the care continuum (prevention, treatment and recovery).
This presentation is allowing the Fayette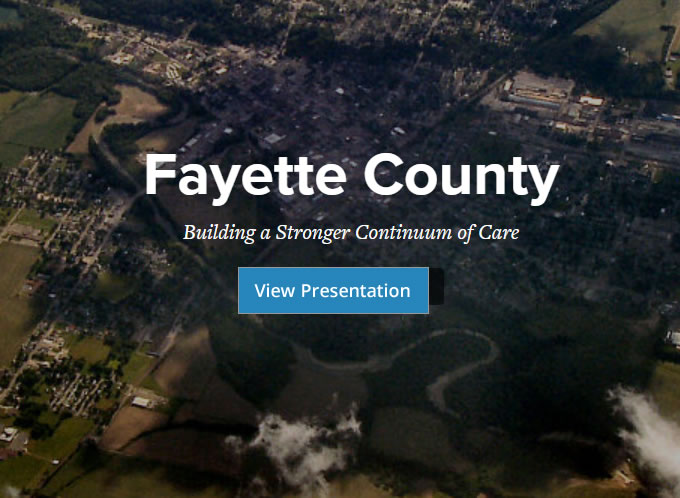 County Drug Coalition—and similar organizations in other counties—to break down organizational silos and identify the main concerns for improving service delivery specific to their community. For example, they can identify whether organizations are coordinating across the continuum to determine if there is a good path for patients to move from treatment to recovery. "The silver lining of this [opioid crisis] is that we are talking across silos much more," said Kay Peyton, a coalition member. "We've had to. But, the maps show us we have a long way to go."
IDP data also can help state officials create a unified vision for more efficient and effective use of resources, create trust and empowerment of organizations involved in the opioid addiction issues, prioritize resources to the right areas, and work to achieve the common goal of reducing drug overdoses and abuse.