Facility Staff
Mailing Address for Incarcerated Individuals
727 Moon Road, Plainfield, IN 46168
Visitation
Attorney Visits:
Requests for general in-person legal visits between attorneys and Incarcerated Individuals must be made to the facility where the Incarcerated Individuals is housed. Attorney/Incarcerated Individuals visit requests are being scheduled and will continue as long as it is safe to do so on a facility-by-facility basis. Based on the conditions of each facility, they are subject to being postponed or rescheduled. A reliable alternative to an in-person attorney/Incarcerated Individuals visit is to schedule a confidential phone call. Incarcerated Individuals must have the attorney's phone number added to their approved telephone list. All calls are to be 'collect calls' unless the Incarcerated Individuals utilizes prepaid minutes.
Visiting Guidelines
*Visitation for offenders at the Reception Diagnostic Center (RDC) is limited to legal representatives and clergy only and is arranged on a case-by-case basis. Offenders are not allowed visits from friends and family while at RDC, however they may receive mail correspondence. Mail must be addressed to the offender, with his DOC number included, on the outside of the envelope, and sent to the facility's address listed in the facility overview section.
Volunteer Opportunities
---
Community Engagement Coordinator
---
Please contact the Community Engagement Coordinator if you are interested in volunteering or donating. For general volunteer information, please visit the IDOC Volunteer page.
Community Advisory Board Meetings are held at 2 p.m.
These meetings consist of community advisory board members (CAB). A list of members can be found HERE
Processing
---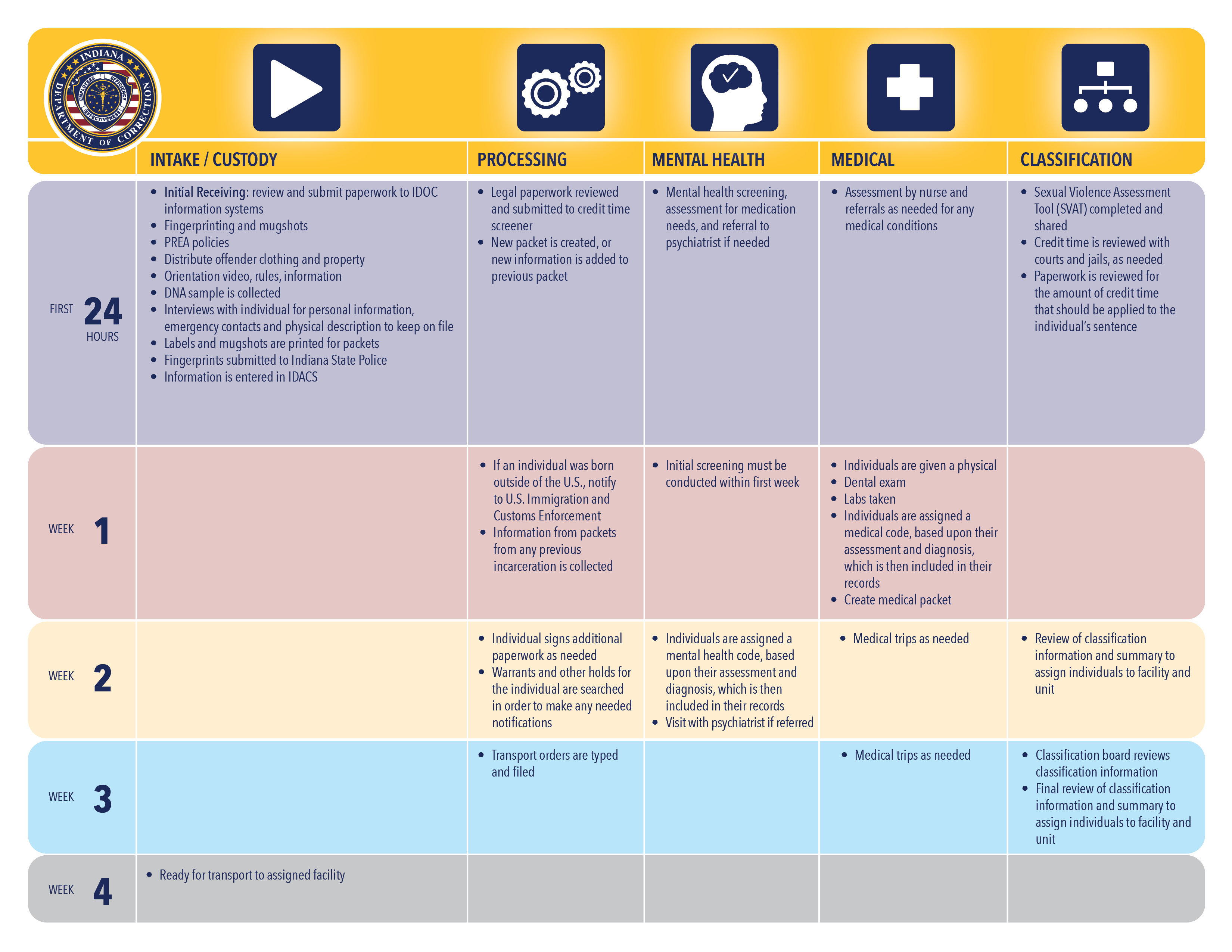 Due to the short duration of time spent at intake, programs are not available to Incarcerated Individuals. During the intake process each Incarcerated Individuals is evaluated through interviews, reports, and diagnostic tests. This evaluation forms the basis of the Incarcerated Individuals' facility and program assignment.
While at RDC, every Incarcerated Individuals will receive:
Complete medical examination
Dental examination
Psychological interview
Lab work, including taking DNA samples and blood draws (to test for certain communicable diseases)
TB testing
Education testing (TABE – Test of Adult Basic Education) is also administered to Incarcerated Individuals.
For a complete listing of the programs the IDOC offers, please visit the Programs page.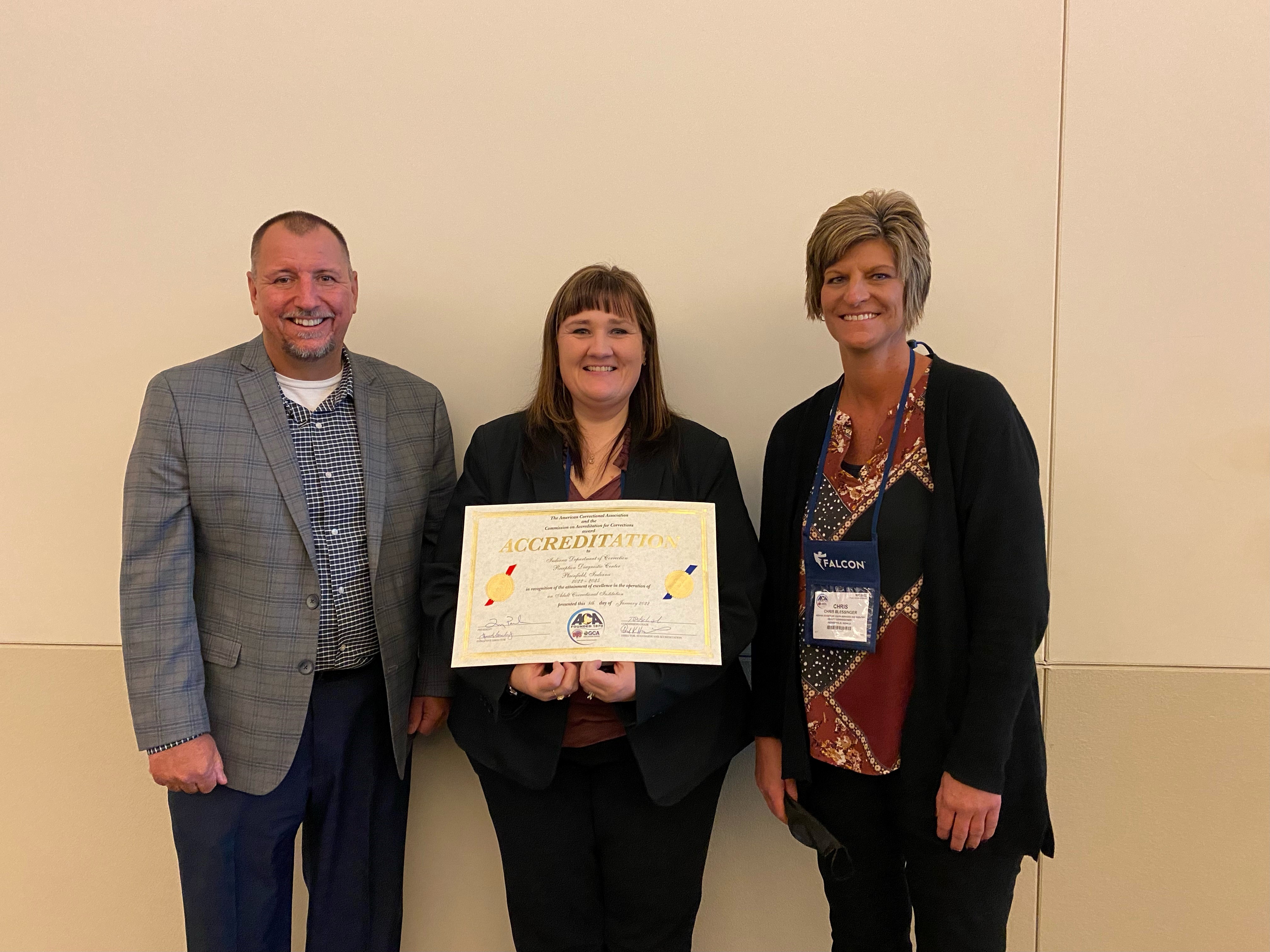 Warden: Delana Gardner
In 2021, RDC received its ACA Accreditation.
(Pictured above from left is DC Bassinger, Warden Gardner, DC Blessinger.)
About Reception Diagnostic Center:
The Reception Diagnostic Center (RDC) is a maximum-security intake facility for adult males sentenced to the Indiana Department of Correction. All adult males are received at RDC, classified, and transferred to long-term facilities. The facility was completed in two phases in 1971 and 1993 and has a capacity of more than 600 incarcerated individuals. During intake, incarcerated individuals are seen by multiple divisions throughout DOC for assessments, including for their physical and emotional health, addiction recovery services, educational and work opportunities, and other needs, which help determine which of the state's facilities best meet their needs.
---
Reception Diagnostic Center | 737 Moon Road Plainfield, IN 46168| (317) 839-7727