Mailing Address for Incarcerated Individuals
4490 W. Reformatory Rd. Pendleton, IN 46064-9001
Visitation
Public Visitation:
Please refer to the IDOC visitation page to find the most current information regarding visits.
Attorney Visits:
If you have a request for attorney calls/ court schedules please contact Chloe Wargny @ 765-778-2107 ext. 1009 or email cwargny@idoc.in.gov
Requests for general in-person legal visits between attorneys and Incarcerated Individuals must be made to the facility where the Incarcerated Individuals is housed. Attorney/Incarcerated Individuals visit requests are being scheduled and will continue as long as it is safe to do so on a facility-by-facility basis. Based on the conditions of each facility, they are subject to being postponed or rescheduled. A reliable alternative to an in-person attorney/Incarcerated Individuals visit is to schedule a confidential phone call. Incarcerated Individuals must have the attorney's phone number added to their approved telephone list. All calls are to be 'collect calls' unless the Incarcerated Individuals utilizes prepaid minutes.
Visiting Guidelines
You can call the facility's visitation information line Monday through Friday (excluding holidays) at (765) 778-2107 x1392 for updates on visitation or Visitor Transport
To ensure the safety of all visitors and guests arriving at our facility, effective immediately the Pendleton Correctional Facility will not permit copies of the following documents for visitation purposes:
Authorization for Minors to Visit
Birth Certificate (certified copy will be permitted)
Approval letter for former offenders or IDOC employees to visit with family members
Driver's License
Attorney Bar Card
Signed documentation from medical provider for metal detector exemption (must be verified by facility)

Failure to provide the original or certified copy will result in denial of the visitation.

For security purposes, visitors will only be allowed to bring in the following items when entering the Pendleton Correctional Facility Administration Building or Outside Dormitory to visit:

Identification
Money (not to exceed $30.00 per person)
Car keys

Visitors with infants and toddlers:

2 bottles of milk, formula, or juice
3 diapers
1 package of wet wipes
During inclement weather, visitors may wear a coat/jacket, gloves, and hats.

Those visitors who enter the Administration Building with items not listed above will be asked to return the items to their vehicle. Non-compliance with this order will result in the visitor being denied access to visit.

02-01-102 Visitation Regulations (Inside)
02-01-102 Visitation Regulations (Outside Dorm)
Volunteer Opportunities
---
Volunteers are welcome to support the Shakespeare at Pendleton program. Visit the Huntington University page or visit the Facebook page.
Volunteers are needed to instruct individuals in knitting.
Costume and set donations are welcome to support the Shakespeare program.
Donations are welcome as part of the Changing Lives Through Literature program. A list of books/DVDs can be found here.
Our woodworking crew needs wood donations for various projects.
Community Engagement Coordinator
---
Please contact the Community Engagement Coordinator if you are interested in volunteering or donating. For general volunteer information, please visit the IDOC Volunteer page.
Community Advisory Board Meetings begin at 9 a.m.
Programs
---
The Indiana Department of Correction offers a wide selection of programming, courses, and activities based on both facility and offender need, as well as available resources. Listed below are several current programming opportunities available at the facility. While staff leads some, many are volunteer-driven. If you are interested in learning more about volunteer opportunities, please visit our volunteer page. For more information on these programs and/or a complete listing of the programs the IDOC offers, please visit the IDOC Programs page.
A.A./N.A (Alcoholics/Narcotics Anonymous)
American Legion
Barber Shop
Because I Said I Would (B.I.S.I.W.)
Changing Lives Through Literature
Creative Writing
E.V.A (Everyone's Value Acknowledged)
ECHO - Communicable/Infectious Disease Education
Education (G.E.D. - College)
F.O.R.W.A.R.D. (Cat Sanctuary)
I.C.A.N (Indiana Canine Assistant Network)
Knitting and Crocheting
Law Library
Navigators
P.L.U.S. (Purposeful Living Units Serve)
R.W.I. (Recovery While Incarcerated)
Re-Entry
Religious Service Center (R.S.C.)
S.T.E.P. (Shifting Thoughts Establishing Purpose)
Shakespeare
Thinking for a Change (T4C)
Toastmasters
True Self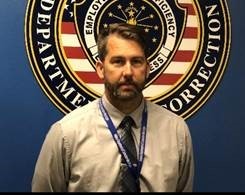 Warden Dennis Reagle
About Pendleton Correctional Facility:
The Pendleton Correctional Facility is a level three maximum security adult male facility located in Pendleton, Indiana. The facility also operates a minimum-security dormitory located adjacent to the main facility. The present-day Pendleton Correctional Facility can trace its origin to the banks of the Ohio River in Jeffersonville, Indiana. The first Indiana State Prison was constructed in Jeffersonville in 1821, and in 1897, was designated as the Indiana Reformatory. In 1918, fire destroyed a substantial portion of the Reformatory and in 1921 the facility was relocated to its current site. Many of the existing buildings are a product of this 1922-1923 construction. Five new housing units were completed in 1985. A new infirmary was completed in September 1988, and cell house renovations were completed in 2002, 2005 and 2009. In 1996, the Department of Correction was permitted to change the names of the facilities to be more representative of their geographical. As a result, the Indiana Reformatory was renamed the Pendleton Correctional Facility.
---
Pendleton Correctional Facility | 4490 W. Reformatory Rd., Pendleton, IN 46064-9001 | (765) 778-2107