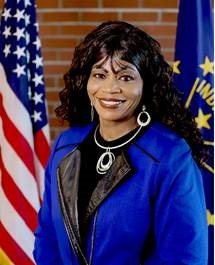 Warden LaShelle Brown
About Indiana Women's Prison:
The Indiana Women's Prison is a maximum-security facility which has the distinction of being the oldest and first adult facility for females in the United States. The facility was established in 1872 and operated at its original site for 136 years. In 2009, the Indiana Women's Prison moved from the Randolph Street location to the current site at 2596 North Girls School Road. The facility has a capacity of more than 700 and houses all female incarcerated individuals in need of specialized care. The facility includes the Officer Breann Leath Memorial Maternal-Child Health Unit, which encourages the preservation of family by allowing incarcerated mothers to stay with their children and offering education and resources to support successful re-entry. The facility also offers resources and treatment geared toward mental health, substance use and domestic abuse, along with multiple educational opportunities. The goal is that through treatment and rehabilitation geared toward everyone, the facility will help prepare incarcerated women to re-enter their community with more skills and confidence than when they arrived.
---
Indiana Women's Prison | 2596 Girls School Road Indianapolis, IN 46214| (317) 244-3387