Mailing Address for Incarcerated Individuals
727 Moon Road, Plainfield, IN 46168
Visitation
Public Visitation:
Please refer to the IDOC visitation page to find the most current information regarding visits.
Attorney Visits:
Requests for general in-person legal visits between attorneys and Incarcerated Individuals must be made to the facility where the Incarcerated Individuals is housed. Attorney/Incarcerated Individuals visit requests are being scheduled and will continue as long as it is safe to do so on a facility-by-facility basis. Based on the conditions of each facility, they are subject to being postponed or rescheduled. A reliable alternative to an in-person attorney/Incarcerated Individuals visit is to schedule a confidential phone call. Incarcerated Individuals must have the attorney's phone number added to their approved telephone list. All calls are to be 'collect calls' unless the Incarcerated Individuals utilizes prepaid minutes.
Visiting Guidelines
Volunteer Opportunities
---
We are actively recruiting volunteers to mentor students participating in The Last Mile. The Last Mile is a non-profit organization that was founded at San Quentin State Prison in 2010. It is a full-stack computer coding boot camp, the first of its kind, which operates inside US prisons. The core belief of The Last
Mile is that having a job is the key to successful re-entry and breaking the cycle of incarceration. Therefore, the program provides computer coding training to prepare students for release into today's high-tech environment. You can view the volunteer brochure here
or watch the volunteer recruitment video here.
IWP is looking for volunteers skilled in sewing. During the day would be ideal but evenings are ok as well.
The Purposeful Living Units Serve (PLUS) program is a faith and character-based community that encourages Incarcerated Individuals to choose alternatives to criminal thinking and behavior by providing a focus on spiritual and character development, life-skills training community service, and intentional preparation
for living as law-abiding citizens. We are looking for volunteers to mentor participants and facilitate classes.
The Mosquito Nets program uses supplies donated from the community to fashion mosquito nets to send to communities around the world. These nets are essential to the fight against malaria. We are looking for individuals traveling overseas to deliver the mosquito nets.
Office assistance is needed for the Community Engagement Department during regular business hours to help with filing, organization, and managing special events.
Substance abuse volunteers for the following groups - AA, NA, and CA.
Community Engagement Coordinator
---
Please contact the Community Engagement Coordinator if you are interested in volunteering or donating. For general volunteer information, please visit the IDOC Volunteer page.
Community Advisory Board Meetings begin at Noon
These meetings consist of community advisory board members (CAB). A list of members can be found HERE
Programs
---
The Indiana Department of Correction offers a wide selection of programming, courses, and activities based on both facility and offender need, as well as available resources. Listed below are several current programming opportunities available at the facility. While staff leads some, many are volunteer-driven.
For more information on these programs and/or a complete listing of the programs the IDOC offers, please visit the IDOC Programs page.
Leath MCHU
The Last Mile
USDOL Apprenticeship
Prenatal Education
Parenting Education
Vocational Training
Substance Abuse
NA/AA/CA/ALANON
Family Preservation Summer Camp
Children Center Visitation
Thinking for a Change
PLUS
Anger Management
Healing from Domestic Abuse
ICAN
Sheltered Workshop
Community Outreach
IN2Work
Mental Health Program
Oakland City University: Cosmetology, Culinary, Business Technology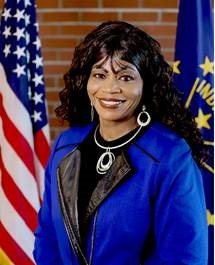 Warden LaShelle Turner
About Indiana Women's Prison:
The Indiana Women's Prison is a maximum-security facility which has the distinction of being the oldest and first adult facility for females in the United States. The facility was established in 1872 and operated at its original site for 136 years. In 2009, the Indiana Women's Prison moved from the Randolph Street location to the current site at 2596 North Girls School Road. The facility has a capacity of more than 700 and houses all female incarcerated individuals in need of specialized care. The facility includes the Officer Breann Leath Memorial Maternal-Child Health Unit, which encourages the preservation of family by allowing incarcerated mothers to stay with their children and offering education and resources to support successful re-entry. The facility also offers resources and treatment geared toward mental health, substance use and domestic abuse, along with multiple educational opportunities. The goal is that through treatment and rehabilitation geared toward everyone, the facility will help prepare incarcerated women to re-enter their community with more skills and confidence than when they arrived.
---
Indiana Women's Prison | 2596 Girls School Road Indianapolis, IN 46214| (317) 244-3387