Facility Staff
Public Information Officer
Leah Arrington
(812) 526-8434 ext.210
HIRE Coordinator (Region 5D)
Adrienne Williams
(317) 296-9722
Health Services contact information
vacant
(812) 526-8434 ext. 207
Transitional Healthcare Facilitator (PD 3)
Seth Leland
(812) 265-6154 ext. 3313
Diversity, Inclusion, Belonging Officer
Kathy Goen
(812) 526-8434 ext. 203
Mailing Address for Incarcerated Individuals
P.O. Box 470 Edinburgh, In. 46124
Visitation
Public Visitation:
Please refer to the IDOC visitation page to find the most current information regarding visits.
Attorney Visits:
Requests for general in-person legal visits between attorneys and Incarcerated Individuals must be made to the facility where the Incarcerated Individuals is housed. Attorney/Incarcerated Individuals visit requests are being scheduled and will continue as long as it is safe to do so on a facility-by-facility basis. Based on the conditions of each facility, they are subject to being postponed or rescheduled. A reliable alternative to an in-person attorney/Incarcerated Individuals visit is to schedule a confidential phone call. Incarcerated Individuals must have the attorney's phone number added to their approved telephone list. All calls are to be 'collect calls' unless the Incarcerated Individuals utilizes prepaid minutes.
Visiting Guidelines
IMPORTANT NOTICE:
Per IDOC Policy 01-02-107 "Incarcerated Individuals Urinalysis" the following steps shall be implemented until facility urinalysis screens drop to an acceptable level.
No-Contact visits shall be implemented. No-Contact visitation is the prohibition of hugging and kissing at the beginning and end of the visit, and no handholding during the visit.
Food items shall no longer be allowed to be purchased or consumed in the visiting room until the screens drop to an acceptable level.
Please remember to always contact the facility before coming to visit for the latest updates. Call (812) 526-8434 Ext. 200.
Volunteer Opportunities
---
Volunteer Chaplain - Assist the facility with their religious programming.
Indiana Veterans Educational and Transition Unit (INVET) - A unit designed specifically for veterans. Volunteers are needed for supplies, community service projects in the community, and one-on-one mentoring.
Test Assessing Secondary Completion (TASC) - Classes to help Incarcerated Individuals prepare for the high school equivalency exam. Volunteers are needed for tutoring.
Alcoholics Anonymous (AA) – A group for recovering addicts. Volunteers are needed to assist with the group or start a recovery group.
Mentors - Volunteers are needed to mentor individuals 1-on-1.
Book Clubs - Volunteers are needed to facilitate small group book discussions.
Mock Interviews - The facility has programs designed for employment readiness but would welcome volunteers to assist with mock interviews.
Pre-Release - The facility has a program to assist individuals returning to the community but would welcome the assistance of volunteers to present on assorted topics.
Special Activities - Volunteers are needed for various recreational activities as well as for concerts or special groups.
Community Projects - If there is a community project that you think the facility may be able to assist with, please let us know.
Community Engagement Coordinator
---
Please contact the Community Engagement Coordinator if you are interested in volunteering or donating. For general volunteer information, please visit the IDOC Volunteer page.
Community Advisory Board Meetings begin at Noon
These meetings consist of community advisory board members (CAB). A list of members can be found HERE
Programs
---
The Indiana Department of Correction offers a wide selection of programming, courses, and activities based on both facility and Incarcerated Individuals need, as well as available resources. Listed below are several current programming opportunities available at the facility. While staff leads some, many are volunteer-driven. If you are interested in learning more about volunteer opportunities, please visit our volunteer page. For more information on these programs and/or a complete listing of the programs the IDOC offers, please visit the IDOC Programs page.
USDOL Apprenticeship Programs
IN2Work
Outpatient Substance Abuse (Recovery While Incarcerated)
Pre-Release Re-Entry Programs (START)
GED (HiSET)
Nurturing Fathers
AA/NA
Religious Services
Incarcerated Individuals Work Crew Program
AWS Welding Program
Literacy
T4C
Prison Fellowship Academy
Anger Management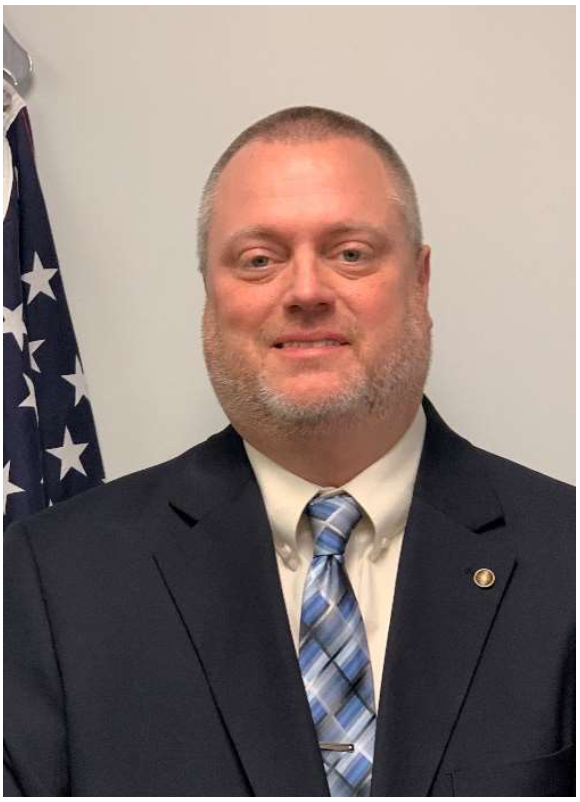 Warden Bryan Dobbs
About Edinburgh Correctional Facility:
The Edinburgh Correctional Facility is in Edinburgh, Indiana on Camp Atterbury and was founded in 1991. Edinburgh is a minimum-security facility that houses more than 300 incarcerated individuals. Work crews from the facility support Camp Atterbury and other communities and states, saving the taxpayers of Indiana thousands of dollars every year. The goal of the Edinburgh Correctional Facility is to provide labor support for the military, local community, and other state agencies while also providing incarcerated individuals with programs, education, services, and job assignments that promote self-improvement, growth, and positive change for a successful return to the community.
---
Edinburgh Correctional Facility | P.O. Box 470, Edinburgh, IN 46124 | (812) 526-8434