We are excited to announce that IDOA DSD is transitioning from paper certification to electronic certification. The NEW Electronic Certification application process will launch on February 27, 2021, and the last day to submit a paper application is March 31, 2021. Click the link for updates on how to Certify Your Business at https://www.in.gov/idoa/mwbe/minority-and-womens-business-enterprises/certify-your-business/.
Mission
The Division of Supplier Diversity assists minority, women and veteran owned businesses by:
Creating a fair, competitive, and equitable business environment
Providing networking opportunities to clients
Working to increase utilization
Monitoring and enforcing program compliance
The division fulfills its mission by providing knowledge, guidance, and service to clients while protecting the integrity of the program. The commitment pledges high quality customer service that is both efficient and professional, and that demonstrates respect for both clients and colleagues.
Business Strategy
Our Business Strategy is driven by our focus on these key objectives:
Adding value to Indiana's economy
Establishing strategic partnerships
Positioning minority, women, and veteran owned businesses for growth
Division Org. Chart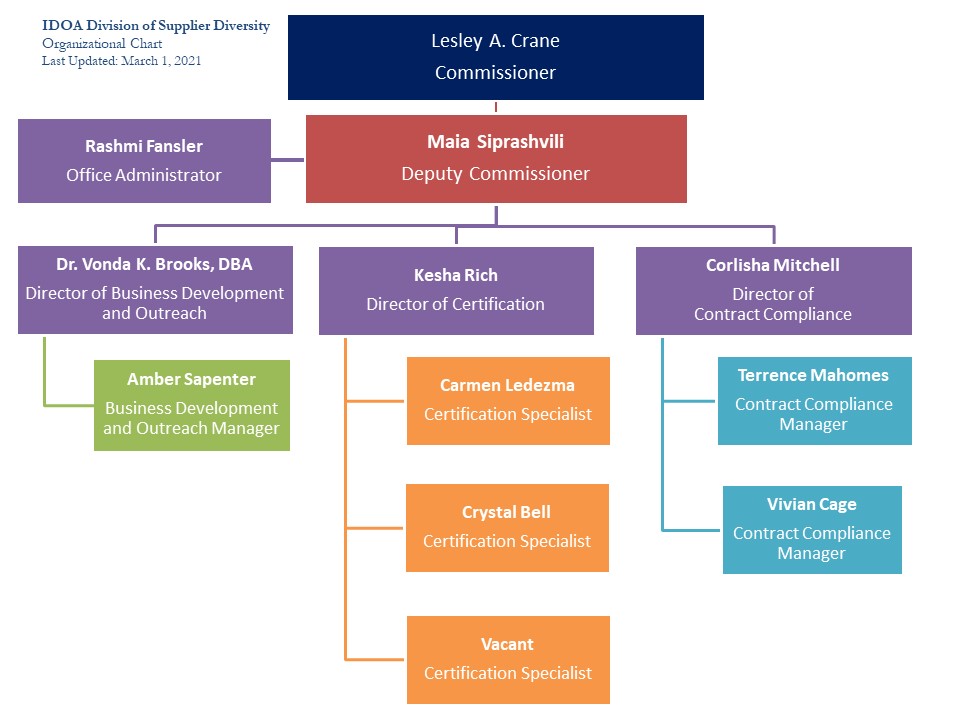 Division Organizational Chart