Article
Section
SW Indy Air Toxics Study Results
February 2010
Background
Between October 2006 and December 2009, the Indiana Department of Environmental Management (IDEM), the United States Environmental Protection Agency (U.S. EPA), the city of Indianapolis, and a diverse group of stakeholders conducted a study of hazardous air pollutants and other air toxics in southwestern Indianapolis, Indiana. The goal of the study was to evaluate air quality within the area and determine if additional steps were needed to protect public health.
The Study Involved Three Steps:
Monitoring:

IDEM sampled the air for a total of 95 pollutants at two monitors in Southwest Indianapolis.

Emissions Inventory:

IDEM worked with local industries to develop a detailed inventory of air emissions from 319 sources of air toxics.

Modeling:

IDEM conducted air dispersion modeling of 464 sources to estimate air toxics levels and get a comprehensive picture of air quality in the area. This included major industry sources, trucking companies, gas stations/truck stops, auto body shops, and dry cleaning facilities.
Technical and Community Assistance
IDEM assembled two independent groups to provide guidance and expertise throughout the study.
The Technical Advisory Group, made up of external technical experts, reviewed technical aspects of the study and provided recommendations to IDEM.
The Public Advisory Group, made up of community leaders and residents, provided community perspective and advised IDEM about the most effective ways to communicate study information to residents of Southwest Indianapolis.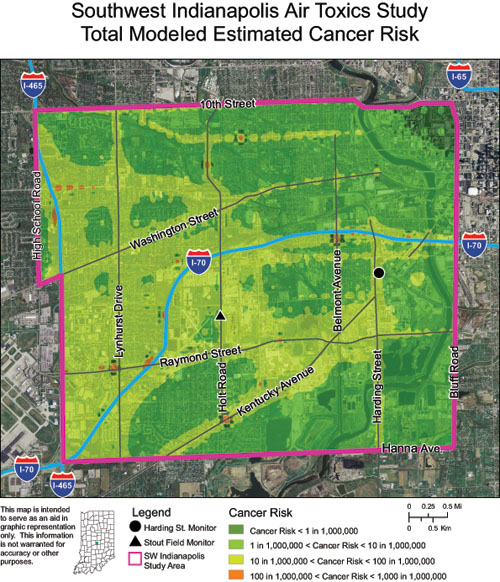 Results Summary
IDEM found the air toxics concentrations measured in the area to be similar to those found throughout Indiana and other Midwestern cities. No pollutants were found to be at concentrations which required immediate or emergency action. IDEM's analyses shows that air toxics concentrations, and therefore potential health risks, are lower than predicted by the U.S. EPA in the 1999 and 2002 National Air Toxics Assessment (NATA) reports.
During the course of the study, IDEM looked at all potential sources of air toxics in the area and found the largest contributor to be mobile sources (i.e., cars and trucks). Industrial sources were evaluated closely. The risks contributed by industry in the area were small when compared to the risk from mobile sources. Many of the major industrial sources within the study area are active partners of the State Partners for Pollution Prevention program. For those sources that are not, IDEM will be exploring partnership opportunities.
Among the chemicals assessed as part of this study, benzene contributes the most cancer risk in the area. Levels of benzene were found to be 15 in-a-million. For the approximately 60,000 people who live within the study area, that means there is potential for no more than one additional cancer case over a period of 70 years from exposure to air toxics. This estimate is based on a series of health protective assumptions which results in an estimate that is most likely higher than the actual risk.
Acrolein is the only non-carcinogenic pollutant of concern in the study area. Acrolein levels were well above health protective benchmarks at both monitoring locations. However, acrolein is not a localized pollutant. Levels within the study area do not vary significantly from levels monitored around the country. IDEM is working with the U.S. EPA and other states to better understand acrolein and its origin.
The study results, while useful, are not a statement of "actual risk" that people face, but an estimate. The actual risk individuals face is a complex combination of many factors, including genetic predisposition, diet, lifestyle choices, and environmental contribution.
Breakdown of Risk within the Study Area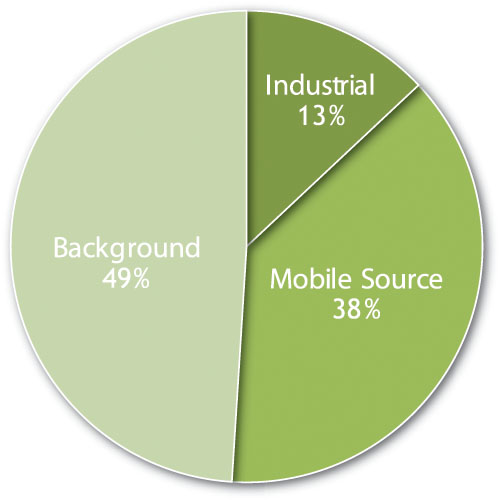 Note: Background represents pollutants which occur in the air naturally, unidentified sources (e.g., lawn mowers) and long-range pollutant transport (e.g., pollutants from other states or countries).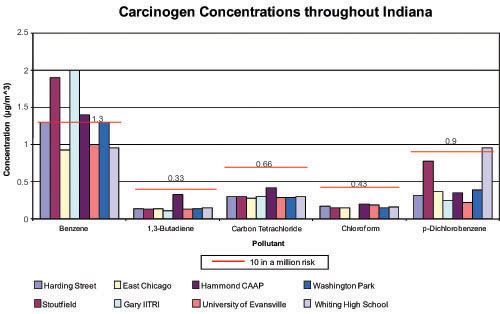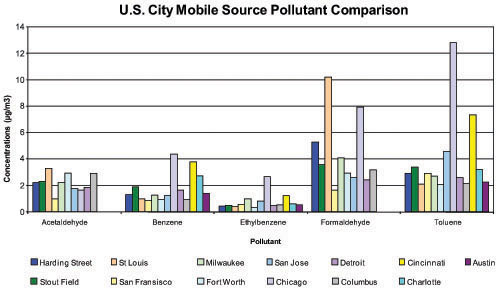 Frequently Asked Questions
1. What are air toxics?
Toxic air pollutants, also known as hazardous air pollutants, are those pollutants that are known or suspected to cause cancer or other serious health effects, such as reproductive effects, birth defects, or adverse environmental effects.
2. Sometimes the air smells bad. Are these smells dangerous?
The chemicals commonly smelled in Southwest Indianapolis can be smelled well below levels of concern. Pyridine is one of the most likely odor causing pollutants within the study area. IDEM has created a fact sheet about pyridine and other odors in the Southwest Indianapolis area. To view the fact sheet, please visit the IDEM Southwest Indy Air Toxics page.
3. What prompted the study?
IDEM received grant money from the U.S. EPA to conduct the study following the release of the U.S. EPA 1999 National Air Toxics Assessment (NATA), which identified the area of southwestern Indianapolis as being "of potential concern" due to higher than average levels of air toxics. Area residents were also concerned, as documented by the Indianapolis Star (Feb. 22-23, 2004).
4. Are IDEM and the City of Indianapolis currently taking any actions to protect air quality in the area?
IDEM issues permits to regulate the amount of emissions released into the air by industry and other businesses. In addition to permitting sources, IDEM worked to initiate some pollution prevention measures in the area in consultation with the study's Public Advisory Group. This included contacting area schools to promote the use of the Green Steps environmental management program and contacting area trucking companies to encourage them to join IDEM's Voluntary Idling Program. The City of Indianapolis is working with industry, schools, and trucking companies to improve air quality throughout the city.
5. What are the sources of benzene in the area?
The primary source of benzene within the study area is motor vehicle exhaust. Industrial activity, tobacco smoke, and automobile service stations are also common sources of benzene and likely contributed to the monitored levels.
6. What are the health effects of benzene?
Long-term exposure to benzene can be harmful to bone marrow and can cause anemia and leukemia. Breathing high levels of benzene over a short period of time can cause drowsiness, dizziness, and unconsciousness. Benzene concentrations in the area were not monitored at these high levels.
7. What are the sources of acrolein in the area?
The primary source of acrolein within the study area is motor vehicle exhaust. Acrolein can also come from overheated cooking oil, tobacco smoke, and industrial activity.
8. What are the health effects of acrolein?
There is little information about how exposure to acrolein affects people's health. Research indicates acrolein may cause burning of the nose and throat, watery eyes, and can damage the lungs at very high levels. Breathing low levels of acrolein over time may also cause a decreased breathing rate. At this time, acrolein cannot be determined a carcinogen, based on inadequate information.
9. What is IDEM going to do about the study results?
To the extent possible, IDEM will assist community groups and residents in taking steps to improve air quality. Some examples of assistance could include assisting with grant applications and providing technical expertise. In the few isolated areas where industry was identified as a significant contributor to air toxics, IDEM is in contact with these industries to identify potential ways to reduce emissions.