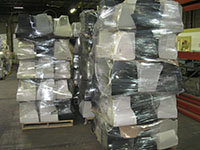 As we replace old electronic products with newer models, the stockpile of used and obsolete products grows. In the United States, millions of electronic devices are discarded each year, making electronics one of the fastest growing parts of the waste stream.
Electronics contain heavy metals, including lead, mercury, cadmium, and hexavalent chromium that can be harmful if released into the environment. Recycling electronics ensures these materials are safely managed and that valuable materials such as steel, glass, and plastic, as well as precious metals such as copper, gold, tin, silicon, and aluminum are reclaimed for the manufacturing of new products. Reusing and recycling raw materials from e-waste conserves natural resources and avoids pollution. Indiana's E-Cycle Program allows for many electronic devices to be kept out of landfills and incinerators and creates recycling opportunities for Indiana residents.
The following items are prohibited from being discarded by Indiana households, public (including charter) schools, and small businesses:
Televisions
Computer monitors
Computers (including desktops, laptops, and tablets)
E-readers
Fax machines
Peripherals (including keyboards, mice, external hard drives, printers, all-in-one printer/scanner/copiers, projectors, and any other devices that are sold exclusively for external use with a computer and provide input into or output from a computer)
DVD players (including gaming systems that are able to play DVDs)
Digital photo frames
Digital media players
iPods/MP3 players
Camcorders/cameras
DVR/TiVo devices (including cable boxes and satellite boxes, but not satellite dishes)
Portable GPS navigation systems
More Information
Additional Resources
Note: No electronics are accepted at IDEM.