Main Content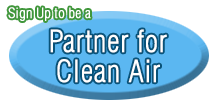 Partners for Clean Air (PCA) is a coalition of Northwest Indiana businesses, industries, local governments, and community groups committed to improving overall air quality and public health through voluntary actions.
Members of the Partners for Clean Air Program develop Air Quality Action Plans. These plans are designed to be implemented on Air Quality Action Days as a way of reducing harmful air pollutants, such as:
ozone (a pungent pale blue gas which irritates the lungs)
PM 2.5 (particles smaller than one one-hundredth of a grain of salt, which can irritate the air sacs in the lungs)
Air Quality Action Days are days in which ground level ozone and particulate matter are predicted to reach unhealthy levels. The Air Quality Action Season for Indiana ozone concerns begins May 1 and ends September 30 of each year while PM 2.5 action days can occur year round. Review your Action Day notification for information regarding what the primary pollutant for the day is. IDEM and the Illinois EPA employ a team of forecasters who analyze weather patterns, ozone concentrations, and PM 2.5 to determine if ground level ozone and PM 2.5 may reach unhealthy levels.
The Indiana Department of Environmental Management Northwest Regional Office is located in Valparaiso, Indiana and serves Lake, Porter, and LaPorte counties of Northwest Indiana. The office provides local access to permits, inspection reports, and general information on environmental activities with state, municipal, and industrial facilities in the area. In addition, staff members answer questions from the public about a wide range of environmental subjects.
For questions or comments, contact the Partners for Clean Air Coordinator.
Announcements
2020 Partners for Clean Air Awards
Partners for Clean Air is accepting nominations for its Clean Air Awards, to be presented at the Partners for Clean Air Luncheon and Awards Ceremony on August 7, 2020. This event is held annually by this coalition of Northwest Indiana area businesses, industries, local, regional, and state organizations and government entities that work together to promote clean air.
The deadline to submit nominations is April 30, 2020.
Nominations can be submitted for any Northwest Indiana area business, municipal or county government, industry, organization or individual(s) who have voluntarily undertaken actions to protect the air during the 2019 calendar year. Self-nominations are accepted.
Four awards will be presented, one in each of the following categories: business, municipal, industrial, and the Mark Siminski Bicycle Award, which will recognize an individual or entity for extraordinary efforts to promote and/or participate in bicycling in the Northwest Indiana community.
Upcoming Events
Due to precautionary measures in place to minimize the spread of COVID-19, the Annual Partners for Clean Air Luncheon and Awards Ceremony, originally scheduled for May 8, 2020, has been postponed until August 7, 2020.