Main Content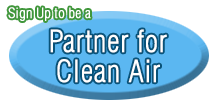 Partners for Clean Air (PCA) is a coalition of Northwest Indiana businesses, industries, local governments, and community groups committed to improving overall air quality and public health through voluntary actions.
Members of the Partners for Clean Air Program develop Air Quality Action Plans. These plans are designed to be implemented on Air Quality Action Days as a way of reducing harmful air pollutants, such as:
ozone (a pungent pale blue gas which irritates the lungs)
PM 2.5 (particles smaller than one one-hundredth of a grain of salt, which can irritate the air sacs in the lungs)
Air Quality Action Days are days in which ground level ozone and particulate matter are predicted to reach unhealthy levels. The Air Quality Action Season for Indiana ozone concerns begins May 1 and ends September 30 of each year while PM 2.5 action days can occur year round. Review your Action Day notification for information regarding what the primary pollutant for the day is. IDEM and the Illinois EPA employ a team of forecasters who analyze weather patterns, ozone concentrations, and PM 2.5 to determine if ground level ozone and PM 2.5 may reach unhealthy levels.
The Indiana Department of Environmental Management Northwest Regional Office is located in Valparaiso, Indiana and serves Lake, Porter, and LaPorte counties of Northwest Indiana. The office provides local access to permits, inspection reports, and general information on environmental activities with state, municipal, and industrial facilities in the area. In addition, staff members answer questions from the public about a wide range of environmental subjects.
For questions or comments, contact the Partners for Clean Air Coordinator.
Announcements
Congratulations to the 2019 Partners for Clean Air Award Winners!
Industrial Award: Port of Indiana, Burns Harbor
Business Award: American Licorice Company
Municipal Award: City of Michigan City
Mark Siminski Bicycle Award: Bike Stop Cycling
Upcoming Events
Partners for Clean Air Day at the RailCats
What: Gary SouthShore RailCats vs. Milwaukee Milkmen
When: August 4, 2019 at 2:10 PM (CDT), gates open at 1 PM (CDT)
Where: U.S. Steel Yard, One Stadium Plaza, Gary, IN 46402
Cost: An admission ticket to the ballpark is required, but there is no additional event fee
Why: We are giving away 10 free bikes and some school supplies! Stop by the IDEM booth to find out what you can do to reduce air pollution in Northwest Indiana and register to win a bike or school supplies.
Thank you to our bike sponsors: ArcelorMittal, Keramida, Metro Recycling, and Wilcox Environmental Engineering; and our game sponsor GAF. Thank you also to the Porter County Health Department for providing the school supplies. We hope to see you there!