The U.S. Congress enacted the Beaches Environmental Assessment and Coastal Health Act of 2000 (BEACH Act) to better protect public health at our nation's coastal beaches. The act requires states and territories to adopt more protective water quality standards for potentially disease-causing bacteria, such as Escherichia coli (E. coli). E. coli can contaminate beaches, including Indiana's Lake Michigan beaches, and make the water unsafe for swimming and other water contact activities. The BEACH Act authorizes the U.S. Environmental Protection Agency (U.S. EPA) to provide grants for the monitoring of coastal recreation waters and for public notification. The Indiana Department of Environmental Management (IDEM) received a BEACH Act grant to develop its Lake Michigan Beach Monitoring and Notification Program. U.S. EPA's Technical Beach Resources website details the BEACH Act and the final water quality standards for coastal and Great Lakes recreational waters.
Before the BEACH Act
Before the BEACH Act, Indiana's coastal beaches were monitored for disease-causing bacteria one to two times per week. Infrequent monitoring meant that several days could pass between an episode of bacterial contamination and public notification. Advisories to beachgoers suffered from inconsistent signage and no online or real-time notification system for water quality issues. All of these factors put beachgoers at higher risk of illness and infection from contaminated water.
Implementing The BEACH Act In Indiana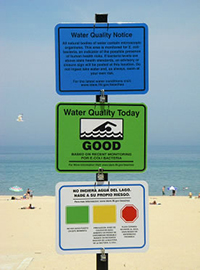 In 2002, IDEM began developing its beach monitoring and notification plan for Indiana's portion of the Lake Michigan shoreline in Lake, Porter, and LaPorte counties, as required by U.S. EPA. The agency completed this work in 2003 with assistance from project partners, including Save the Dunes Conservation Fund, Indiana University Northwest, and the Illinois-Indiana Sea Grant.
In 2004, the project partners worked closely with beach stakeholders along Indiana's 45 miles of Lake Michigan shoreline to implement the plan. The stakeholder group consisted of coastal cities and towns, the Indiana Dunes National Lakeshore, the Indiana Dunes State Park, the LaPorte County Health Department, and beachgoers.
In summer 2004, IDEM provided BEACH Act grant funds to coastal communities for equipment upgrades, supply purchases, and additional summer staff members who would collect and analyze water samples. The funds enabled beach managers at many locations, including, but not limited to, Hammond; East Chicago; Whiting; Gary; Ogden Dunes; Indiana Dunes State Park; and Michigan City, to increase the frequency of sampling and analysis of water samples for E. coli up to seven days per week.
In 2008, beach managers began entering E. coli sampling results and contamination advisories and closures into the Indiana BeachGuard Monitoring and Notification System. They also post signage at the beaches that advise beachgoers about beach water quality and contamination advisories and closures. In 2009, IDEM provided updated notification signs to all beach managers who participate in the program. Details about water quality monitoring and images of the signage are on the Beach Monitoring and Notification Program page.