Main Content
The Indiana Department of Environmental Management (IDEM) implements the Lake Michigan Beach Monitoring and Notification Program in partnership with beach managers and their staff who collect and test water samples from Lake Michigan beaches in Lake, Porter, and LaPorte counties for Escherichia coli (E. coli) bacteria during swimming season.
Beach managers notify the public about beach water quality by posting beach signage that advises beachgoers about water contamination advisories and beach closures. They also post E. coli sampling results, water contamination advisories, and beach closures on the Indiana BeachGuard Monitoring and Notification System (BeachGuard), which is also available to mobile phone and tablet users through BeachesAlert:
Monitoring and Analysis
BeachGuard lists the beaches that are being monitored along with sampling schedules, the names of monitoring organizations, and maps and directions to the beaches. The beach managers or their staff record parameters such as water and air temperature, wave intensity, and wind speed and direction at the time of sample collection.
Beach managers are required to use one of the testing methods approved by the U.S. Environmental Protection Agency (U.S. EPA). Currently, all beaches in this program are using the IDEXX Colilert method, which provides the results in 16 to 18 hours. The timing of sample analysis does not always provide beach managers with a complete picture of the current status of beach water conditions and has resulted in undue beach closures.
BeachGuard Includes Some Inland Beaches
The Lake Michigan Beach Monitoring and Notification Program is funded by a grant from the U.S. Environmental Protection Agency (U.S. EPA) as set forth in the Beaches Environmental Assessment and Coastal Health Act of 2000 (BEACH Act). The funding cannot be used for monitoring and notification activities performed at non-coastal recreational waters. However, there are many inland (i.e., non-Lake Michigan) beaches in Indiana, especially in Kosciusko County, at which E. coli monitoring is being conducted. U.S. EPA has given permission for inland beach managers to post their monitoring and notification data on BeachGuard as a service to all Indiana beachgoers. The BEACH Act page details the act and the history of this monitoring and notification program.
Beach Signage
Beach managers use multiple tools to notify beachgoers about the current water quality status of beaches in Indiana's Lake Michigan Beach Monitoring and Notification Program. They post highly noticeable, easy-to-understand, color-coded beach advisory and closure signs at participating beaches to notify the public when available data show that state water quality criteria have been exceeded. The beach managers update the signs daily during the swimming season when water quality does not meet state E. coli criteria. Beach managers also provide notification through BeachGuard and via alerts to mobile devices.
Beach managers post a sign with a blue background to show where a beach is monitored for E. coli bacteria: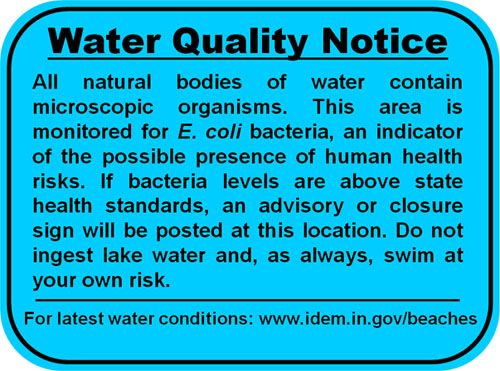 Beach managers post a sign with a green background to advise beachgoers when an E. coli exceedance has not been detected and the water is safe for swimming: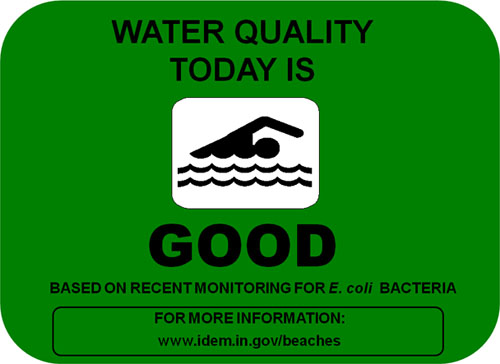 Beach managers post a sign with a yellow background to advise beachgoers when an E. coli exceedance is imminent or has occurred: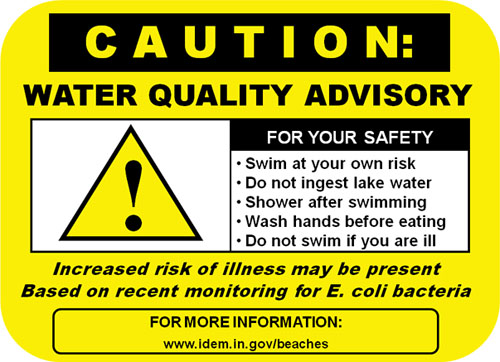 Beach managers post a sign with a white background and a red octagon to advise beachgoers when an E. coli exceedance has occurred and the beach has been closed to swimming: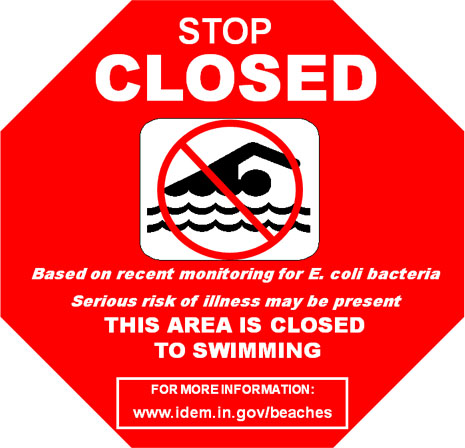 Beach managers post a sign with a white background to advise Spanish-speaking beachgoers of current lake water quality: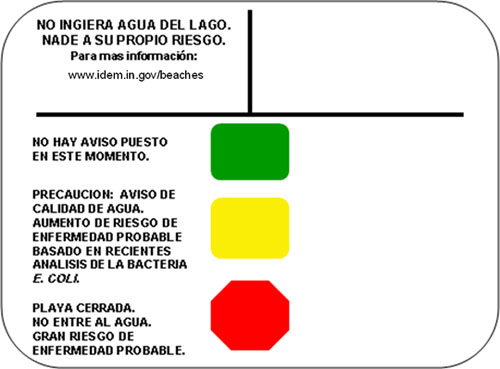 Beach Alerts
Get the latest emails or SMS texts as they happen