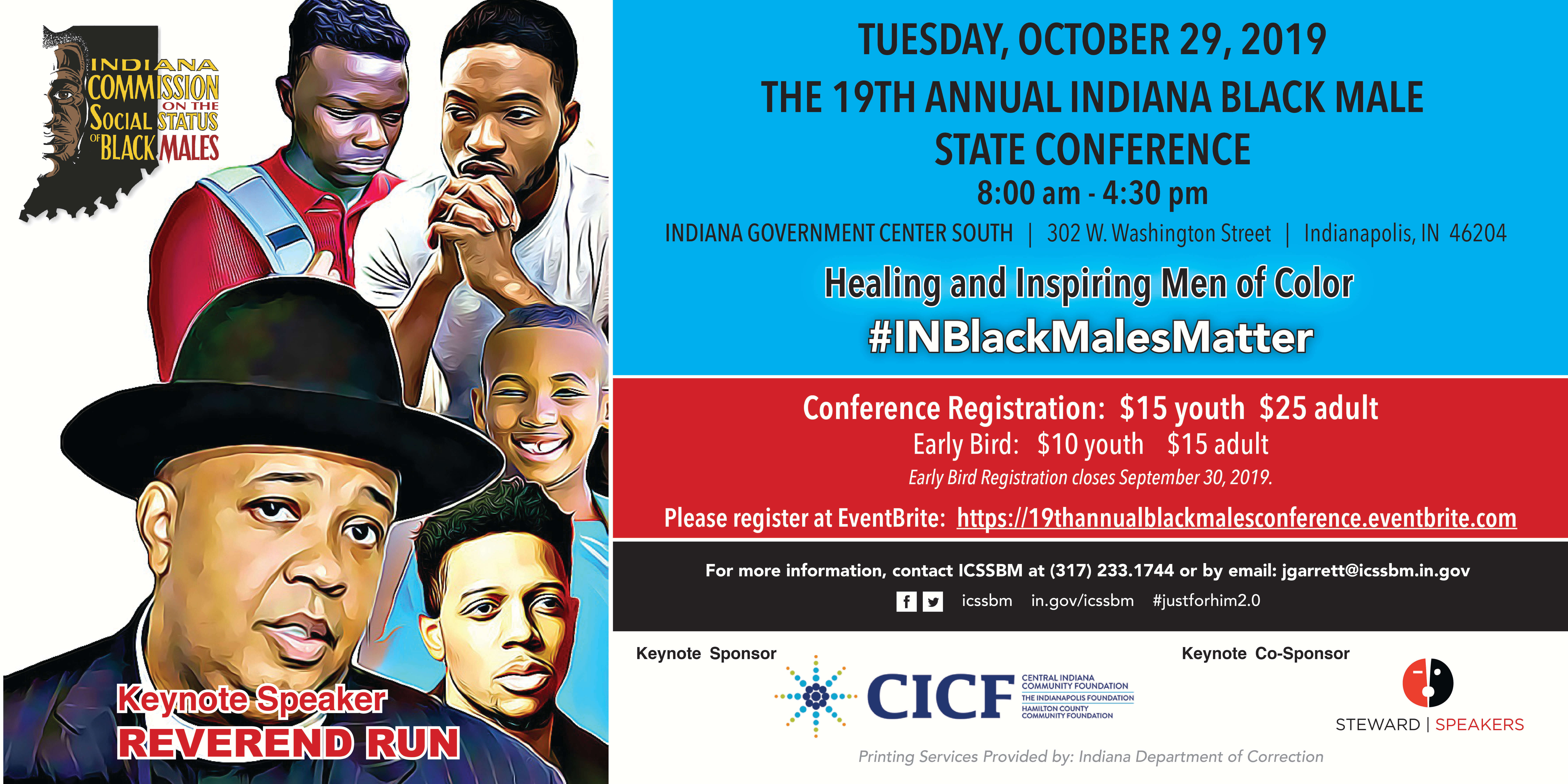 Re: Indiana Commission on the Social Status of Black Males 19th Annual State-Wide Conference
This year, we would like to celebrate the Commission's 26 years of service to communities across the state of Indiana by hosting a unique conference entitled Just for H.I.M. (Healing and Inspiring Men of Color). On Tuesday, October 29th, the Commission will host a one-day conference that will feature four (4) unique offerings, or mini-conferences, that are designed to motivate and inspire participants to take responsibility to improve conditions in their personal lives and in their respective communities. Our team of volunteers is currently planning to host over 300 men and boys of color from around the state and engage them in one of four "mini-conferences," including: (1) 2019 Hip-Hop Youth Summit, (2) Mental Health and Healing Town Hall, (3) The 3-Es Seminar – Education, Employment and Entrepreneurship, and, with your support and participation, (4) 2019 Legislative Panel Discussion. Each "mini-conference" will address one of the core areas of the commission while also equipping participants with knowledge and resources needed to launch new chapters in their lives and inspire community action in specific areas.
ICSSBM Executive Director, James Garrett, states "The importance of the Black Males Conference is extremely relevant today. Martin Luther King Jr. stated 'The ultimate measure of a man is not where he stands in moments of comfort and convenience, but where he stands at times of challenge and controversy'. Today Black males are truly challenged and must address poverty, injustice, and being marginalized. The annual Black Males conference seeks to engage community leaders, elected and appointed officials to share initiatives and offer recommendations to uplift and benefit black males."
The format of this year's conference will include three general sessions open to all participants, including: an Opening Plenary featuring a continental breakfast buffet and a panel discussion highlighting on Social and Economic Justice issues related to black males in Indiana, a luncheon with a keynote speaker and a closing session speaker. The respective mini-conferences will run concurrently and take place between 9am – 11:30am and 1:30pm-3:30pm, a total of more than four (4) hours of workshops.
The agenda is finalized and speakers are confirmed for the 2019 Indiana Commission on the Social Status of Black Males State Conference on October 29th in Indianapolis! This is an incredible line-up of content experts, community leader panels and examples that you will not want to miss! Seize this unique opportunity to engage with other leaders, increase your knowledge and discuss topics related to education, criminal justice and more! Don't wait— register today!"

Kind Regards,
Commissioner Shanel Poole, (P.S. Please share this with your network!)

2019 Indiana Commission on the Social Status of Black Males
CONFERENCE AGENDA
October 29, 2019 (8:00 am – 4:30 pm EST)
Indiana Government Center South - 302 West Washington Street, Indianapolis, IN 46204
To register for the conference visit: https://19thannualblackmalesconference.eventbrite.com
8:00am – 8:30am

Registration and Continental Breakfast (Conference Rooms A, B and C)

8:30am – 8:40am

Welcome: James Garrett Jr., Executive Director (ICSSBM)
Opening Remarks: Kenneth Allen, Chairman (ICSSBM)

Prayer: Pastor Kenneth E. Sullivan Jr., Senior Pastor of New Direction Christian Church

9: 00am – 10:30am

INSIGHTS ON THE 2019 LEGISLATIVE SESSION: POLICIES THAT IMPACT BLACK MALES
A panel of members from the Indiana General Assembly.
Moderator: Eddie Melton, Indiana State Senator, District 3, Lake County
Panelists:
Robin Shackelford, Indiana State Representative, District 98, Indianapolis

Greg Taylor, Indiana State Senator, District 33, Indianapolis

Ed Clere, Indiana State Representative, District 72, New Albany, - Invited

·Judge Tim Baker, Indiana Federal Courts, Southern District, County

·Bryan Roach, Indiana Chief of Police, Indianapolis-Invited

·Vop Osili, President City Council, Indianapolis-

9:10am Youth 10:05am

ANTHROPOLOGY OF THE BLACK MALE: CONFERENCE ROOM 1&2

Bro. Nuri Muhammad, Minister, Speaker, Author, Community Organizer

10:05am 10:10am

Break

10:10am Youth

11:30am

HIP- HOP YOUTH SUMMIT: LOCATION: CONFERENCE ROOM 4&5
Presenters: Shy-Quon Ely, - Ignite Academy Indianapolis

Keith Rogers, Ignite Academy Indianapolis

10:10am

Adult

11:00am

BLACK MALES & MENTAL HEALTH Moderator: Steve Jefferson, WTHR- AUDITORIUM

Presenter: Nathaniel K. McGuire, -Founder and CEO of Empower Counseling, Coaching, and

Spiritual Direction, LLC.

Presenter: Dr. Virgina Cain,-Marion County Health Dept, Director, Indianapolis

Presenter- Dr. Clark Simons, Eskenazi, Trauma Surgeon-Invited

Presenter- Dr. Shelvy Keglar, Ph.D, Midwest Psychological Center, Clinical Psychologist- Invited

11:10am

Adult

12:00pm

BLACK MALES EDUCATION PANEL AUDITORIUM

Presenter: Shahid Muhammad- Math Doctor, Chicago, Illinois

Presenter: Aleeisha Johnson-IPS Superintendent-Invited

Presenter: Dr. Shawn Smith,- MSD Lawrence Township Superintendent- Invited

12:10pm – 12:55pm

Youth & Adult Networking Lunch (Conference Rooms A, B and C)

Indiana Government Center South

Hip-Hop Performance by Youth and Joseph "Rev Run" Simmons

1:00pm – 2:00pm

Keynote Speaker: Joseph "Rev Run" Simmons, Author, Speaker and Activist

Keynote Sponsor Presenter: Pamela Ross, Vice President CICF Opportunity, Equity & Inclusion

Location: AUDITORIUM

2:30pm Youth 3:30pm

STATE HOUSE TOUR: YOUTH TOUR ONLY)

2:05pm Adult

3:00pm

BLACK MALES & LAW AUDITORIUM

Speaker: Jimmie McMillian, Senior Corporate Counsel for Hulman &Company

(INDY CAR, IMS Productions, Clabber Girl, Indy 500)

11:00am - 3:00pm

EXPUNGEMENT SEMINAR: CONFERENCE ROOM 1

Presenters: Carman Malone, Attorney, Law Office of Carman L. Malone

H.Max Kelln, Attorney, Faegre Baker Daniels, LLP

WORKSHOP RUNS CONSECUTIVELY 11AM-3PM

10:00am

-

1:00pm

SECOND CHANCE WORKSHOP CONFERENCE ROOM 2

Presenter: Marion County Prosecutor's Office

3:05pm

-

4:00pm

ENTREPRENUERISM LEAD PANEL: CONFERENCE ROOM 4&5

SPONSORED BY: EMPLOYINDY

4:05pm

- 4:30pm

Closing Remarks
Speaker: Thomas Ridley, Federal REACH Program Graduate

Prayer: Dr. James Anthony Jackson, Sr. -New Beginnings Fellowship Church- Invited

How we move forward collectively Conference attendees share and exchange their reflections
Please contact me directly if you have any questions. I can be reached via email at shanelp2002@yahoo.com or at 317.500.2800.
In service,
Shanel Poole
Commissioner & 2019 Conference Committee Chairwoman