Winfield Taylor Durbin
Governor of Indiana
January 14, 1901-January 9, 1905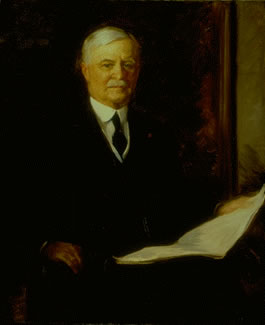 Artist: Wayman Adams, American, 1883-1959
oil on canvas, 43 1/8 x 36 1/8 (109.5 x 91.7)
Signed l.l.: Wayman Adams
WINFIELD DURBIN was born at Lawrenceburg, Indiana, the son of a tanner. He attended the common schools of Washington County and, after serving in the Civil War, he enrolled in a commercial college at St. Louis. He spent ten years in Indianapolis working for a dry goods firm, then moved to Anderson, where he worked for his father-in-law as a banker and engaged in independent operations as a manufacturer. A dedicated party man, he was a member of the Republican state committee from 1890 to 1897, including four years as chairman of the executive committee.
Durbin was appointed colonel of the Indiana volunteer regiment in the Spanish-American War, and in 1900, after his return from Cuba, he was elected governor. As governor he took firm action against lynching and advocated both better highways and more state regulation of automobiles. He also ran for governor in 1912, but he lost to Samuel M. Ralston. He died a millionaire in 1928.
Durbin was enthusiastic about military appurtenances-uniforms, drill, etc.-and was a devoted Knight Templar and G.A.R. member.
Source: Peat, Wilbur D. Portraits and Painters of the Governors of Indiana 1800-1978. Revised, edited and with new entries by Diane Gail Lazarus, Indianapolis Museum of Art. Biographies of the governors by Lana Ruegamer, Indiana Historical Society. Indianapolis: Indiana Historical Society and Indianapolis Museum of Art, 1978.
Source: Indiana Historical Bureau