Warren Terry McCray
Governor of Indiana
January 10, 1921-April 30, 1924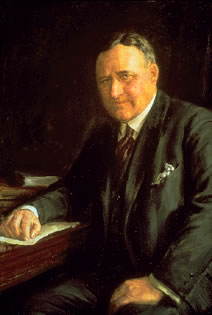 Artist: Robert W. Grafton, American, 1876-1936, painted 1927
oil on canvas, 40 x 30 (101.5 x 76.2)
Unsigned
WARREN MCCRAY was born near Kentland, a banker's son, and was educated in the public schools. He clerked in his father's bank from the time he was fifteen years old and took over as president when his father died in 1913. McCray's financial interests also included a chain of grain elevators and a stock farm on which he bred Hereford cattle. McCray served as treasurer for the Northern Hospital for the Insane from 1904 to 1912 and was a member of the Indiana Board of Agriculture from 1912 to 1916. He also held appointive offices during World War I relating to agricultural planning.
McCray was elected governor in 1920. His personal financial affairs suffered severe reversals during his governorship, and he was forced to resign in 1924 after being convicted of mail fraud in a case relating to his financial collapse. McCray served three years in a federal prison, then returned to Kentland to rebuild his stock farm. He later received a full pardon from Herbert Hoover.
Source: Peat, Wilbur D. Portraits and Painters of the Governors of Indiana 1800-1978. Revised, edited and with new entries by Diane Gail Lazarus, Indianapolis Museum of Art. Biographies of the governors by Lana Ruegamer, Indiana Historical Society. Indianapolis: Indiana Historical Society and Indianapolis Museum of Art, 1978.
Source: Indiana Historical Bureau