Matthew E Welsh
Governor of Indiana
January 9, 1961-January 11, 1965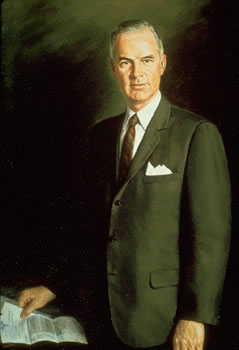 Artist: Edmund Brucker, American, b. 1912, painted 1964
oil on canvas, 46 1/8 x 36 (117.2 x 91.4)
Signed and dated l.r.: Edmund Brucker/1964
MATTHEW WELSH was born in Detroit, Michigan, and moved to Vincennes in 1924. His father was a securities broker active in Democratic politics. Welsh graduated from the University of Pennsylvania and from the University of Chicago Law School and returned to Vincennes to practice law.
A Democrat, Welsh served in the Indiana House of Representatives, but his term ended when he resigned to join the navy in 1943. After the war he served as United States attorney and state senator before being elected governor in 1960. His term was marked by the enactment of a two percent sales tax to raise crucial revenues.
Welsh, a tall, slender, dignified man, once said he had two basic rules: "it never costs you to be a gentleman" and "you try to base everything on fact, so get all the facts." In 1965 Lyndon Johnson appointed Welsh to represent the United States as part-time chairman of the International Joint Commission on Waterways with Canada, designed to protect and maintain water levels along the United States-Canadian border. Later he resumed his law practice in Indianapolis, and he ran again for governor in 1972, losing to Otis R. Bowen.
Source: Peat, Wilbur D. Portraits and Painters of the Governors of Indiana 1800-1978. Revised, edited and with new entries by Diane Gail Lazarus, Indianapolis Museum of Art. Biographies of the governors by Lana Ruegamer, Indiana Historical Society. Indianapolis: Indiana Historical Society and Indianapolis Museum of Art, 1978.
Source: Indiana Historical Bureau