Joseph E Kernan
Governor of Indiana
September 13, 2003-January 10, 2005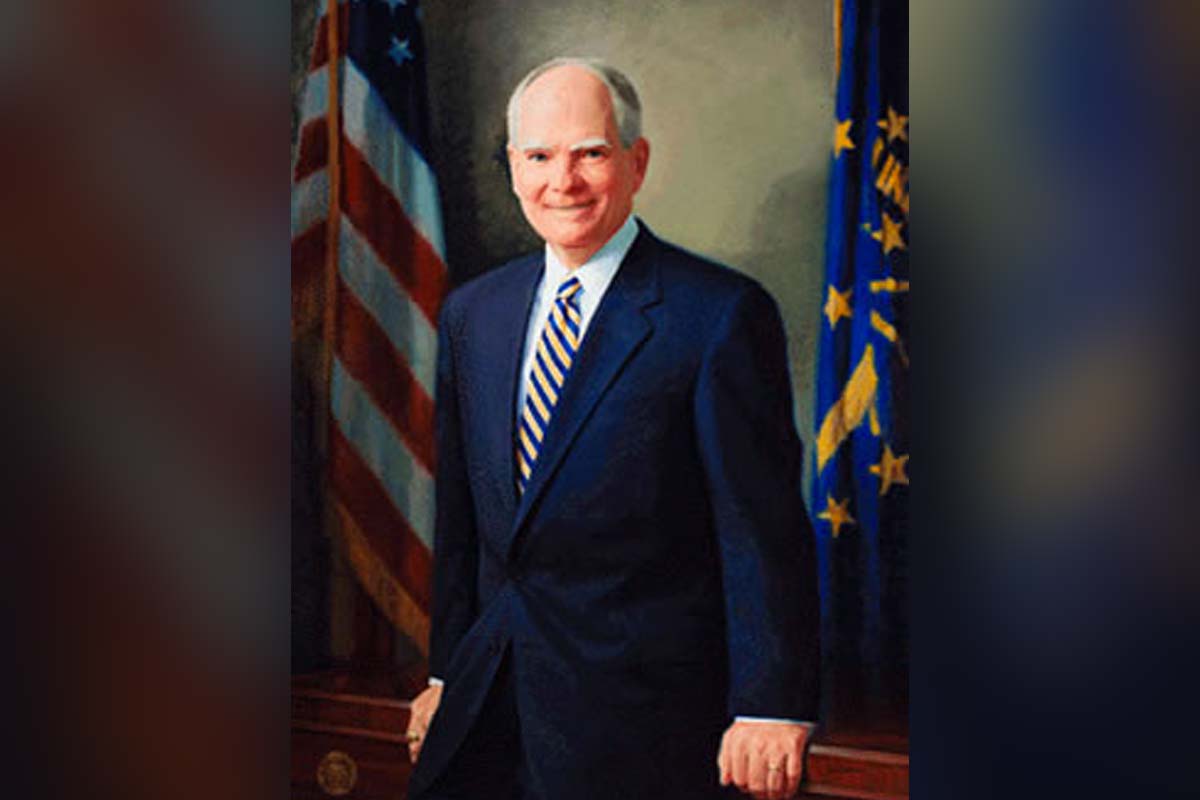 Artist: Mark Dillman, American, b. 1955
oil on canvas, 42 x 32
Signed l.r. Mark Dillman
Joe Kernan, the oldest of nine children, graduated from St. Joseph's High School in South Bend. He was a catcher on the baseball team at the University of Notre Dame, and graduated from there in 1968 with a degree in Government.
Kernan entered the United States Navy in 1969 and served as a Naval Flight Officer aboard the U.S.S. Kitty Hawk. In May of 1972, Kernan was shot down by the enemy while on a reconnaissance mission over North Vietnam. He was held as a prisoner of war for nearly 11 months. Kernan was repatriated in 1973 and continued on active duty with the Navy until December of 1974. For his service, Kernan received numerous awards, including the Navy Commendation Medal, two Purple Hearts and the Distinguished Flying Cross.
After completing his Naval service, Kernan worked for Procter and Gamble in Cincinnati in 1975. He then returned to South Bend, where he worked for both the Schwarz Paper Company and the MacWilliams Corporation. He was South Bend's city controller from 1980 to 1984.
Joe Kernan was elected mayor of South Bend in 1987, 1991 and again in 1995, when he won with more than 82% of the vote. He is the longest serving mayor the city's history.
In 1996, Frank O'Bannon and Joe Kernan were elected to the top two positions in Indiana government. The O'Bannon-Kernan team was elected for a second term in 2000. As lieutenant governor of Indiana, Kernan serves as the president of the Indiana Senate, the director of the Indiana Department of Commerce and as the commissioner of Agriculture.
Upon the death of Governor Frank O'Bannon on September 13, 2003, Lt. Governor Kernan assumed the position of Governor of Indiana.
As Lt. Governor, Kernan's accomplishments included:
* Agricultural Crisis Working Group. In 1998, Kernan pulled together support for farmers who were struggling through some of darkest times in the agricultural industry's history. What began as simply the Pork Crisis Working Group is now a bipartisan group of men and women who are on call to assist whenever necessary.
* Insurance Industry Working Group. Also in 1998, the lieutenant governor created and led a group whose charge was to improve the economic climate for the state's already strong insurance industry. Some of its successes include a reduction in the insurance premium tax rate, a new demutualization law and a new associate's degree through Ivy Tech State College that focuses on the insurance industry.
* Honorary Degree. The lieutenant governor was honored by his alma mater when he was chosen as the commencement speaker for the University of Notre Dame's graduation ceremonies. He was awarded an honorary doctorate during the 1998 event.
* Reaching Out to Fellow Veterans. Lt. Governor Kernan launched the Veterans Outreach Initiative in 1999 - an effort to encourage veterans to take advantage of the state and federal benefits that they have earned by serving our country. Thousands of veterans have received information from the lieutenant governor, outlining their benefits and how to go about accessing them.
* 21st Century Research and Technology Fund. Kernan is chairman of the fund, established in 1999, which supports new business development in the high-tech, high-paying sectors of life sciences and computer technology. In three rounds of funding, more than $49 million in grants have been awarded to 43 academic-private sector partnerships, leveraging $95 million in matching funds.
* International Trade. Under Kernan's direction, the state has stepped up its international presence. In 2001, despite the tragic events of September 11th, Indiana recorded its second highest export numbers in history. More than $14 billion worth of Hoosier goods were shipped outside the state. The state has also added six countries to the list of locations where it has a foreign trade office or partnership, bringing the total to 14 worldwide.
* Economic Development. Through the Indiana Department of Commerce and the state's other economic development related agencies, 400,000 Hoosier jobs have been positively impacted during Kernan's tenure. Commerce alone has helped bring 193 new companies into the state and has assisted in the expansion of 2,147 existing businesses. Major successes include expansions at Eli Lilly and Co., Dow AgroSciences and Interactive Intelligence in Indianapolis, Toyota Motor Manufacturing in Princeton, Subaru-Isuzu in Lafayette and AM General in South Bend.
* Tax Restructuring. In October 2001, Lt. Governor Kernan unveiled the administration's comprehensive plan to overhaul the state's tax system. The plan, which he developed with a group of bi-partisan fiscal and tax experts, was an effort to cut property taxes and create a tax system that would not only preserve the state's traditional manufacturing and agricultural base, but also grow the technology jobs of the future. In June 2002, the Indiana General Assembly passed a tax reform plan based on the lieutenant governor's work, encompassing all of his original goals. In addition, the plan included budgetary measures that ensured continued education funding vital to the state's future.
Joe and his wife, Maggie, were married in 1974. They have a home in South Bend, where Maggie works as a marketing specialist for 1st Source Bank. A Purdue University graduate who is active in community service, Maggie has been mentoring a child through a South Bend Community Schools program since 1994.