Evan Bayh
Governor of Indiana
January 9, 1989-January 13, 1997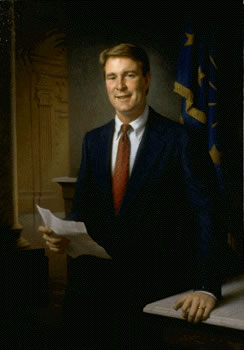 Artist: Michael Allan Chelich, American, b. 1963
oil on canvas, 37.5 x 53.5
Governor Bayh was elected Indiana's 46th governor (and the nation's youngest governor) in 1988 and re-elected in November 1992, by the largest margin of any governor in modern state history.
The top priorities of his administration were sound fiscal management, economic growth, and improving education. He favored investment and innovation in education, and state funding for education increased every year of his term. During his two terms, he added 350,000 jobs to the Indiana economy, oversaw the largest tax cut in state history ($1.6 billion over six years) and amassed the largest surplus in state history as well ($1.6 billion).
School programs included creation of world-class standards, the gateway exam for high school students, safe schools fund, drug-free schools, school to work partnerships, and 21st Century Scholars.
Technology initiatives included a program of grants to schools, the Buddy Project, and Access Indiana. Access Indiana is a public-private partnership designed to give every citizen access to the internet through schools, libraries, and community centers by the year 2000.
Creation of the Department of Workforce Development was an effort to make more efficient and accessible vocational and technical education, literacy programs, and employment and training activities.
During 1994, Governor Bayh served as chairman of the Democratic Governors' Association. He served as chairman of the National Education Goals Panel in 1995 and chairman of the Education Commission of the States.
Bayh returned to the private sector and the practice of law in 1997. He concentrated on business law, providing general counsel to corporations, individuals, and other entities. He was elected to the United States Senate in 1998 and again in 2004.
Governor Bayh was born in Terre Haute, graduated with honors in business economics from Indiana University in 1978, and received his law degree from the University of Virginia in 1981. After clerking for a federal appeals court judge and entering a private law practice in Indianapolis, he was elected Indiana's secretary of state in 1986.
Bayh is married to the former Susan Breshears. They have twin sons.
Source: Indiana Historical Bureau