Article
Data Sharing
Indiana has created a model for the nation of how to share and distribute state and local data sets. This benefits Hoosiers by saving substantial tax payer funds by "reusing" the same maps and data many times, and benefits others by strengthening our national geospatial data holding. Benefits Flyer
The Indiana Geographic Office joined with other GIS partners to develop and publish four new statewide geographic data layers using existing county data: land parcels, address points that connect a street address with a geographic coordinate, street centerlines with street name and address ranges, and local administrative boundaries such as school and election districts. Since its inception, 92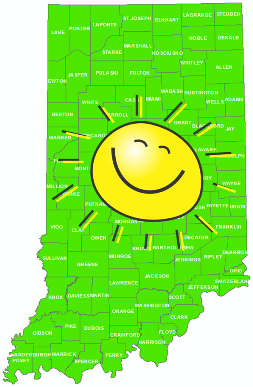 of our 92 (100%) counties have agreed to share this information so that Indiana citizens and others will receive the added benefit of these data available as statewide data sets. (Press Release) As a result of this Data Sharing initiative, these layers are already being used by State Police, Indiana Department of Homeland Security, Department of Natural Resources, and the Secretary of State's office, as well as Indiana universities and the private sector.
These new data layers, along with other geographic information are freely available to the public from the IndianaMap (www.IndianaMap.org) and, as a result, have effectively lowered the cost of doing business in Indiana as documented in a recent return on investment study (http://www.igic.org/projects/indianamap/IndianaMapNews.pdf). Indiana companies have recognized the benefit of over 230 layers of publicly available, highly accurate, and current geospatial information offered for viewing and download at the IndianaMap.
The true value of the statewide data sharing initiative was revealed recently when Clark County needed to respond quickly to the March 2012 tornados that devastated parts of southern Indiana. "We wanted to be able to quickly produce field maps and other geospatial data products to help our community, the Indiana Department of Homeland Security, and FEMA understand and best respond to the rapidly changing situation in our county," said Vicky Kent Haire, Clark County Assessor. "Having accurate land parcels, road centerlines, and other data already integrated in statewide data layers before the event saved a lot of time in a situation in which every minute was critical."
DATA
Four important geospatial data layers have been compiled from data maintained by various county agencies in Indiana a
re:
Address Points
http://maps.indiana.edu/previewMaps/Infrastructure/Streets_Address_Points_IGIO.html
Street Centerlines
https://maps.indiana.edu/previewMaps/Infrastructure/Streets_Centerlines_IGIO.html
Land Parcels
http://maps.indiana.edu/previewMaps/Reference/Land_Parcels_County_IGIO.html
Administrative Boundaries
http://maps.indiana.edu/previewMaps/Government/Boundaries_Miscellaneous_IGIO.html
Metadata and the download link for the four layers can be found at the IndianaMap.
Data Specifics
All Indiana counties have committed to share GIS data, resulting in:
• Over 6,800 Jurisdictional Boundaries
• 616,888 Street Centerlines Segments
• 3,117,569 Address Points
• 3,576,546 Land Parcels
BENEFIT OF THE PROJECT
Service to Citizens - Response to large natural disasters, like recent Indiana flooding, often takes coordinated response from local officials, responders, volunteers, Indiana National Guard, local and State Police, Federal agencies, the Red Cross, Animal Rescue, and many more - and that takes coordinated data. In a time when every second counts, the IndianaMap can help assure those who need it are reading from the same playbook - they'll have consistent, quality, timely information for decision-making. The IndianaMap helps coordinate information for response to help save lives and property of those communities that participate.
David Vice, Executive Director of the Indiana Integrated Public Safety Commission remarked, "When agencies share data, lives are saved and public offices become more efficient. Sharing data encourages collaboration among agencies, provides for informed decision-making and reduces redundancy of data production. Further, planning and policy groups become better informed, particularly in terms of emergency calls and disaster response. We can be proud that all 92 counties are now sharing their map data, a major milestone that will benefit all Indiana taxpayers."

"GIS, in this response, on this disaster and other disasters, is extremely valuable, as you know. We will certainly use this data, because we like to use the best available data and that's the data that's most always State and Local. Because a lot of the [emergency response] people that come into a disaster are from other states, they're just simply not familiar enough to know that Brown County is south [of Indianapolis] and Hamilton is north. They just don't know that sort of thing. So we answer an awful lot of questions. We also look analytically at where people are who have been impacted by disasters, and that's what we've done here." - Sean Donovan, Joint Field Operations, FEMA, speaking about the value of State and Local GIS data.
AWARD WINNING PROJECT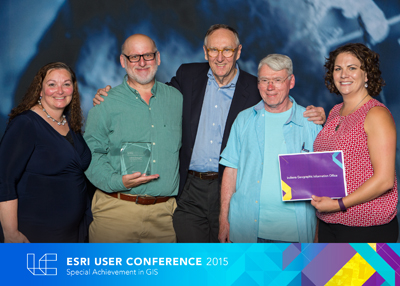 The Indiana Geographic Information Office, Indiana Office of Technology (IOT), has received a Special Achievement in GIS (SAG) award at the 2015 Esri User Conference to recognize the special achievement associated with Indiana's Data Sharing Initiative. All 92 Indiana counties are voluntarily sharing critical geospatial data with the Indiana Geographic Information Office.
The SAG award acknowledges vision, leadership, hard work, and innovative use of geographic information technology. The Geographic Information Office was one of 170 organizations from around the world to be recognized for this award.
For more information about the 2015 Special Achievement in GIS Award winners, including project information and photos, please visit esri.com/sag
MEDIA COVERAGE

The Long and Winding Road – To Data Sharing Success in Indiana
FME Insider Newsletter- Fall 2012


A Very Spatial Podcast
A Very Spatial Podcast is a weekly source for information on Geography and geospatial technologies. Geography touches most things done everyday, but rarely thought of. This podcast seeks to point out how it is filtering into digital and daily lives.

A VerySpatial Podcast – Episode 192 (Full Episode)


All for One, and One for All! Data Sharing Creates Win-Win Scenario for Indiana
GeoWorld - June 2013 (cover story)