Top 10 Tips on How to Get the Job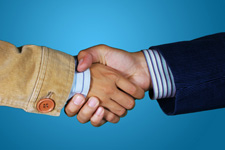 WorkOne has a handy guide to help you find the right job that fits your personality now and in the future. Read the following "Quick Tips on How to Get the Job" for advice on resumes and cover letters, dressing for success, and strategies for responding during interviews and for attending job fairs.
Top 10 tips from WorkOne
IDENTIFY YOUR MARKETABLE SKILLS - Identify the skills you have that employers want, such as being reliable, accepting and handling responsibility, managing time well, and being honest and dependable;

DETERMINE YOUR CAREER GOALS - Determine your career goals. Compare your skills with those abilities needed for the jobs you want. Are they a good match? What other skills or experience do you need? Moreover;

DRESS PROFESSIONALLY - Dress professionally, not like you are going out on a date. Be neat and well groomed; wear clean, pressed clothes, and polished shoes;

AVOID EXCESS IN YOUR APPEARANCE - Anything to an excess (too much jewelry or make-up, t-shirts with inappropriate sayings, clothing that is too tight or worn too low, etc.) distracts mightily from what's important: you, your skills, and your experience;

TURN OFF YOUR CELL PHONE - Before you meet someone at a job fair, while networking or for an interview, turn off and put away your cellular phone, pager, MP3 or CD player. Get rid of gum or cigarettes. Through your appearance and behavior, show that you are focused on the job opportunity;

BRING ALL YOUR VITAL DATA WITH YOU - Bring with you all the information you'll need to complete a job application. This information includes: names and addresses of previous employers and dates of your employment; work-permit, Social Security card and driver's license; names and contact information for your references. Alert your references that you are job-hunting so they will be ready for a call from a potential employer;

ENSURE YOU ARRIVE 10 MINUTES EARLY - Be on time for an interview and be courteous to everyone you meet at a place of business or a job fair. You never know who can influence a hiring decision;

HANDSHAKE and EYE CONTACT are PARAMOUNT - Develop a firm handshake, and maintain eye contact with people as you talk with them;

HONESTY MATTERS! - Be honest about your work experience and your skills. Don't exaggerate! Be prepared to give examples of how you successfully demonstrated your skills at past jobs. Never bad-mouth a former employer or co-workers - it's a small world and your potential employer may know them. And talking down about a former employer shows poor judgment on your part as well as other negatives about you; and

BE ENTHUSIASTIC! - Show interest and enthusiasm to the potential employer about the job you're discussing. Do your homework on the business and its products and services. Research its web site and brochures, and examine newspaper articles about the organization. Talk to people who work for the company or one like it.